Beaded Charm Cards
How to Make Greeting Cards With Beads, Thread and Shiny Stuff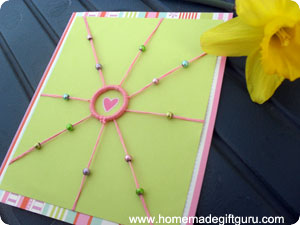 The beaded charm cards on this page were originally inspired by laser lace, an inexpensive charm that is sold with jewelry making supplies. My mom and I ordered some a while back and I thought it was the perfect charm for card making.
Here are the first beaded charm cards (with laser lace) that I made... these were inspired by and made with laser lace as you see below...
If you want some laser lace, here's a link to Fire Mountain where you can get it (it ends up costing about 13 cents a piece if I remember right). You can click here to make your own cards with laser lace.
Or, here's a similar card making idea that uses a key ring (something you might already have around or can definitely get for cheap at any craft store) for a similar effect...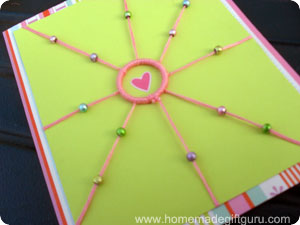 ---
Here's How to Make This Beaded Charm Card (No Charm Required)
---
With beaded 3D embellishments, this beaded charm card making idea can be customized to no end and will make an extra special Mother's Day card or a great idea for making Birthday cards, an Anniversary card (think white with a touch of lavender for example) or even a Wedding card (use elegant paper and tiny pearls or pearl-like like beads for example)...
Materials:
card blank 5" x 6"
patterned paper 5" x 6"
matching solid paper 4 1/2" x 5 1/2"
key ring
embroidery thread
beads
Tools: glue, needle, scissors, masking tape
Instructions:
Adhere 5" x 6" paper to card blank and set aside.
Note: It may be helpful to put a book on top of the card so it dries very flat.
Cut 4 pieces of embroidery thread to about 12".
Embroidery thread usually consists of 6 strands of thread. Pull each piece of embroidery thread in half (this should give you 8 lengths with 3 threads each).
Wrap each piece (3 threads) around the ring and match up the ends. Tie a knot securing each piece to the ring. Do this in even distances around the ring leaving equal lengths of thread (there will once again be 6 threads apiece) coming off and out to all sides (as shown below).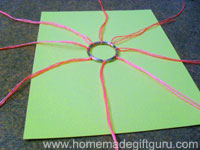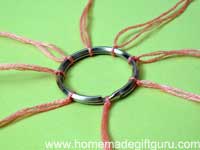 To wrap the ring in thread, it's easiest to push all the pieces you just tied together to the side. Start wrapping snugly around the ring with a new piece (a couple feet is plenty), covering the ring entirely. Each time you get 1/8 of the way around the ring, stop and pull a knotted thread in place. Continue wrapping until the ring is covered and the threads are all in place. Tie the ends together and trim. If possible make the knot so it is hidden under the ring.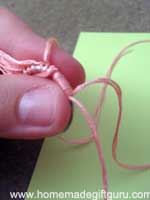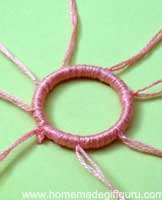 Using a sewing needle place your beads on as desired. With beads in place, pull each thread snug but not too snug and secure on back with small pieces of masking tape.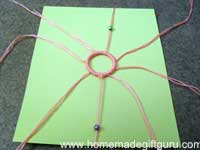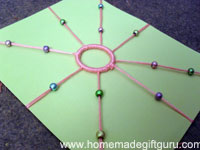 Using a toothpick, dab a dot of clear drying glue next to each bead and move the bead onto it to secure their positions. Then dab glue under the ring and under the threads near the edges of the paper to secure the card. Without this step, the threads may loosen up and move around with time.
Now that the embellishment is complete, you can center and glue the card stock to the patterned paper. Use a glue stick or a tape runner. Be sure to rub glue across all the threads on the back too to further secure everything.
Optional: You can put a sticker such as a heart as seen above, or stamp a word inside the circle or leave it as is as seen below...
Inside of card can read...

"Have a bright and beautiful birthday!"

"Thank you for brightening up my life!"

"You Make My Heart Shine"
(place a heart sticker or draw a heart in the circle)

"You Light Up My Life"
(leave the circle empty)
Make mom a Mother's Day Decoupage Frame with Inspirational Quotes or Feel Good Affirmations...
Didn't Find What You Were Looking For?
---
This site is built and maintained using Site Build It!
You could do it too!!! Click here to learn more.
---
Affiliate Disclosure: To help me provide the information and tutorials contained in this website, I may receive monetary compensation or other types of remuneration for my endorsement, recommendation, testimonial and/or links to any products or services from this website. Please note that I only endorse products that I believe would be of value to my readers. Also note that Homemade Gift Guru is a participant of Amazon's affiliate program. I may make a small commission on orders made through my Amazon links. This helps me maintain my site. Thank you for your support!