Countdown Calendar Ideas
DIY Countdown Calendar Ideas for Christmas... and Other Holidays Too!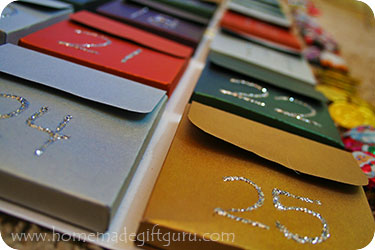 Counting down to a SPECIAL DAY is a perfect way to build excitement... and while the Christmas Advent Calendar is certainly the most famous countdown calendar, there are also other holidays and special occasions that can be fun to count down to.
When it comes to kids, countdown crafts and ideas can help them understand time, dates and the idea of anticipation. Plus they are super fun for all involved!
---
Basic Types of Countdown Calendars
---
For just about any aged person, there is a countdown calendar that is perfect for them. Little kids will enjoy even the simplest homemade calendar designed for them to mark off each day with a fun sticker. Older kids will enjoy the advent type calendars that hide a surprise gift for each day leading to the special occasion.
And for adults, if you are feeling playful, you can even put something together that is funny or romantic, using love coupons or humorous quotes for example.
Here are several types of countdown calendars, ranging from super simple countdowns to the more creative advent-style countdown calendars...
Check off the Days.
Countdown the days by crossing out each day as it occurs. Simply print out the appropriate month style calendar, decorate the special day and cross out each day leading up to it as a fun little daily ritual. If you will be giving a countdown calendar as a gift, I suggest you make it beautiful with stickers, stamps, craft supplies or clip art. Always mat it on a slightly larger piece of paper for a sturdy feel.
Use Stick-ons to Count Down With.
A similar idea to the one above, use homemade stick-on's to "cross off" each day. Create fun images, shapes, objects etc. for each day that can be stuck in place of the check mark.

Sticky advent calendar craft ideas include felt on felt, magnets on metal, tape on paper, glue dots on paper and fun little items that can be attached to hooks or with clothes pins.

Another idea... rather than a standard rectangle you can shape the calendar in a festive way. For Christmas you could shape it like a tree and add "ornaments" each day rather than check marks or you could shape it like Santa's beard and attach cotton balls for each day... counting down to Christmas and to Santa's full beard.
Lift-up Flaps.
Paper or fabric flaps for each day can hide cute messages, quotes or surprise images.
Envelopes.
Like lift-up flaps, envelopes can hide cute messages, quotes or fun images but they can also hide flat little gifts such as homemade gift certificates, notes and stickers.
Gift Containers.
These are my favorite of the countdown calendar ideas, especially for the kiddos, because we get really excited about picking out small gifts for each day! Just like the traditional Christmas advent calendar, you can make a countdown calendar for any occasion that hides a surprise for each day of the countdown. For example, you can use small numbered bags, boxes, pouches and more to make your advent-style Christmas countdown, birthday countdown or another favorite holiday countdown) as you'll see below...
And now, time to focus on my favorite types of countdown calendars... advent calendars!
---
DIY Advent Calendar Ideas
---
The Christmas Advent Calendar is a fond memory from my childhood, but even as a kid I remember that the chocolates weren't very good. These days there are so many reasons why making your own Advent Calendar is such a good idea.
...For one, you can control what gifts are hidden under each numbered flap or in each box. That way you can choose gifts that are best for your child. For example, you can skip the treats altogether and opt for small toys or crafts supplies or you can choose treats for a restricted diet like sugar-free, gluten-free, nut-free or dye-free.
A DIY advent calendar is also a super fun creative project! Plus they make amazing homemade gifts for kids or a special someone.
There are a tun of creative ways to make your own unique advent calendars. Some are much easier than others. Here are several examples of how to make an advent-style countdown calendar...
Christmas Box Ornaments. Make several numbered gift boxes that can be filled and hung on the Christmas tree. It's fun for kids to discover each one, keep track of them and pull off the correct one for each day. If you want, they can be put back on the tree and left as pretty ornaments. As a bonus, these Christmas countdown calendar ornaments can be made sturdy and reused for several years. Learn how to make these Countdown to Christmas Ornaments here.
Make Your Own Flip Top Boxes. Use my Advent Calendar Templates to create a flip-top box for each day. Glue them to a sturdy surface, such as poster board or even thick card stock, and decorate as desired. Use this idea to make your own Christmas Countdown Calendar, a super fun Birthday Countdown or even a sweet little Valentine Countdown!
Envelope Advent Calendar. Find or make small envelopes and glue them backwards to a large piece of decorated poster board. Number each one, either counting down to Christmas (25 - 1) or up to Christmas day (1 - 25). Each envelope can contain a flat gift, such as stickers or some other type of flat surprise. In addition to the traditional Christmas Advent Calendar, you can use this idea to make a fun countdown calendar for your child's very special birthday or another anticipated holiday.
A Countdown Using Small Paper Bags. Take tiny paper bags and # each one for each countdown day. Decorate the bags any way you'd like. Enclose a treat or surprise in each paper bag, fold the top over and hang or pin the bag to paper board, decorated card board, a clothes line, on a Christmas tree... or even just set them on a windowsill.
Make a Christmas Advent Calendar using Socks. Use clothespins to hang small festive socks on a clothesline or some sort of garland. Put a treat in each sock and let the kids delve into a sock each day... counting to Christmas (or another event or holiday).
Box with Drawers Holiday Calendar Craft Idea. Buy or make a box with 24 or 25 drawers to count the days to Christmas (or whatever amount you need for your custom countdown idea). You can do this using anything from tiny match boxes for drawers to re-purposed tea boxes. Build the "box" that holds the "drawers" by cutting card board or paper board to fit the four sides. If needed, make a sleeve to go around each drawer (a matchbox already has a sleeve) and glue them together to keep the drawers separate. Decorate everything and enclose a surprise for each day. Some craft stores sell a pre-made base like this advent calendar base by Karen Foster Design, that you can decorate any way you like.
Glue Real Boxes to a Base. If you don't want to mess with the templates described above, you can find, purchase or make small boxes (like a 2 x 2 inch origami box) and hot glue the bottoms to thick paper board so the tops slip off horizontally. Use beautiful paper to make your boxes or to gift wrap pre-made boxes with. You can also decorate and use match boxes in this way or the small boxes that earrings come in.
Make Surprise Flaps for Each Day. Put 2 pieces of card stock together and cut out flaps from the top piece so each one can be opened to see a message underneath...
Once you create your Christmas Advent calendar, your very special birthday countdown or other Holiday countdown, you may like to read up on the following advent calendar gift ideas...
---
Gift Ideas for a DIY Advent Calendar
---
For a countdown calendar to be fun, you don't have to enclose a surprise for each day. However, it is so much fun to create special messages and/or buy or make treats to go inside.
Besides the obvious joy in picking out your own custom stash of fun surprises for someone you love, there are many situations where you might need to choose surprises that are unique. A few themes that come to mind...
non-edible
sugar-free
gluten-free
nut-free
artificial dye/additive free
age-specific
...to name a few. When you make your own countdown calendars, you have complete control of what goes inside your calendar of surprises!
Here are some specific ideas for countdown and advent calendar gifts that you can enclose, depending on the type of advent calendar you make:
Flat Stuff to Enclose Under Flaps...
Poems
Quotes
Jokes
Affirmations
Bible Verses
Bible Stories
Photos
Messages or Notes
Images from Clip Art Printables
Images Cut Out from Magazines, Greeting Cards Etc.
Sticker Images
Flat Stuff to Enclose Inside Envelopes...
Any of the Above
Stickers
Temporary Tattoos
Homemade Gift Certificate Coupons (or store-bought)
Money
Flat Craft Supplies
Gifts to Enclose Inside Homemade Boxes, Bags and Pouches...
Any of the Above
Homemade Candy
Individually Wrapped Small Store-bought Candy
Fruit Snacks
Small Candy Like Gummies and Jelly Beans (separated into tiny plastic bags or tiny homemade envelopes made of wax paper)
Small Gifts - too many options to list! ...see individual Holiday links below for more ideas on small gifts.
Important Tip: When purchasing small gifts, bring a sample box or container with you to the store to test each small gift is small enough to fit inside. This will save lots of trouble and frustration! I found myself with gifts that didn't fit inside my boxes more than once before I started doing this.
---
Countdown Calendars
. . . not just for Christmas!
---
Countdown calendars aren't just for Christmas! You can make them all year. A countdown calendar is a great way to make any special event even more special. Here's some more ideas beyond the tradition Christmas advent calendar...
A Birthday Countdown Calendar...
Whether you have children, grandchildren, nieces or nephews... birthday countdown calendars are amazing fun! Here are step-by-step instructions and gift ideas for making a Birthday Countdown Calendar.
A Valentine Countdown Calendar can be made romantic for your sweetie or it can be made sweet and playful for your kiddos or grand-kiddos for example. Here's how I made this Valentine Countdown for my oldest daughter this past Valentine's Day.
Vacation Countdown... Vacations can sometimes be the highlights of our lives. If you have a very special vacation coming up, you could make an exciting vacation countdown! For example, for a Disneyland vacation you could put a photo of a Disney character under each flap or inside each envelope with a coordinating catch phrase. The last day might have a quick little treasure hunt leading to a gift basket full of stuff he or she will use for the trip.
A romantic themed countdown could be a great homemade gift idea leading up to a proposal, an anniversary or a very special Valentines Day. Enclose a variety of poems, love notes, tickets to a movie or play, dinner date invite, treasure hunt clues, homemade treats, love coupons etc... or stick to a romantic theme such as: Reasons I Love You!
Do you have a special count down calendar idea? Share it here...
You may also like to see all the advent calendar templates in one place so you can get an idea for how you would like to design your own DIY countdown calendar craft idea...
Didn't Find What You Were Looking For?
---
This site is built and maintained using Site Build It!
You could do it too!!! Click here to learn more.
---
Affiliate Disclosure: To help me provide the information and tutorials contained in this website, I may receive monetary compensation or other types of remuneration for my endorsement, recommendation, testimonial and/or links to any products or services from this website. Please note that I only endorse products that I believe would be of value to my readers. Also note that Homemade Gift Guru is a participant of Amazon's affiliate program. I may make a small commission on orders made through my Amazon links. This helps me maintain my site. Thank you for your support!