"Picnic Foods" Free Printable Word Search
Printable Word Search for Kids
This free printable word search for kids is centered around a variety of picnic foods including: watermelon, ice tea, sandwich, cheese, snack, chicken, hot dog, hamburger, jelly, soda, potato salad, basket, picnic, potato chips, vegetables, apple pie, cupcakes, cookies.
Free printables like this free printable word search make a great budget friendly addition to party bags for kids and party entertainment plans... view our cute coloring pages here for more activities and party ideas...
What goes great with picnic foods? Bugs of course! Related free coloring pages:
Terms of Use: You may share this free printable coloring page with friends, neighbors and family or even with your child's class full of children. As long as you share for personal use only. This image is protected by international copyright laws and may not be used for commercial purposes. Copyright belongs to HomemadeGiftGuru.com. Teachers and educators may share this in classrooms as well.
Linking to this Page: You are welcome and encouraged to share a link to this free printable page on your website, facebook or blog. Visit us often for new fun homemade gift ideas and other printables.
To Print: Simply right-click on the image and choose Print Picture... This is an 8 1/2 x 11 inch image with margins, so you can print it on standard typing paper with excellent results (as are all our exclusive coloring pages). Enjoy!
Note: It may take a minute or more to download this full size exclusive free printable word search for kids. If you don't see it yet, it should appear soon...
"Picnic Foods" Free Printable Word Search for Kids:
---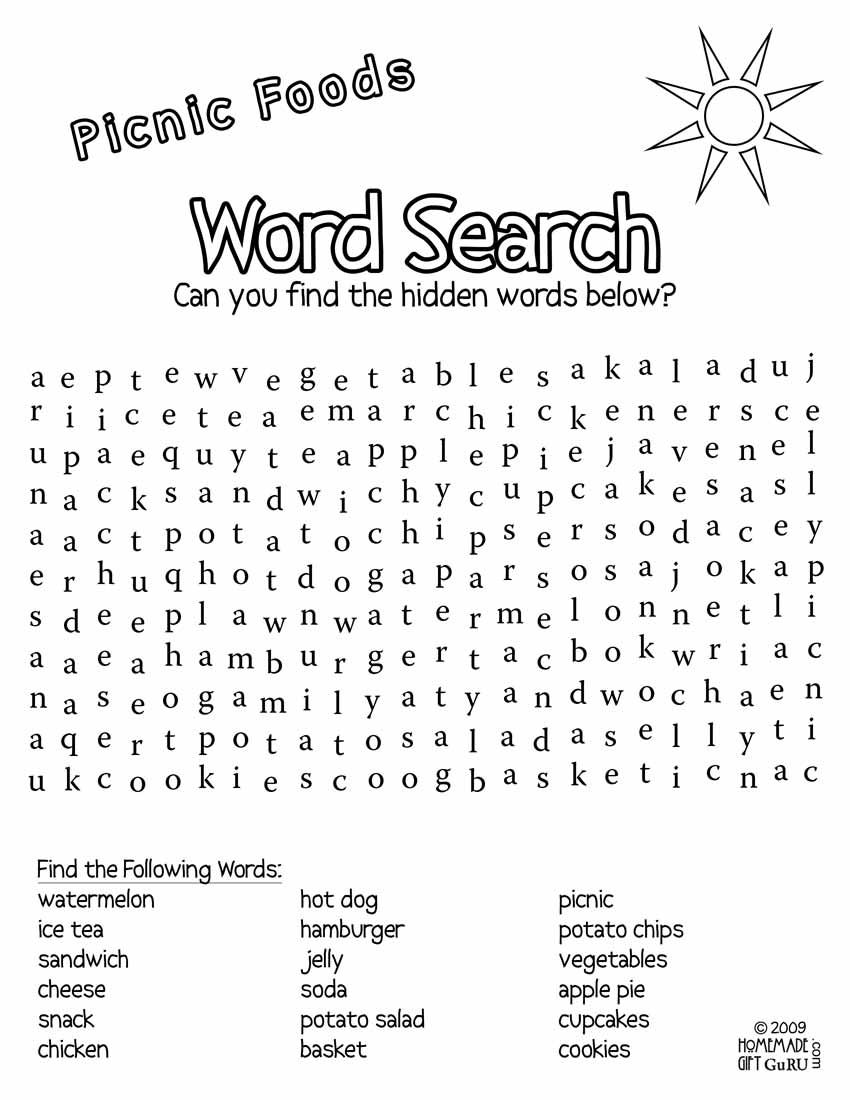 You may also be interested in:
Didn't Find What You Were Looking For?
---
This site is built and maintained using Site Build It!
---