Create a Birthday Card
Using the Gemini Zodiac Symbol
Making Birthday Cards: A Gemini Sign Birthday Card Idea...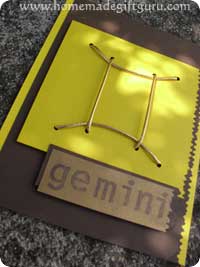 Using the Gemini zodiac symbol is a fun way of personalizing a card for someone with the Gemini sign.
In case you're wondering, Gemini is the zodiac symbol for a person born approximately May 21st - June 20th, however, the dates vary by a day or two depending on the year of birth, click here if you need to determine the sign of someone born on "the cusp".
Following is an easy way to create a birthday card for a Gemini using craft cord...
---
How to Make This Gemini Zodiac Symbol Greeting Card
---
This handmade card features the color yellow (yellow is the "Gemini Special Color" according to Joanna Martine Woolfolk in her book The Only Astrology Book You'll Ever Need
(it's a must have if you love astrology).
Also featured is a simple sewn Gemini zodiac symbol using our gemini sign card making template.
Note: This specific card was made for a male Gemini but could be made for a female Gemini as is or by adjusting the color or font for example.
Supplies:
card blank (5 x 6.5" folded card stock)
paper: brown, yellow and gold
gold craft cord
foam sheet (I used yellow foam sheet with adhesive backing)
Tools:
paper glue
paper scissors
decorative scissors (as shown to right)
1/8" hole punch
Sources: Yellow paper is Doublemates "Sunshine Yellow" -dark side, Brown paper is Colormates "Deep Creamy Coco", Gold paper is Wausau Paper Metallics card stock "Kings gold", decorative scissors by Provocraft, Gold craft cord by Needloft.
To Make This Gemini Zodiac Symbol Card:
Cut yellow paper to 5 x 6 1/2"
Cut another yellow piece to 4 x 4 1/2" - cut 1/4" off right side with decorative scissors
Cut brown paper to 5 x 6 1/5" - cut 1/4" from right side with decorative scissors
Cut another brown piece to 3 1/2 x 1" - cut 1/4" from right side with decorative scissors
Cut gold paper to 3 1/4" x 1" - cut 1/4" from right side with decorative scissors
Cut two pieces of foam to 4 x 1/2"
Cut three pieces of foam to 3 x 1/2"
Print zodiac sign template
Cut around symbol so it can be centered on top of the yellow paper with the decorative right edge
Using the template as a guide, punch 1/8" holes on top and bottom corners as well as at joints where the lines meet - as shown to the right with bright white
Turn yellow paper over and glue the non-sticky side of the craft foam to paper using a 4" piece on each side and a 3" piece on top and bottom
Sew craft cord across top and bottom leaving room for a curve
Sew the straight lines down and back up using them to set the curves (as shown above)
Tie craft cord ends, dab with glue and trim ends to 1/4"
Stamp the word "gemini" on top of gold paper
Glue 1" gold paper to 1" brown paper allowing brown to overlap slightly on top and left side - shown to right
Take the last piece of foam and glue non-sticky side to bottom of gemini tag (toward bottom as shown)
Glue the big piece of yellow paper to the card blank - allow to dry
Center and glue the brown piece - allow to dry
Peel backing off foam (or apply glue if using regular foam) and stick embellishments as shown, large one first, then gemini tag)
Write your birthday message inside
Give card to your lucky gemini friend!
Get all 12 birthday symbols and tips for using astrology to make great gifts on the Homemade Cards and Crafts with Zodiac Birthday Symbols page.
Gemini Symbol Art Charm...
You may also like to make a Gemini Symbol Art Charm for a fun homemade key chain, homemade magnet or other birthday sign charm...
Didn't Find What You Were Looking For?
---
This site is built and maintained using Site Build It!
You could do it too!!! Click here to learn more.
---
Affiliate Disclosure: To help me provide the information and tutorials contained in this website, I may receive monetary compensation or other types of remuneration for my endorsement, recommendation, testimonial and/or links to any products or services from this website. Please note that I only endorse products that I believe would be of value to my readers. Also note that Homemade Gift Guru is a participant of Amazon's affiliate program. I may make a small commission on orders made through my Amazon links. This helps me maintain my site. Thank you for your support!