Homemade Valentine's Day
Cards With Pockets
Unique Homemade Valentine's Day Cards
I knew the little pouch template I made last year would come in handy. The large template was for mailing sendables, you can view the original pouch card here.
The smaller pouch template however, I made on a whim... to use up space on the paper and because I figured it would come in handy some day. And now here we go.
---
How to Make a Valentine Pouch Card
---
Here's how to make these unique homemade Valentines Day cards that hold candy, stickers, love notes and more... these are only 3 x 3 inches but you can make them any size you want.
What You'll Need:
Paper for pouch about 4 by 7 inch
Heavy paper or card stock for card (card blank) 3 by 6 inch
12 inch strip of ribbon
Note: Here we're using the smaller template but either can be used to make a great homemade Valentine card. The smaller pocket fits less candy than the larger.
Tools: Ruler, scissors, 1/8" hole punch, glue of your choice.
Lay paper for pouch wrong side up (color or print down) with pouch template face up on top.
Cut carefully around the edge of the template cutting through both sheets of paper.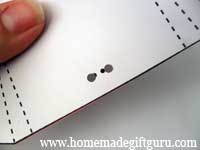 Punch holes through both using the black dots as guides. For the smaller pouch it's better to punch the holes near the edge of the dots as shown above.
Tip: For little kids you may want to skip the hole punch and just glue a bow to the front of the finished pouch. This is because little kids will have trouble not tearing open the pouch to get it open.
Using the dotted line as a guide, fold the bottom up as shown below. A ruler helps to keep the fold straight.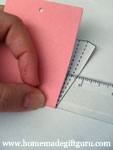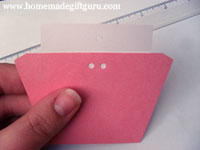 Fold the top flap down.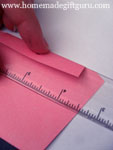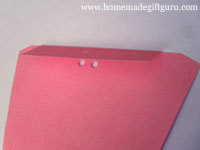 Fold the flaps in and then back toward the edge as indicated by dotted lines and as shown below. The flaps will be folded accordion style.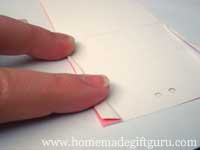 Thread each end of the ribbon from back to front through the two holes.
Put glue on the outermost flap area. I've successfully used a glue stick, double sided tape (shown below) and a glue runner to adhere. With double sided tape, you can apply it and cut the extra.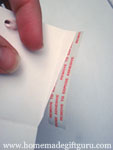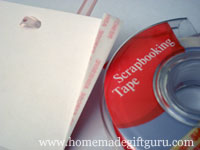 Make the pouch by adhering the outermost flap to the pocket back as shown below. If using wet glue like a glue stick, allow to dry thoroughly... To the right you see how the ribbon will be used to close the pouch after the card is done.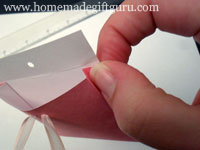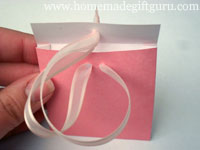 Note: The two ends of the ribbon will go through the single hole in the top flap (as shown above right)...
When you are ready to close the pouch, you can make a bow (no knot needed). Of course, you should wait until your card is finished and you've enclosed your Valentine gifts (stickers, candy, notes etc.) before completing this step.
Make a card blank by folding the card paper in half. Glue the pouch to the front center.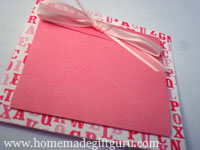 That's it!
What Can You Put Inside? These homemade Valentines Day cards are fairly small, a good size for Valentine exchanges. You can't fit a lot of candy but you can enclose:
A few small pieces of candy (jelly beans, conversation hearts etc.)
A square of Ghirardelli chocolate (small wrapped chocolate squares)
A couple chocolate coins
Bubble gum
A few stickers
A temporary tattoo special for Valentine's Day
A flat charm
A love note... you get the picture
You can also make larger cards using the larger pouch on the template sheet, which is 4 x 4 inches if you would prefer a larger pocket.
You may also like:
The easiest homemade Valentines are these, make a batch in 10 minutes or less.
Get more card making ideas here.
Didn't Find What You Were Looking For?
---
This site is built and maintained using Site Build It!
You could do it too!!! Click here to learn more.
---
Affiliate Disclosure: To help me provide the information and tutorials contained in this website, I may receive monetary compensation or other types of remuneration for my endorsement, recommendation, testimonial and/or links to any products or services from this website. Please note that I only endorse products that I believe would be of value to my readers. Also note that Homemade Gift Guru is a participant of Amazon's affiliate program. I may make a small commission on orders made through my Amazon links. This helps me maintain my site. Thank you for your support!