Homemade Vanilla Extract
How to Make Vanilla Extract with Fresh Vanilla Beans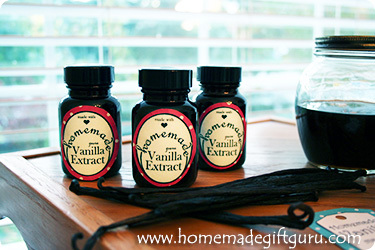 Homemade vanilla extract is very easy... really truly! Plus it can make high quality homemade gifts for all kinds of people on your Christmas gift list.
Vanilla beans are luxurious... (a little weird in all honesty but amazingly luxurious in their aroma, and pretty much widely accepted as a must-have part of most baked goods, at least in all the kitchens I've been in)... They seem to make almost every baked good taste better and the only thing better than one teaspoon of vanilla bean extract is two if you know what I mean.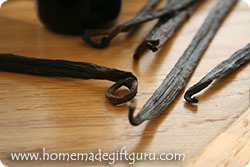 While fresh vanilla beans are one of the great joys of life, the beans get stale fast and they tend to be both difficult and expensive to find in local stores for just this reason. I've learned that the thing to do is order them online and then preserve them as soon as you get them... in other words, make your own vanilla extract and enjoy fresh vanilla goodness all year.
Below, I've put together what is likely to be all the information you could possible use on making vanilla extract and giving it for gifts... Oh yea, and after the recipe I'll share a special little trick that you can use in your own kitchen (or for a unique homemade gift if you don't mind the extra cost). So let's get started...
---
Where to Get Great Vanilla Beans
---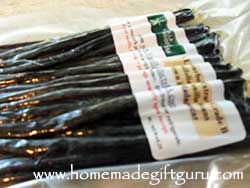 After various experiences including but not limited to: overspending at my local food coop ($20 for two organic beans), being grossly disappointed with dried up shriveled beans from a local grocery store and then not even being able to find them locally when it was no longer "the holiday season," I finally turned to the Internet. At that time it seamed no one had caught on to this vanilla bean gold mine but thankfully people are more aware at this time. Anyway, I was super excited when I discovered Amazon's selection of vanilla beans with free shipping and I still use them for their great deals:
I used to always go for this deal: 10 Premium Bourbon Madagascar Vanilla Beans
which I've truly enjoyed. They've always been top quality beans, as moist, sticky and fragrant as I could ever hope for (and beautiful too).
Recently I realized that I don't need grade A vanilla beans to make scrumptious homemade vanilla extract (or homemade Kahlua for that matter). I am now using grade B for these. The beans aren't as perfect but they make amazing homemade vanilla extract (in my opinion, just as good as grade A) and the cost is much less for more vanilla beans. I haven't noticed any negative effect on my extract or liqueur. 1/4 Pound LB Madagascar Bourbon Planifolia Extract Grade B Vanilla Beans 6~7"
I've been very happy with all my MANY MANY orders of vanilla beans both grade A and grade B.
Not Sure Which Vanilla Beans to Use? I use the full flavored sweet tasting Bourbon Madagascar vanilla bean for my food gifts, however, you can also use Mexican. I use Tahitian for bath and body (Tahitian is more of an aromatic vanilla bean and can be described as slightly floral in aroma).
---
How to Make Vanilla Extract
---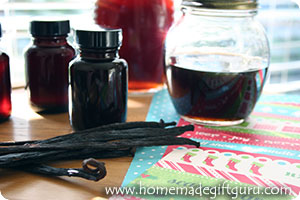 How long does it take to complete homemade vanilla extract? It's important to mention that your homemade vanilla extract will take at least 4 weeks to infuse. You only need a few minutes to get it going but you'll want to plan ahead.
For example, if you are making Christmas gifts, get your vanilla beans steeping before Thanksgiving at the very latest and your homemade vanilla extract should be ready on-time. If you have longer then GREAT, in that case steep them longer, you can't really go wrong! The ingredients list for a quart of homemade vanilla extract is pretty basic as are the supplies. Start with very clean supplies, preferably sanitized.*
*Note: It just gives me peace of mind to start all my gifts in jars, extracts and liqueurs with sanitized jars, lids and equipment and though 10 minutes in boiling water is fine, the dishwasher if you have one, is a simple no fuss way to sanitize for this purpose.
You need:
Vanilla beans, 1/4 lb of fresh, moist beans (grade B is a good choice for vanilla extract)
Vodka, about 4 cups or 750 ml (70 to 90 proof)
Wide mouth mason jar - sanitized 1 quart (1 liter)
Lid and band - sanitized
Clean knife and cutting board
Optional: Gift Tags (get free tags below)
---
Need Gift Tags? You may like to use my exclusive and FREE pure homemade vanilla extract gift tags:
I made the round gift tags a little on the fancy/whimsical side. They look great on almost any bottle and they start out with the phrase "made with love" and then "homemade pure vanilla extract."
Or you may prefer these simpler looking punch and hang gift tags. They say homemade vanilla extract made by... with a space for writing your name or your family's name as the makers of this homemade gift and are designed to punch and hang from your bottles.
Tip: Both sets of homemade vanilla extract gift tags will look best printed on high quality card stock and if possible matted on a backing that is trimmed slightly larger than the tag.
---
Let's get started...
Chop Vanilla Beans. When you get your vanilla beans in the mail, leave them vacuumed packed. It's best to also triple wrap them if you can't make your extract right away. Always store in a cool dark place but do not refrigerate as this can dry them out.

To make the vanilla extract, open your vanilla beans and lay them out. Chop them or snip them into 1/2 inch pieces. You can slice them down the middle but it is time consuming and unnecessary.

Note: If you're curious, my 1/4 lb package had 42 vanilla beans and loosely filled about 1 cup of the jar.
Fill Jar. Put the chopped vanilla beans into the mason jar. Fill with vodka. Put the lid on and tighten using either a canning lid band or one of those nifty plastic jar lids is fine for this project.
Shake Jar. Shake the jar today, tomorrow and whenever you can for the next four weeks or more. Store in a cool dark place - emphasis on dark. Extreme temperatures and exposure to light will have an adverse effect on taste.
Wait 4 Weeks. Besides an occasional shake, you can now take a break! You've got your vanilla beans safely tucked away, hooray for you! And your Christmas gifts are all lined up, too cool! ...Or there other occasions to make vanilla extract for so in that case hooray for you, your vanilla beans are hard at work for whatever purpose and/or occasion you are making vanilla extract for...
Strain into Bottles. Ok, it's been 4 weeks or more. Your homemade vanilla extract should be nice and dark and fragrant. Test it, what do you think? You can let it sit longer if needed. If it's yours just leave it be, the scent of vanilla will keep getting stronger. If you are ready to turn these into lovely gifts, you can strain out the beans and the bits and bottle for gifts now.

Tip: It's up to you whether you want to include any of the beans in your jars. Plus?... though it's not necessary, the vanilla extract will get stronger and stronger the longer it sits with beans in it. Minus?... your vanilla extract will have seeds and bits from the bean. Some people like this, some are more finicky about such things.
You could also take your homemade vanilla extract a step further with this super cool idea that any serious baker will love...
Ok, so that trick I mentioned earlier... I call it Everlasting Vanilla Bean Extract (with preserved Vanilla Beans) and it is so awesome! You pack a jar full of whole vanilla beans, that's right no snippy... then completely cover them in Vodka (don't let any beans stick out the top!).

This should be done in a stoneware jar, a brown or green glass jar or even a completely covered decoupaged jar. It's just best this way so you don't accidentally leave out the extract and change the flavor forever (light is no friend to alcohol based extracts or liqueurs for that matter). Also wide mouth is BEST for easy access to those delicious wiggly vanilla beans...

Now the really cool part... when you need vanilla extract, use it from the jar and top back off with fresh vodka to keep the beans submerged. It can last basically forever. As a bonus, when you need a vanilla bean simply remove a bean from the jar (using some sort of clean instrument, like a fork, is best), snip off the end and squeeze the insides right into your dish or your whipped cream for example. If you do this a lot you'll have to replenish the beans from time to time too.

So there you have it, Everlasting Vanilla Bean Extract, a must have for any serious baker and a great homemade gift idea for one too!
---
Presentation Matters...
---
Although you can bottle homemade vanilla extract in the pretty little bottles of your choice, it is sensitive to light... so it's always best to put vanilla bean extract in a dark bottle like the 2 oz brown ones above.
I save bottles all year for my projects so of course the groovy brown bottles shown are re-purposed (saved these from a supplement I use from my local health co-op)... the clear ones are from local honey. This year I've also got a pack of Boston Round Bottles ordered special for my vanilla extract, they are very similar and I found a good deal online: Boston Round Bottles, 2 Oz Pack of 12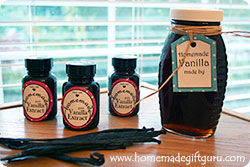 As I often do, I made printable gift tags to go with your homemade vanilla extract and I'd love to share them with you. I decided to make two different tags for slightly different situations. Here they are:
You may also like to know how to make vanilla extract if you've waited until the last minute. This method leaves the vanilla beans right in the gift jar so they continue to steep long after you've given the gift.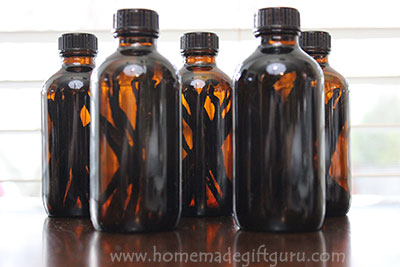 ---
More like this...
Homemade Kahlua is another scrumptious thing to do with vanilla and vodka and makes great gifts for adults... Plus, you can sink a spare vanilla bean in the bottle and your homemade Kahlua will keep getting more and more powerful with the delicious flavor of real vanilla right from the bean.
Didn't Find What You Were Looking For?
---
This site is built and maintained using Site Build It!
You could do it too!!! Click here to learn more.
---
Affiliate Disclosure: To help me provide the information and tutorials contained in this website, I may receive monetary compensation or other types of remuneration for my endorsement, recommendation, testimonial and/or links to any products or services from this website. Please note that I only endorse products that I believe would be of value to my readers. Also note that Homemade Gift Guru is a participant of Amazon's affiliate program. I may make a small commission on orders made through my Amazon links. This helps me maintain my site. Thank you for your support!