Choosing the Best Jars and Containers for Jar Gifts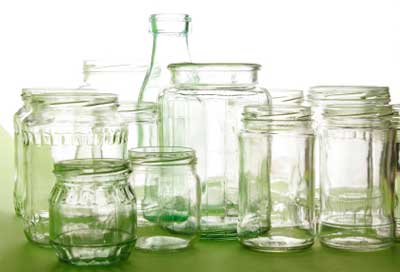 Just about any jar or glass bottle can be used to make a variety of jar gifts, although some projects may require a wide mouth or an air-tight seal. Glass containers are fun to shop for because they are often inexpensive and beautiful. Plus you never know what type of gorgeous or unique glass jar you might find on clearance, at a thrift store or in a yard sale.
Choose glass containers that are in good condition, without nicks or damage of any kind. This is necessary for the safety and wholesomeness of any homemade jar gifts. It also ensures a good seal for goods that need to be in airtight containers.
The surface qualities of the glass you choose will also make a big impact. For example, blue glass or other colored glass will obviously hide the contents of the jar. This is fine for plain looking contents but for contents that are elegantly layered by color and texture, clear glass is a must.
You'll also find glass with different textures, patterns or etchings. I love textured glass but it will impact the view of what's inside so you'll want to choose glass with color or texture carefully.
Both new and used glass containers will work beautifully. Some of the jars you can use include:

Mason Jars. Use any size that suits your project. Most common is a one quart mason jar. Sometimes a one pint mason jar or even a half gallon size mason jar can be used. Use whatever size suits your needs.

Used Food Jars. Recycle and reuse glass jars that once contained food items from the store. Keep your eye out for nice sizes, thickness and shapes. You'll probably want to decorate the lid so keep it with the jar for future embellishing.

Used Glass Bottles. Recycle and reuse glass bottles as well. Some of the best designs include, gourmet sauce (teriyaki and steak for example), fancy dressings and marinades, flavored syrups (such as for coffee and pop), wine, cider, and maple syrups to name a few.

Antique Jars and Containers. When at thrift stores, yard sales or antique stores, keep your eyes out for safe containers of any kind. You can usually find a nice and cheap selection of containers such as candy jars (a classy favorite for many and they usually comes with a rubber seal), a variety of old and fancy glass or crystal containers and sometimes great pottery or other creative containers.

Other Containers. Many gifts that can be given in a jar can also be given in other containers. Consider giving gifts in bags made of cellophane, thermoses, tea pots, plastic wrapped coffee cup, cookie jar, cookie tin or other tin container, or even a paper box container. I've even used slim rimmed vases with an added cork - hey, it worked and it was cute!
---
More Articles about Homemade Jar Gifts: