Card Making Project: How to Make a Pouch for Sendables
Make Greeting Cards for Sending Small Gifts with a Make a Pouch Card Making Template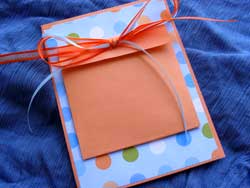 Sending a small gift by mail? How about making a greeting card with a cute little pouch that looks like a present ready to be unwrapped?
This is the perfect card making project for mailing sendables.
Sendables are little gifts that can be mailed easily such as inexpensive or homemade jewelry, key chains, charms, candy, money etc.
Personalize this make a pouch card idea with your own personal choice of patterns, colors and ribbon...
"Make a Pouch" Card Making Project
Nice to Know: Like most of our cards, this homemade pouch card is easy to make with whatever paper and ribbon you have in your craft supplies. However, this card making tutorial will refer to the paper by the colors used here to keep the instructions simple.
Scroll down to see this pouch card made with different colors/papers/ribbon.
Supplies
card blank - 5 x 6.5" white
paper - in at least 2 colors or patterns (amount: two 12" or three 8 1/2 x 11") *used here is orange solid and a coordinating polka dot paper, I used paper rather than card stock because it's easier to fold paper into a pouch rather having to score and fold heavy card stock)
ribbon - 1 or 2 colors, cut length of 2 feet for each ribbon, use 1/8" size
note: one of the two used here is actually 1/4", I like the result although it was a snug fit getting through the eyelet

template - 4" pouch card making template
optional: eyelet
Tools
hole punch - 1/8" size
paper glue
paper scissors
optional: eyelet setter if using eyelet
To Make a Pouch Card:
Print out the 4" pouch card making template provided above
Make or purchase a 5 x 6.5" card blank
Cut orange paper to 5 x 6.5"
Tip: If using a 12 x 12" paper, first trim 7" off the 12 x 12" and set aside. You'll need this piece to make the pocket later.

Glue to front of card blank and allow to dry
Cut polka dot paper to 4.75 x 6.25" (or smaller for a larger border)
Center and glue to front of card blank, allow to dry.
To make a pouch start by removing the 2 1/2" pocket from printed template
Paper clip or tape the 4" pocket template to the front of remaining orange paper
Cut around the solid edges of the pocket template
Punch each of the three 1/8" holes where indicated by template
Turn cut out over so it's face down (the color or pattern you want showing will be face down against the table) and with the single hole on the top
Place the template on top of cut out so you can still see the dotted lines

Fold top 1" down as indicated by dotted line on template, it's also marked "fold 1"
Tip: When folding it can help to line up a flat ruler against the dotted line, pressing firmly down on the ruler, fold the paper over, now remove ruler and smooth fold completely
Fold bottom up as indicated by "fold 2"
Fold flaps in against back as indicated by "fold 3"
Turn pouch over and fold flaps out accordion-style where indicated by "fold 4"

If you have an eyelet, set it now in the single hole of the top flap
Reposition flaps inside pocket and glue down to make a pouch as shown upper right
Now, pull each end of the ribbon all the way up through the two holes under the flap in even amounts as shown to right
Glue pouch to the front of card, it's great to use glue dots, double sided tape or a glue runner for this part - if using glue stick, allow to dry
Tip: If card becomes bowed, place a heavy book on top for a little while or preferably overnight
Insert a small sendable gift
Gather ends of ribbon and pull them all through the single hole in the flap - it helps to trim ends at a sharp angle first and squeeze them all together snugly
Tie ends in a bow skipping the knot so the recipient of this pouch card can simply pull the ends of the ribbon to release the bow completely
Now that you're done with the card, write or stamp your message inside and mail it off!
Note: This card may need a larger than usual envelope, such as a 6 x 9" bubble mailer, to support the bow and sendable gift
FYI - The pouch card making template provided has an additional 2 1/2" pouch for you to work with as well (if you choose to). Enjoy!
---
Customize Your Pouch Card...
---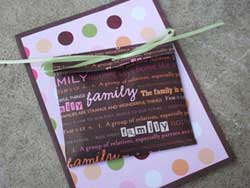 The pouch card to the right has a cute and crazy "I love my family" theme!
Make your pouch card with your own custom layout, color, patterns, ribbon and so on!
---

Make a Butterfly Outline Card...
If you like the ease of working with card making templates and oh so cute but simple ideas, check out this Butterfly Outline Card.
---
Coordinating Homemade Gift Ideas...
---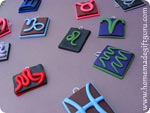 Art Charms...
Homemade key chain charms make a creative homemade gift idea for enclosing in a pouch card... find some on the Birthday Symbols main page...
Didn't Find What You Were Looking For?
---
This site is built and maintained using Site Build It!
You could do it too!!! Click here to learn more.
---
Affiliate Disclosure: To help me provide the information and tutorials contained in this website, I may receive monetary compensation or other types of remuneration for my endorsement, recommendation, testimonial and/or links to any products or services from this website. Please note that I only endorse products that I believe would be of value to my readers. Also note that Homemade Gift Guru is a participant of Amazon's affiliate program. I may make a small commission on orders made through my Amazon links. This helps me maintain my site. Thank you for your support!