Origami Box Gift Tower
How to Make an Origami Box Gift Tower for Treats or Trinkets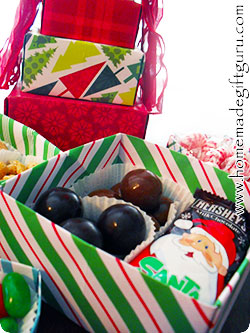 I love origami. For many there is something magical about making 3D structures come to life with nothing more than paper and your own two hands.
This homemade gift idea utilizes your origami gift box skills (get them here if you don't already have them) to make a trendy gift tower in the paper of your choice.
Make these for any holiday or occasion: Christmas, Hanukkah, Halloween, Sweetest Day, Mother's Day, Father's Day, to honor new parents and their sweet babies, birthdays, Valentine's Day, Anniversaries... even Weddings! If you can find paper thin enough to fold and worthy of the occasion, you can make an origami gift box tower that is just as playful or elegant or simply as cute as you desire.
---
Origami Gift Tower Instructions
---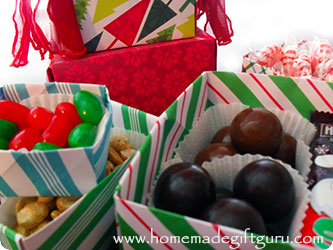 Note: These boxes are fairly small so don't plan on filling them with gallons of treats and candies. The largest box is 4" x 4" (see the giant malt balls nestled in standard cup cake liners in the big box above) and the smallest box is only 2" x 2" (good for a single scrumptious truffle inside a mini cup cake liner or perhaps a pair of earrings with tissue paper for example).
You'll Need:
Up to 8 pieces of coordinating 12 x 12 paper.

Note: Alternatively, you can use a high quality gift wrap, newspaper, origami paper, anything thin enough to fold and thick enough to be a box. You can always re-enforce the box with a piece of paperboard (like that from a cereal box) cut to size and inserted in the box's top and/or bottom of the box.
Ruler
Scissors or paper cutter
Your hands
Instructions:
Cut paper to size. First step, you need perfect squares. For a 4 tier gift box try starting with coordinating paper in the sizes 12 x 12, 10 x 10, 8 x 8 and 6 x 6 inches, these will be the lids of the boxes and the part most visible. You'll need to match each one with paper that is a half inch smaller to make the bottom part of each box... 11.5 x 11.5, 9.5 x 9.5, 7.5 x 7.5, 5.5 x 5.5 inches for example.
Fold paper into origami boxes. Follow our origami box instructions to make 4 boxes and 4 lids (or however many you desire for your tower).
Fill and Stack. Fill each box with treats and stack them into a gift box tower. Wrap ribbon around the bottom box and pull ends to the top box to tie a bow.

Note: For fresher candy, especially if your gift box will be traveling, purchase packaged candy or enclose candy in plastic or plastic bags before putting in each box. That's how the gift companies do it.

You're done!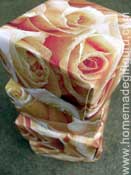 Origami boxes can be used all year long... last minute gifts, birthday gifts, holidays, wedding favors, gifts for special occasions, thank you gifts, even fundraising and bake sale items will be more impressive when they come in an origami gift box...
Spread your joy! Thanks for reading our origami box gift tower instructions! So many people would love to see pictures of your finished gifts!!! Click here to show us what you've made...
---
More like this...
Another fun way to turn paper into a gift package is this pouch pocket card...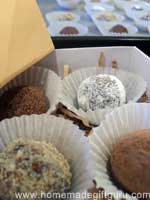 Coordinating Gift Idea...
What goes great in an origami box? Truffles! Put each truffle (get truffle recipes here) in a mini cupcake liner and wrap in plastic cellophane. Or make mini desserts such as donut holes, brownie bites or chocolate dipped pretzels.
Didn't Find What You Were Looking For?
---
This site is built and maintained using Site Build It!
You could do it too!!! Click here to learn more.
---
Affiliate Disclosure: To help me provide the information and tutorials contained in this website, I may receive monetary compensation or other types of remuneration for my endorsement, recommendation, testimonial and/or links to any products or services from this website. Please note that I only endorse products that I believe would be of value to my readers. Also note that Homemade Gift Guru is a participant of Amazon's affiliate program. I may make a small commission on orders made through my Amazon links. This helps me maintain my site. Thank you for your support!