Circle Tie Dye Technique: For Easy Tie Dye Shirts and More
How to Tie Dye Shirts and Other Stuff
Using an Easy Circle Technique
While tie dye using the spiral tie dye technique is a little tricky and harder to know how it will turn out, this circle tie dye technique is easy to do and much more predictable.
Ease and predictability is what makes this circle tie dye technique especially desirable for both beginners and those making tie dye gifts, (less chance that your tie dye shirts, or whatever you are tie dying, will come out way different than you plan).
---
How to Tie Dye Using an Easy Circle Technique...
---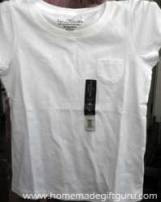 Step 1. Garment Preparation
See tie dye instructions... don't forget the soda ash!
*This project is done on a nicely shaped girl's t-shirt from Walmart $2.88.
Step 2. Prepare Workspace
Step 3. Bind Fabric (A Circle Binding Technique)
Pinch Center of Design. First determine where you want the center of your circle design to be. Pinch this spot and bind a circle of fabric there with a rubber band. Use glove to touch fabric that is soaked in soda ash water.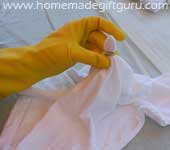 Bunch and Bind. Now continue to bunch and bind the fabric at even intervals. Or not even... it's that easy!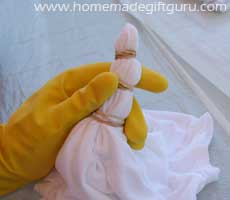 The circle will start where you made your first bind and continue outwards from there...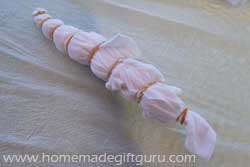 Bind until you run out of fabric to bind. You can do this with just about any garment you want...
Step 4. Prepare Dye
See tie dye instructions... use high quality dye!
Step 5. Dye Fabric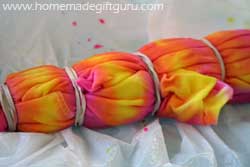 Squeeze or pour dye as desired. Apply dye in the pattern of your choice. Alternate colors however you like.
Here you see the first color of dye applied right on the bindings and the second color of dye applied between each binding.
You can do this however you like and use as little or as many colors as you want. Apply plenty of dye to soak throughout the fabric.
Tip: I use a kitchen trash bag to both contain my mess as I dye and then to wrap my project in afterward...
Step 6. Cover Fabric and Allow Dye to Set
Step 7. Rinse in Warm Water
Rinse garments in warm water to remove excess dye. Remove any rubber bands as you continue to rinse. Rinse until water runs nearly clear.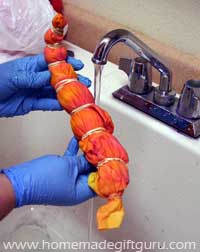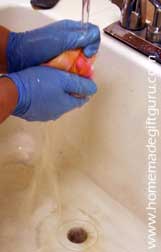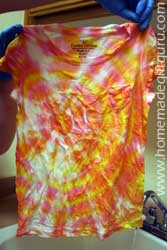 If rinsing multiple garments... When you're done rinsing each garment, put rinsed fabric on a clean plastic bag (or other plastic) and never let your various projects lay against each other at this stage, the dye will transfer at this point.
8. Wash and Dry Fabric
See tie dye instructions... don't forget to wash in Synthrapol!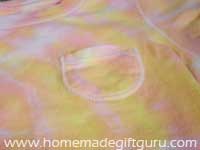 If you'll be making tie dye shirts and other stuff, you'll also want to learn about the best tie dye supplies for vibrant, colorfast, permanent, washable, high quality tie dying...
Didn't Find What You Were Looking For?
---
This site is built and maintained using Site Build It!
You could do it too!!! Click here to learn more.
---
Affiliate Disclosure: To help me provide the information and tutorials contained in this website, I may receive monetary compensation or other types of remuneration for my endorsement, recommendation, testimonial and/or links to any products or services from this website. Please note that I only endorse products that I believe would be of value to my readers. Also note that Homemade Gift Guru is a participant of Amazon's affiliate program. I may make a small commission on orders made through my Amazon links. This helps me maintain my site. Thank you for your support!