Tie Dye Tee Shirts,
Totes & More Using Pleats
Pleated Tie Dye Pattern...
The pleated or rolled tie dye pattern creates fantastic tie dye tee shirts, tote bags and other clothes. It's a simple way to tie dye and a good choice if you're wanting to tone down from the spiral tie dye look.
Note... When it comes to homemade gifts for the guys, you might find tie dye tee shirts made with the pleated tie dye technique to be just right. The technique tends to create a tie dye pattern that is evenly dispersed and vibrant, perfect guy attire we've noticed, for both playing and relaxing.
The pleated or rolled tie dye pattern also lends itself well to thicker fabrics such as tote bags, skirts, pajamas and small blankets...
---
How to Tie Dye Using the Pleated Tie Dye Technique
---
Step 1. Garment Preparation
See tie dye instructions... don't forget the soda ash!
Step 2. Prepare Workspace
Step 3. Bind Fabric (Pleated Binding Technique)
Pleat Fabric. Start folding your clean damp (soda ash soaked) fabric from the center. Pinch fabric together evenly forming consecutive pleats until you reach the end of fabric.

Alternatively, you can roll fabric instead, which will cause a slight fade from where you start rolling to where you finish. Rolling will however, cause a look similar to pleats. Experiment as desired!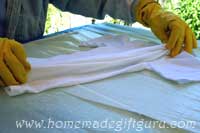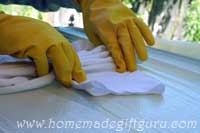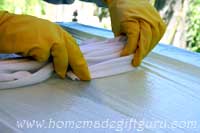 Bind Fabric. Wrap rubber bands around pleats (either evenly as done here, or in whatever pattern you choose).
Alternatively, you may choose to apply rubber bands closer together, to bind sporadically or to bind in a pattern such as two close, one far...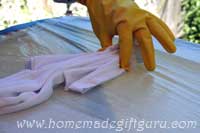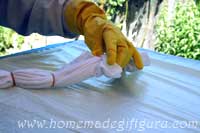 Step 4. Prepare Dye
See tie dye instructions... use high quality dye!
Step 5. Dye Fabric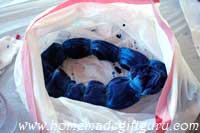 Squeeze or pour dye as desired. Add color however you choose. If you're unsure of your color palette or need some tips, there are several tie dye tips on the tie dye instructions page. Be sure to apply die thoroughly).
Note... For this tie dye tee shirt, I first applied cobalt blue dye in between rubber bands and then I applied the lighter teal dye directly to and around the bands.
Tip: I use a kitchen trash bag to both contain my mess as I dye and then to wrap my project in afterward...
Step 6. Cover Fabric and Allow Dye to Set
Step 7. Rinse in Warm Water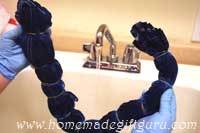 Rinse fabric in warm water to remove excess dye. Wearing gloves, remove rubber bands one by one. Unravel as you rinse. Continue rinsing until water runs nearly clear.
Tips. You may notice that some fabrics as well as some colors take longer to rinse than others. When you're done rinsing each piece of fabric, put rinsed fabric on a clean plastic bag (or other plastic) and never let your various projects lay against each other at this stage, the dye will transfer at this point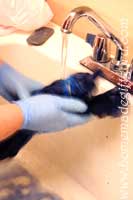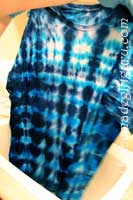 8. Wash and Dry Fabric
See tie dye instructions... don't forget to wash in Synthrapol!
Gift Idea for Kids... Matching Homemade Tie Dye Gifts for Kids!
Matching tie dyed items can be fun homemade gifts for kids. You can use any tie dye technique but here we chose pleats. The idea is to choose two or more items to tie dye and tie dye them exactly the same (see below for tips)...
For big fun, tie dye a tote bag and fill it with one or more matching items such as the tie dye tee shirt above... You could also throw in a matching tie dye bandana, tie dye cap or hat... or even matching tie dye socks...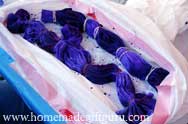 To Make Your Tie Dye Projects a Perfect Match: The trick to creating perfectly matching tie dye items is to make them in exactly the same circumstances. Make them on the same day at the same time. Bind them at the same time, dye them both at the same time with the exact same dye and keep them together in plastic as the dye sets.

This avoids the subtle changes that can occur when using dyes mixed at different times - possible with slightly different strengths, slightly different set times, varying temperatures while dye sets, and other random or unknown factors. Fabric can make a slight difference but hardly (if at all) noticeable when you use this tip.
If you're new to tie dye or you want more tie dye tips, visit our tie dye instructions page as referenced throughout our tie dye tutorials.
More Tie Dye Techniques...
You'll Also Need...
Didn't Find What You Were Looking For?
---
This site is built and maintained using Site Build It!
You could do it too!!! Click here to learn more.
---
Affiliate Disclosure: To help me provide the information and tutorials contained in this website, I may receive monetary compensation or other types of remuneration for my endorsement, recommendation, testimonial and/or links to any products or services from this website. Please note that I only endorse products that I believe would be of value to my readers. Also note that Homemade Gift Guru is a participant of Amazon's affiliate program. I may make a small commission on orders made through my Amazon links. This helps me maintain my site. Thank you for your support!