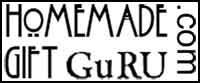 Homemade Chai Tea Recipe In a Jar
Chai Tea Gift Mix Using Whole Spices
Ingredients (for 1 small jar or cellophane bag)
1 small jar (such as spice jar) or small cellophane bag
3 teaspoons premium loose leaf black tea such as Darjeeling Tea
1 two inch cinnamon stick
1 four to six inch vanilla bean cut in 2 inch pieces
2 whole star anise
8 - 10 cardamom pods or 1 teaspoon ground cardamom
8 whole cloves
3 whole black peppercorns
1/8 teaspoon nutmeg
2 inch slice of crystallized ginger
Optional to go with mix: 1 inch or larger nub of fresh ginger root with peel (choose ginger root that is plump and juicy not wrinkled)
To Make Mix
Using a small glass jar or cellophane bag, add tea, spices and ginger in the order given above.
Place in an air tight jar or cellophane bag.
Decorated as desired.
Include a gift tag with the chai tea recipe below or print the one provided.

For The Gift Recipient
Chai Tea Recipe: Pour 2 cups cold water into medium size saucepan. Add chai tea spice mix (if using fresh ginger in addition to crystallized, add at least two 1/4 inch slices of peeled fresh ginger to cold water with the spices). Bring to boil. Turn heat down and simmer 10 - 15 minutes. Add 1 to 1 1/2 cups half and half or milk and from 2 Tablespoons and 1/4 cup honey to taste. Bring back to simmer. Remove from heat, cover and let sit for 2 minutes. Strain tea into cups and serve hot. Makes 2 to 2 1/2 cups of chai tea depending on the amount of milk added.
Thank you for visiting Homemade Gift Guru at https://www.homemadegiftguru.com