Gemini Zodiac Symbol Birthday Card

Try Out Some Unique Card Making Using Astrology Birthday Symbols...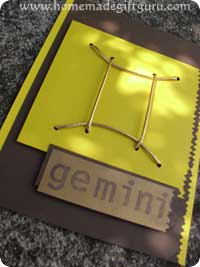 Using the Gemini zodiac symbol is a fun way of personalizing a card for your favorite Gemini.
In case you're wondering, Gemini is the zodiac symbol for a person born approximately May 21st - June 20th, however, the dates vary by a day or two depending on the year of birth, click here if you need to determine the sign of someone born on "the cusp".
This handmade card features the color yellow (yellow is the "Gemini Special Color" according to Joanna Martine Woolfolk in her book The Only Astrology Book You'll Ever Need (it's a must have if you love astrology).
You can download a Gemini zodiac symbol template here or find a complete collection of astrology birthday symbols here.

To Make This Gemini Zodiac Symbol Greeting Card...

Supplies: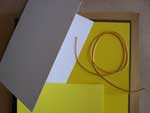 card blank (5 x 6.5" folded card stock)
paper: brown, yellow and gold
gold craft cord
foam sheet (I used yellow foam sheet with adhesive backing)
Tools:
paper glue
paper scissors
decorative scissors (as shown to right)
1/8" hole punch
Instructions:
Cut yellow paper to 5 x 6 1/2"
Cut another yellow piece to 4 x 4 1/2" - cut 1/4" off right side with decorative scissors
Cut brown paper to 5 x 6 1/5" - cut 1/4" from right side with decorative scissors
Cut another brown piece to 3 1/2 x 1" - cut 1/4" from right side with decorative scissors
Cut gold paper to 3 1/4" x 1" - cut 1/4" from right side with decorative scissors
Cut two pieces of foam to 4 x 1/2"
Cut three pieces of foam to 3 x 1/2"

Print zodiac sign template
Cut around symbol so it can be centered on top of the yellow paper with the decorative right edge
Using the template as a guide, punch 1/8" holes on top and bottom corners as well as at joints where the lines meet - as shown to the right with bright white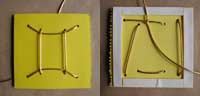 Turn yellow paper over and glue the non-sticky side of the craft foam to paper using a 4" piece on each side and a 3" piece on top and bottom
Sew craft cord across top and bottom leaving room for a curve
Sew the straight lines down and back up using them to set the curves (as shown above)
Tie craft cord ends, dab with glue and trim ends to 1/4"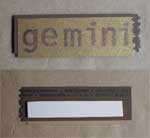 Stamp the word "gemini" on top of gold paper
Glue 1" gold paper to 1" brown paper allowing brown to overlap slightly on top and left side - shown to right
Take the last piece of foam and glue non-sticky side to bottom of gemini tag (toward bottom as shown)
Glue the big piece of yellow paper to the card blank - allow to dry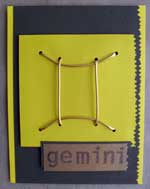 Center and glue the brown piece - allow to dry
Peel backing off foam (or apply glue if using regular foam) and stick embellishments as shown, large one first, then gemini tag)
Write your birthday message inside
Give card to your lucky gemini friend!
Get all 12 birthday symbols and tips for using astrology to make great gifts on the Homemade Cards and Crafts with Zodiac Birthday Symbols page.
You may also like to make a Gemini Symbol Art Charm for a fun homemade key chain, homemade magnet or other birthday sign charm...
Related Pages...