Need a Free Homemade Gift Idea? Make Gift Certificates!

Spend Less & Give More with These Free Printable Gift Certificates and Ideas...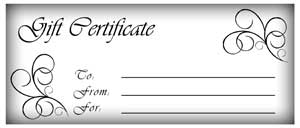 That's right... make gift certificates for a cute and meaningful homemade gift idea.
You don't have to spend a penny. Just think of something you can do for your gift recipient and give it!
Below you'll find a list of ideas for what to include as the gift part of your homemade gift certificate. Then scroll down further to find free gift certificates printable below.
Ideas for Homemade Gift Certificates:
A Little Help Goes A Long Way. Maybe you know something easy you could do to help:
Free Car Wash Certificate, Wax or Vacuum too
One Hour of Yard Work or Free Lawn Mowing
One Home Cooked Dinner - Bring it over or Serve it up
Baby Sitting
Dog Sitting
House Cleaning - Clean the house or just one piece like the floors, windows or deck.
Yard Watering
House Sitting
Be a Shopping Chauffeur
Be a Designated Driver for One Night
Share Your Knowledge. Perhaps you have a passion or a hobby? You could make gift certificates for a lesson in something they've wanted to learn from you. For example, give a lesson in:
Painting
Cooking
Canning
Sewing, Knitting, Crochet
Scrap Booking
Card Making
Weight lifting
Give the Gift of Quality Time. Perhaps your time would be a welcome gift to a friend, child, teen or spouse:
One trip to the mall
One free trip to a favorite coffee shop
One trip to the book store
One walk in the park
One picnic at the park
Romantic. No one deserves a homemade gift certificate more than your boyfriend, girlfriend or spouse. In addition to the gifts of quality time seen above, you could give:
Free Back or Foot Massage
Hair Wash - many women really love this
Body Wash - many men especially love this
Breakfast in Bed
Ideas From Other Visitors to This Site:
=> Share Your Gift Certificate Ideas Here...
How to Make Gift Certificates: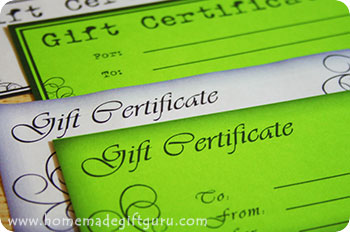 Click on any image below and a new window will pop up with a full page .pdf.
Print your homemade gift certificates on whatever paper you choose (card stock is my favorite).
Cut your gift certificates out.
Fill in the blanks... and give!

Related Pages...

Home
› Make Gift Certificates