Ready-to-Use Free Printable Gift Tags

Free Printable Gift Tags to the Rescue!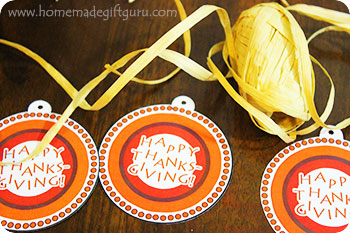 We've all been there... you just finished creating a beautiful homemade gift and you have just minutes before you have to walk out the door with your gift in hand.

Or maybe you purchased a gift... either way, you realize at the last minute that writing a note on the packaging in sharpie just won't fly! You need something beautiful to top it off and to share who it's from...

Free printable gift tags to the rescue!
I find it so valuable to have ready-to-go gift tags at my disposal, that I print them up way ahead of my gift giving occasions. In fact, I keep a stash full of variety and it makes me very very happy.
Whether you print ahead or right before, this page is here to help me share with you the printable gift tags I've made special for me readers.

You can use these gift tags and gift tag templates in a variety of ways, for example...

This page is always a work in progress! I hope you enjoy what's here and come back ever so often to see what's new...

---
Printable Gift Tags for Homemade Gifts...

The following free gift tags are made special to add warmth to your homemade gifts. Each one has a special message...
"made with love,"
"made by _______"
"made with warm wishes."
Click on any of the previews below or click on the following link to get access to these full page printables and to learn how to pop these round gift tags off the page in just seconds! ==> Printable Gift Tags for Homemade Gifts

---
Free Printable Gift Tags for Specific Holidays...

Here you can find a few festive printable gift tags for various holidays and special occasion.

---
Creative Gift Tags...

Some of these tags have space to be written on, while others make cute embellishments.


Party Collection
---
Gift Tag Templates...

I also have a fun collection of gift tag templates. The neat thing about gift tag templates, is how flexible they are. You can design them in any theme you want. You can even make your own stencils to use over and over. Read more here...

Related Pages...

Home
› Free Printable Gift Tags