Homemade Halloween Gift Ideas

Creepy Crawly Halloween Crafts and Spooky Food Gifts...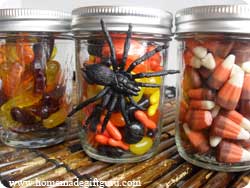 It's creepy... it's crawly... it's time for Halloween gift ideas!

Once upon a time, I found myself less than interested in Halloween. What a sad thing that was... I guess I'd grown out of the whole trick-or-treating thing and I just couldn't see the magic anymore.
What turned it around for me? Taking the time to get into the Spirit of Halloween through crafts and teats made with imagination.
Having my own kids may have helped too... (wink, wink)

These days I look forward to Halloween. I can't wait to ask my kids what themes they want to focus on each year.
Halloween is a great excuse to rev up your imagination with homemade decorations and extremely CREATIVE homemade Halloween treats.

Halloween Printables...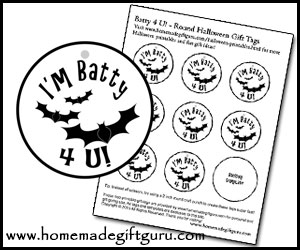 These Halloween printables will make a nice addition to your Halloween gifts, grab bags and Halloween treats.
Be sure to check out my new circle gift tags that can be punched out in seconds, including...

I'm Batty 4 U!
Have a Safe and Spooky Halloween
Have a BOO-tiful Halloween
Plus several printable gift tags that you can print and decorate however you'd like!

To get into the Halloween spirit and start having fun right away...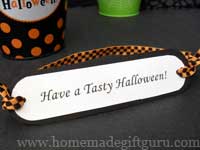 Make Halloween decorations
Create festive homemade Halloween treats
and of course, try out some of the following Halloween gift ideas!
Below you'll find a few of the things I've made for homemade Halloween gifts...

A Few Halloween Gift Ideas:

Halloween Gift baskets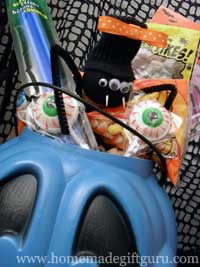 Halloween Gift Baskets are a fun way to get creative... and they don't have to cost much. The first thing I do is run to the dollar store to pick up a few festive Halloween treats, some glow sticks and toy creepy crawlies.

I've include several suggestions for your Halloween gift baskets and categorized them into Halloween themes...
Trick-or-Treating Kit, Dress-up Fun, Halloween Baking, Halloween Party fun, etc.
Try making Halloween gift basket for your kids, grandchildren, friends, teachers or co-workers!

Halloween Candy Ideas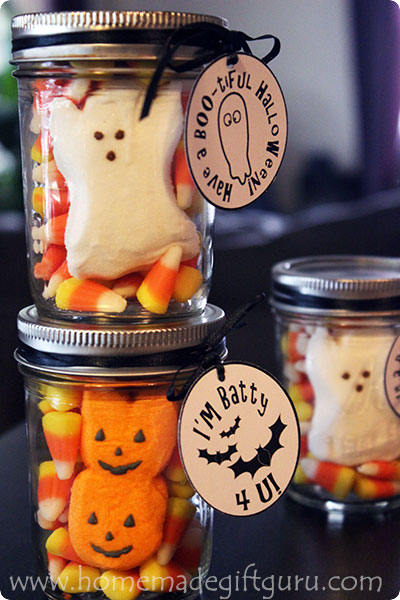 Halloween candy... you either love it or you don't!
If you love Halloween candy and you want to use it to make some great homemade Halloween gifts, then you'll love these simple Halloween candy ideas.

From easy candy in a jar gifts (with free printables) to festive Halloween candy bouquets, these Halloween gift ideas will add a bit of festive fun to your Halloween.
You'll also find instructions for making crazy candy people and funny homemade candy gifts such as Ghost Poop and Witches Warts.

No-Sew Halloween Sock Spider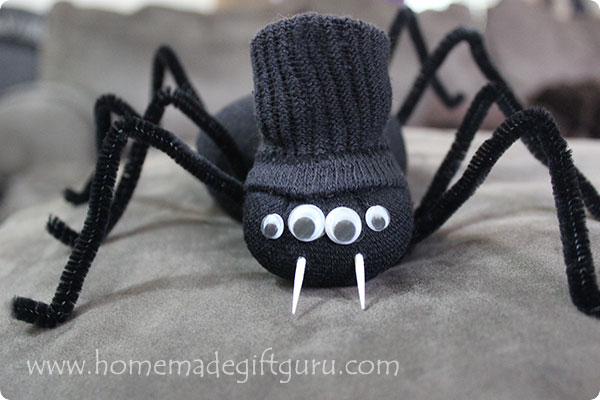 Sock Spiders make cute creepy crawlies!
These no-sew creepy crawly cuties are so much fun to make and for under a dollar a piece!
No-sew sock spiders make a great:
homemade teacher gift
homemade gift for a co-worker (they can sit on a desk, looking silly but spooky)
addition to a Halloween gift basket
or just a cute little gift for a child
They also make a funny gift to give to your favorite spider-fearing friend (just don't tell them I gave you the idea!)

Halloween Caramel Popcorn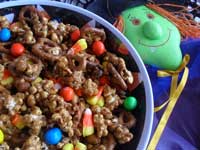 Caramel popcorn is always a hit when it comes to homemade Halloween treats and homemade gift bags, but this Halloween caramel popcorn recipe is extra special!
Check out the festive colors and be prepared to enjoy a bit of sweet and salty goodness.

You may also like to make Original Caramel Popcorn... you can package up a few individual servings of this crunchy caramel popcorn with plastic spiders, printable Halloween gift tags and creepy bugs. Give them to friends, teachers and co-workers or simply add them to your party buffet.

Unique Halloween Party Bag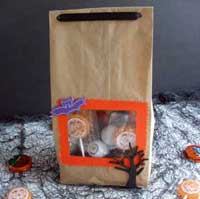 Here's a creative Halloween party bag idea you can use with that great big stack of paper lunch sacks in the cupboard. Make just one bag to hold a special creepy homemade Halloween gift or make several to give for Halloween party grab bags.

The window can be left clear like the one shown here or it can hold a spooky surprise like the fake cockroaches I had this year (check out my surprise cockroaches on the Unique Halloween Party Bag page.

Related Pages...

Home
› Halloween Gift Ideas