Caramel Popcorn Recipe and BEST TIPS

This Yummy Caramel Popcorn Recipe Makes Rich, Buttery and Crunchy Gourmet Popcorn Gifts
I've been in love with crunchy caramel popcorn since youth. I first had it from a gourmet popcorn tin, the kind you get for Christmas gifts, and it was love at first taste.
I'm embarrassed to say that for many many years it just didn't occur to me that I could make such a scrumptious candy coated treat... that is until it did! Well, better late than never.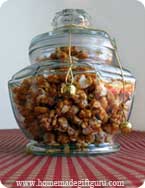 This particular caramel popcorn recipe is specially designed to make a perfectly gourmet popcorn gift...
Don't you think gourmet popcorn gifts should be rich, buttery, crunchy and packed full of flavor? I do!
Especially for gift giving, I want full caramel coverage, longest keep time and ease of making and cleaning up (I know much about the rush of holiday baking, homemade gift giving and last minute fundraising projects).
So, before we get to the recipe, here's a few tips I've learned along the way... to help you make caramel popcorn with ease.
Caramel Popcorn Recipe Tips
First, here are a few tips to ensure all your caramel and candy flavored popcorn recipes are quick and easy to make as well as to clean up:
Spray everything with cooking spray. Caramel popcorn is a messy project... or it used to be before you started spraying everything with cooking spray (and I mean everything) that will come into contact with the caramel or caramel popcorn. That includes spoons, bowl, pot, tray, spatula... anything used for mixing, stirring, baking etc.
Have all ingredients measured and ready before you start. The success of any caramel popcorn recipe is largely dependent on quick action since it hardens as it cools, so don't waist any time measuring and preparing ingredients as you go.
Use real butter. You can use margarine but I know for a fact that one of the main things that separates the best commercial gourmet popcorn products from that of others is the use of real butter. It's not just taste but also texture and the way real butter helps the caramel to seep into the popcorn.
Use a Candy Thermometer. You can use the "5 minute rule" (where you boil the sugar mixture for 5 minutes) as many caramel popcorn recipes call for but for best results, use a candy thermometer and pull your caramel off the stove at 250° F. Any hotter and it gets too thick to mix well. If you do boil for 5 minutes, start the timer with the very first sign of boiling, don't wait until it's at a full boil to start timing.
Make sure to use the largest bowl you have for mixing. You'll be quicker if you can mix the popcorn in the freedom of a very large bowl (or even a roasting pan) and as I said above, speed is essential once the caramel starts to cool. You need to mix well and you don't want to be worrying about spilling popcorn from the sides.
Have two large spoons ready for mixing. I think it's easiest to mix the popcorn well with two large spoons as opposed to just one. I also prefer to use wooden spoons but any large long handled spoons can be used.
Work fast, don't be a perfectionist. Many of these tips are geared toward working with the caramel as fast as possible so it doesn't cool before the popcorn is well coated. Another tip for speed -don't be a perfectionist, worrying about scraping every drop of caramel out of the pan, every second is precious.
Soak everything in hot water as soon as possible. Sticky cooled caramel can be a scary thing to ponder when it comes to cleaning, but I've found that getting your caramel covered kitchenware into hot soapy water as soon as you can, makes cleaning a breeze. When you are ready, everything will rinse right off.
Ok, now that that's out of the way, here's my simple caramel popcorn recipe with the right amount of everything.
---
Caramel Popcorn Recipe
Yum, yum, yum! Be sure to use real butter, it's worth it!
Tip: If you use more popcorn than suggested, you'll get more caramel popcorn but with less of the full coverage that makes this recipe so perfect for popcorn gifts.
Ingredients:
10 cups of popped pop corn (about 1/2 cup kernels)
1 1/2 cups of dry roasted peanuts (or half almonds, half peanuts)
1/2 cup butter cut into cubes
1/4 cup corn syrup
1 cup packed brown sugar
1/2 teaspoon salt
1/2 teaspoon baking soda
1 teaspoon vanilla extract
You'll Also Need:
Nonstick cooking spray or oil for greasing
Large bowl (the bigger the better) or roasting pan
2 quart sauce pan (around this size works best)
2 wooden spoons (or other large spoons)
Spatula
Large baking sheet
Measuring spoons and cups
Caramel Popcorn Recipe Instructions:
Pop popcorn kernels (I air pop mine but any way will work)
Remove any un-popped kernels that may have snuck into the popcorn
Apply a heavy coat of cooking spray or rub oil on inside of large bowl
Pour popcorn into greased bowl and sprinkle peanuts over top
Now apply a heavy coat of cooking spray (or oil) to inside of saucepan, baking sheet, spoons, spatula
Tip - spraying the measuring cup before measuring the corn syrup will help it come out easier too
Preheat oven to 200° F
Measure out the rest of the ingredients at this time and set aside
In saucepan dissolve butter, corn syrup, brown sugar and salt over medium heat stirring frequently; bring mixture to a boil
Boil mixture for 5 minutes without stirring (or until candy thermometer reaches 250° F)
Tip - The trick is to start the timer at the very first sign of boiling; if you wait until it is at a full boil to start the clock, your caramel will get way to hard or use a candy thermometer for best results
Remove saucepan from heat and immediately add baking soda and vanilla, stirring quickly as it foams up, sizzles and settles back down
Immediately pour caramel mixture over popcorn and mix using both spoons until well coated
Spoon mixture onto the well greased large baking sheet (I prefer a well greased tray but some people use parchment paper)
Bake for 1 hour, stirring popcorn every 15 minutes
Cool completely and then store in an airtight container
Soak sticky caramel covered dishes in hot, soapy water as soon as possible, after a few minutes the caramel will rinse off easily
---
Notes:
Important Safety Note: Caramel popcorn is great for kids to eat, not to make. The extremely high temperature of the caramel and the caramel popcorn makes it very dangerous for children. Adults should be very careful to avoid touching hot caramel and hot caramel covered popcorn when making, mixing and baking caramel popcorn.
Q: Do I have to bake the caramel popcorn? Some people choose to snack on sticky caramel popcorn after it's cooled, while others prefer it crunchy. That's simply a matter of preference. Of course, it is the baking in this caramel popcorn recipe that creates the crunchy candy coating, helping it keep well and making it a great popcorn gift.
Gift Your Caramel Popcorn in Style!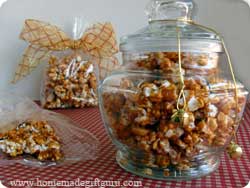 Caramel Gourmet Popcorn can be given in cellophane bag, an air-tight decorative jar, an air-tight up-cycled canister, or a gift tin (in my experience, gift tins keep caramel popcorn fresh the longest) - just make sure the container you use has an air tight seal.
Decorate as desired, keeping it simple as seen to the right or getting crafty if you are so inspired...
For a unique spin on original caramel popcorn, you may like to try this coffee-almond-caramel popcorn recipe!
For a thoughtful homemade gift for coffee-lovin' co-workers, friends and teachers... you can put some coffee-almond-caramel popcorn in a coffee mug and wrap the whole mug in cellophane.
You can also create a coffee-theme gift basket, full of things like coffee, mugs, coffee caramel popcorn, flavored sugar and maybe even a small bottle of homemade Kahlua!
If you are lovin' the flavored popcorn recipes, popcorn.org is an interesting site devoted entirely to popcorn.

Related Pages...

Home
› Caramel Popcorn Recipe & Tips