Learn How to Make Candy Bouquets
These SWEET Bouquets are Literally Made of Candy!
Are you looking for a sweet and creative no-bake homemade food gift idea? Here you go!
By learning how to make candy bouquets, you'll always have a fun, creative and affordable gift idea up your sleeve.

You can make a candy bouquet for any occasion!
Once you know the basics, they're quick, easy and fun to create...
Make just one, for a special gift (ex. birthday, graduation etc.) or make several for holiday gifts and give them out to friends, family, co-workers, you name it!
Learning how to make candy bouquets creates a fun alternative to homemade gift baskets.
Like homemade gift baskets, candy arrangements are fun and easy to make, they can be big or small, (depending on your preference) and you may even like to include a fun keepsake, such as a holiday ornament, a small stuffed animal or playing cards.

They make thrifty homemade gift ideas (the cost is usually just the candy itself)... You can start with a vessel that cost absolutely nothing (like this up-cycled tin can idea) or just a few dollars (like the vase I used here, which I found at the thrift store for less than $2).

Another fun thing about homemade candy bouquets, is that they make fun and creative table arrangements for holidays and special occasions. Once you give a candy bouquet, it will brighten up the spot it's placed... and then later, it will brighten your gift recipient's taste buds as well.

Below, you'll find the basics of how to make candy bouquets and then I've linked to some specific step-by-step candy bouquet projects.

If you make a candy bouquet, show us here!

Here's the Basics...
Part of learning how to make candy bouquets is deciding:
How much candy you want to put in the arrangement (I usually like to use multiples of three... ex. 6 pieces of candy, 9 or 12)

What container/vase/pot or other creative vessel you want to start it with. To stay thrifty, you can make a vase, score one at a thrift shop or raid your stash of extra vases and small planter pots (they do tend to accumulate).

What types of candy you want to make the bouquet with. Perhaps you want to stick to a color theme for an occasion or perhaps your gift recipient has a favorite type of candy you want to focus on.
For example...

Size. The size of a candy bouquet can vary quite a bit. You may have an occasion that calls for a big fancy candy bouquet, such as a birthday... or you may need to make your candy bouquets cute and small, so you can create several and give them out to a list of people.
Examples... below, you'll see a simple 6-bar arrangement to the left and then an exploding many-bar arrangement to the right.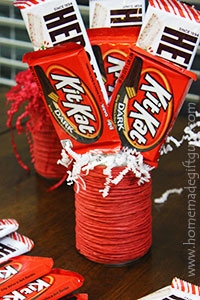 This candy bouquet is on the smaller side, made with just 6 candy bars.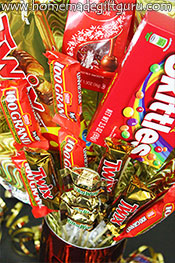 This bouquet has a huge assortment of full size bars as well as fun size.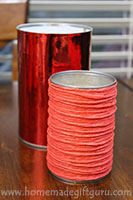 I Love Using Up-cycled tin cans!
Container. There are a ton of container ideas to choose from when you are learning how to make candy bouquets. You can use tin buckets, small plant pots, glass vases, jars, re-purposed tin cans or other decorative and festive vases you may find, such as ceramic shapes or watering cans.
To keep the cost low, you can make your own vases... if you like to save pretty containers throughout the year, here's a great opportunity to use them up... or you can find all sorts of neat containers at thrift stores and yard sales, often for pennies!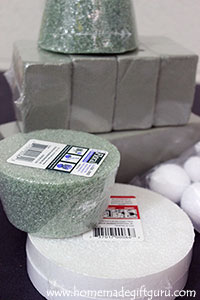 Foam. Next, you will want a piece of craft or floral foam that fits nicely inside the vessel you've chosen. You may end up fitting it snug inside or even hot gluing it inside. It all depends on the vessel.

Occasionally there are times when you won't use any foam, such as when making a candy bouquet using a vase with a slender neck.

There are usually a few different types of foam available at craft stores and dollar stores.
Another thing that works is pool noodles! You can cut them to size and they're actually quite nice to work with.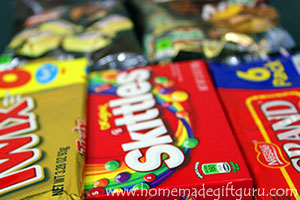 Candy. In addition to choosing how many pieces of candy you want to use in your homemade candy bouquet, you may want to stick to a theme.
For example, you could choose a color theme or perhaps a particular type of holiday themed candy (Christmas, Halloween, Valentine's Day etc.).
...Or you may want to focus on your gift recipient's FAVORITE candy, which makes your candy bouquet highly personalized!
You can also mix and match lots of types of candy... or stick to a particular theme such as: a chocolate theme, a sour candy theme, or a bright and fruity candy theme.
Choosing the perfect candy for these homemade candy gifts will depend entirely on the person/people the candy gifts are for as well as the holiday or occasion.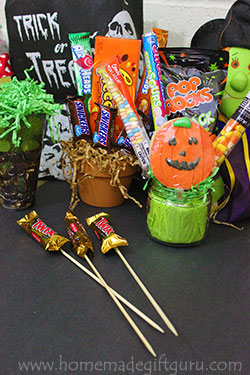 Supplies. In additions to a container, the necessary foam and plenty of candy, you will need the following supplies...

Wooden skewers (shown to the right).
Hot glue gun or clear packing tape (scotch tape isn't strong enough but clear packing tape works well).
Decorative materials such as ribbon, gift tags, crinkle paper, tissue paper etc.
You may like to include gifts tags... feel free to check out these ready-to-go free printable gift tags or these fun gift tag templates for a few easy gift tag additions to your homemade candy gifts.

Now, I'm guessing you're ready to get started!

How to Make Candy Bouquets: Step-by-Step Tutorials
Following are several step-by-step tutorials, showing you how to make candy bouquets using up-cycled tin cans, cute little plant pots and then elegant clear vases.
Each of these candy bouquet instructions can be used for any holiday or occasion, by planning your colors, candy and gift tags according to that occasion... so have fun, be creative and happy gift making!


How to Make Candy Bouquets that are Fun and Frugal Using Tin Cans...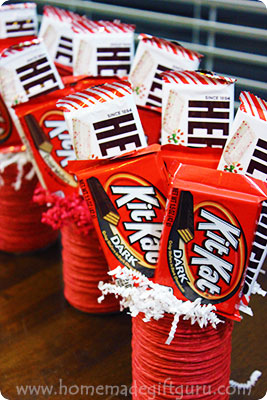 Cute and Very Thrifty!
This tutorial shows you how to make candy bouquets using a tin can for the base.
Re-purposing or up-cycling a tin can makes this homemade gift extra frugal, costing only as much as the candy you give and a few basic craft supplies you may even already have.
I think creating a beautiful "vase" from a boring old tin can is my favorite way to start a DIY candy bouquet project.

Click here for these Candy Bouquet Instructions

Make Adorable Potted Candy Arrangements Using Plant Pots...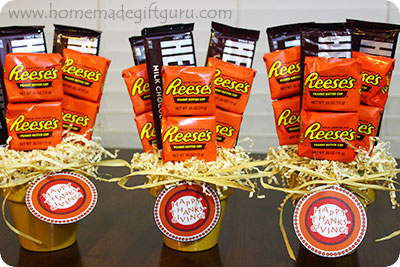 These potted candy arrangements are CUTE and fun to give!
Plant pots are adorable containers to use, whether you are making just one small super cute candy arrangement or if you are making several candy arrangements for any holiday.
Potted candy arrangements are very sweet and easy to make. Plus it's very likely that you can find all the supplies for these at your local dollar store.

Here's how to make these candy bouquet arrangements in little plant pots or tins.

How to Make Elegant Candy Bouquets in Beautiful Glass Vases...

When you need a touch of elegance.
A glass vase adds an elegant touch to any candy bouquet.
Some of the best occasions to use glass vases when creating candy bouquets include...
Wedding Celebrations
Valentine's Day
Anniversary Celebrations
Mother's Day
Sweetest Day
Birthdays

Learn you how to make candy bouquets in elegant glass vases using the chocolate candy bouquet shown above.

More Tips and Ideas for Fun Candy Arrangements...
There are many little things you can do to make your candy bouquets extra cute and personalized.

For example, for holidays you can throw in a holiday themed candy bar, such as this Valentine's Day candy bouquet featuring a cute little chocolate Valentine bear.
You can also fill the glass vase with candy, like I did here, for a unique look and extra sweetness... literally!
Another fun thing to think about...

You don't have to use candy! I don't know what you would call it if you don't, perhaps a savory snack bouquet? My hubby is looking forward to getting a bouquet like this for Father's Day!

...Other foods that can be used instead of candy:
Fruit Roll-ups and Fruit Leathers
Individually packaged Nuts and Seeds
Beef Jerky Sticks
Individually packaged dried fruit
Single serving packaged nut butters
Keepsakes are cute too!
If you can attach it to a skewer without ruining it, you can add it to your candy bouquet.

Sometimes it's fun to include a small stuffed animal, a cute little sign, a small toy, art supplies, holiday ornaments, playing cards etc.

Below you'll find more candy bouquet ideas and candy gift projects!

Related Pages...