Homemade Gift Making 101

A Getting Started Guide to Gift Making...
See what other people have shared in the homemade gift idea gallery!
A homemade gift can be funny, delicious, crafty or just plain sweet. What some people don't know, is that they can be more elegant, creative and higher quality than stuff you get at the store... and for a lot less money!

Below you'll find a few ideas about the why, when and who of gift making, plus a list of techniques and crafts that lend themselves well to homemade gifts.

After you make your own gifts, you can help to inspire others to make gifts by uploading a photo in the visitor gallery!

The Joy of Homemade Gifts?
Gift giving itself is something we all have in common... a fact of life. There's always going to be special occasions and people you want to gift.
The sad thing is that many of us get stressed out buying gifts. Not enough money. Not enough time to shop (sometimes blindly) for that perfect gift idea. So many fantastic children, friends and family to give gifts too! We want to express our love and appreciation. We want to do it in style. We don't want to buy junk either, we want to see them smile!
So, would you believe that homemade gifts can improve your quality of life? Imagine stress-free giving, easy on the budget, fun, joyful ways to express love and appreciation... save time and often the gas it takes to drive around looking for a gift that actually says, "You're special to me and I thought about you in particular for this special occasion!"
In addition to the fact that making gifts is almost always a frugal way to go, it's also a great way to be unique, to stand out in the eyes of a friend, to show a special level of sweetness, to get creative and even share creative ideas and to truly have fun giving!
By the way, if you're new to making gifts, remember... this website of tips and homemade gift ideas will help you make your own gifts with the confidence and excitement you deserve.
Your Homemade Gifts Can Be Entirely...

Higher Quality. Higher quality may not be the first thing that comes to mind when you think of a gift that is homemade, but it's true. Your homemade projects are going to be the best quality you can imagine because each step of the way, you choose the ingredients, the materials and the vessel in which it's presented.

You explore. You plan. You search. And you put the extra love and thought into each project, making your homemade gifts higher quality than store-bought stuff.


Highly Personalized. Beyond quality, it's the little things that make all the difference. There are an endless array of small touches and personalization possibilities to add that special bit of meaning that you just can't buy. And if you can't buy it, that means it's priceless!

It's often the little touches and the knowledge (favorite color, themes, symbols, ideas etc.) you have of the person you're giving to that help make a home made gift stand apart from the others.


Low Cost. There's something magical and fulfilling about increasing quality and value, while lowering cost. Need I say more?

Better Tasting. You don't have to be a professional to make the best tasting treats around. Homemade or baked-from-scratch goodies are almost always better tasting than even those food gifts labeled gourmet.


Perfectly Presented. Presentation is an extremely important part of gift making. There are so many fantastic, unique and impressive ways to contain and present quality homemade goods. The possibilities are endless. Start collecting jars, bottles, baskets and containers now for easy homemade gifts in the future...
When to Give a Homemade Gift?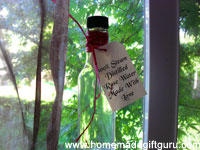 Almost anytime is a good time, as long as it sounds like fun to you - a homemade gift will usually turn out the best when you enjoy making it. Plus your own excitement is a gift to everyone around you.

Don't worry about your ability to be creative... it doesn't take any special skills to make most of the homemade gifts on this site. Just follow the instructions and go from there...

"The thing that makes a creative person is to be creative and that is all there is to it."
    ~Edward Albee

In other words... Just Do It!

Who to Make Gifts For?
If you ask me... anyone and everyone!
Some people get uncomfortable knowing you spent money on them, especially people who don't have the money to spend on you. Often a homemade gift that didn't cost you very much will go over much better than a store-bought gift that causes them awkwardness or even guilt.
Homemade presents are perfect for the person who has everything or the person who can buy anything.
The extra thought goes a long way with people you love. They will make a mother, father, girlfriend, boyfriend, spouse or friend feel special.
Coworkers, teachers, neighbors, church groups, party guests, hostesses and groups of friends or associates... these are all people to appreciate but it's not always appropriate to buy them a gift. Small homemade and handmade gifts are often the perfect choice!
Gift Making Tips:
Always have blank gift tags ready along with at least one high quality pen. I've got lots of printable gift tags and gift tag templates available for your convenience.


Tips for Creative Gift Wrap Ideas. Gift wrap supplies can be expensive but it's essential that homemade gifts be presented well... Interestingly, for about the same price of fancy bows, you can adorn your gifts with dollar store keepsakes (a wooden spoon for example), pretty candy or other small items - all of which give your gifts an extra special presentation.

Real ribbon goes on clearance at the craft stores and can be used in place of the plastic stuff giving you much more bang for your buck.

You can also make your own boxes or design your own gift wrap for added creativity.


Labels. Always label mixes well, with the name of the contents and instructions. Be sure that the label won't fall off by accident by using strong adhesives. Add best by dates whenever possible (or even made on dates if that's all you are sure about).


Always use fresh ingredients in food gifts and mixes!


Have Beautiful Containers Ready. Stock up on high quality cellophane bags and lovely bottles, before the holidays. This will help you avoid putting mixes in unattractive containers such as plastic zip bags. As stated earlier, presentation can make or break homemade gifts and things like high quality cellophane bags and attractive bottles can do wonders in conveying to your recipients the high quality of your gifts.

Gift Making Techniques:
Homemade Gift Baskets

Make baskets that appear to overflow with delicious food gifts, bath and body products or themed gifts of any kind.

Go to Instructions for Making Gift Baskets Like a Pro.

Food Gifts in a Jar

Make food mixes and enclose them in a creative container such as a decorated mason jar. Layered mixes range from desserts to dinner dishes. These make great budget gifts for friends, family and co-workers.

Go to Gifts in a Jar Tips and Tricks to get started or check out my
Free Recipes in a Jar

Bath and Body Mixtures

Whether you purchase fancy bath and body products, you make your own bath and body mixtures or you put together a few simple bath luxuries for a friend, bath and body pampering makes a great gift.

Go to Homemade Bath Salts for Recipes

Canning/Preserving Foods

Home canning has been an act of necessity for generations. Yet today, it is also done for superior taste and healthfulness (whether that be due to the use of less sugar, less salt, the use of organic produce or simply the lack of artificial ingredients).

Home canned food is truly a tried and true homemade gift. Nearly anything you choose to preserve will look gorgeous packed in your glass canning jars.

Plus you can spice up simple foods such as pickles and green beans with hot peppers, whole cloves of garlic or peppercorns for example (they'll provide more flavor as well as add to the creativity of these gifts).
To get started you might want to think about:
Buying fruits and veggies at local farms and growers markets (let's hear it for supporting local farms, we also love the unmatchable freshness and often much lower prices of local produce) or...


Starting your own garden (quite a bit can be grown even in small space. Grow Great Grub: Organic Food from Small Spaces is a great book to get you going whether you have a balcony or an actual small plot of earth to work with (it also has a great section on canning).
Tip: There are many things you can make that are designed for immediate use or even freezer storage without actually learning to can. Freezer jam or refrigerator pickles for example.
Personalized Gifts

Make mini photo books, use printable transfers to design personalized t-shirts, embroider a name, the list goes on and on. You can make homemade personalized gifts or have some one else do the making and printing for you. Either way it's your creation...

Learn more about Personalized Gifts Online to learn more about designing priceless personalized gifts...

A List of Several Crafts for Creative Gift Making - The following crafts have an amazing array of hand made gift possibilities:
Decoupage - Go to Decoupage 101 to get started

Card Making - Go to Make Greeting Cards to get started
Polymer Clay Gifts - See sun signs for birthday gifts for several polymer clay gift tutorials

Plastic Canvas - can be used to make doll house furniture and all kins of household items
Sewing
Crochet Gifts
Knitted Gifts
Embroidery
Candle Making
Paper Crafting
Jewelry Making and Beading

With the business of life, we sometimes forget how great... how truly amazingly... how wonderful it feels to spend a bit of our time focusing on doing something special for someone we love.
As you take the time to really think about what your special person likes, what would delight them, and what would be fun to make and fun to give, you will receive the following benefits:
Love
Joy
Appreciation
Excitement
Joyful reminiscing
Deepening of your love for this individual
More understanding
You may smile, laugh, cry and/or grin as you plot...
Related Pages...