Homemade Amaretto
by Jade Tobin
(Dayton, TN)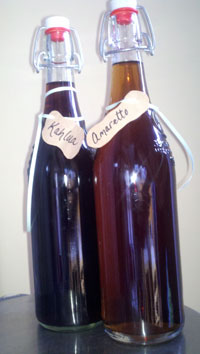 Hi girls! Well, when I found the Kahlua recipe on this site I was beyond excited! I've made it a ton and have given it as gifts to lots of very happy people! So it made me curious to find other things that I really enjoy but that I can do a bit cheaper than buying at the store.. that way I could use it whenever I wanted to, as opposed to only on 'special occasions'! So I looked around and found recipes for Amaretto, which I love!
Most of them though were difficult and very time consuming and I am not patient enough for that!! ;) So I finally came across this one! It is sooooooooo easy and amazingly delicious!!! At the bottom of the recipe are a few extra personal notes…changes I've made or want to make next time.
I hope y'all like it! Let me know!

Homemade Amaretto Recipe

Ingredients:
1 cup water
1 cup white sugar
1/2 cup brown sugar
2 cups vodka
2 tbls almond extract *
2 tsp vanilla extract *

Directions:
Combine water and sugars in medium saucepan over medium heat.
Heat until the mixture is boiling, & all sugar is dissolved.
Remove pan from heat & let mixture cool for 10 minutes.
Then stir in vodka, almond & vanilla extracts.
Store in a sealed bottle. Like the Homemade Kahlua on this site it just gets better with age!! I added a vanilla bean also because I adore vanilla. I also used homemade vanilla extract! Delicious!

*1st time making it .. followed recipe ..
RESULTS - I would probably use a lil bit less almond next time (the extract can be a lil overpowering), maybe just 1 tbls or 1&1/2 ... I also used probably a tsp more vanilla.
I also added a lil extra of each sugar .. add a lil more next time.