Homemade Birthday Gifts for Mom: Photo Frame Gift
by Holly
(Washington)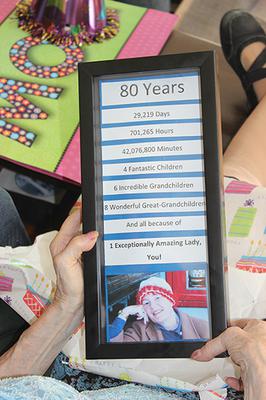 For my mother in law's 80th birthday, I wanted to give her something that celebrated her years and honored her love for her family. She is an amazing, strong, beautiful woman that had her 4 children over an 18 year period and gave me the most incredible husband.

In researching homemade gift ideas, I came across some simple signs that would start with a person's age and then break down the generations following into kids, grand kids and great grand kids. I liked the concept and used it to inspire my projects.

For my first project, I went to the craft store and bought a frame that would hang vertically.

I came home and picked my favorite picture of her. I really wish I had a picture with all her family together, but we are all spread out over 800 miles and I didn't want to use one that left anyone out. So, I went with one that was attached to a beautiful memory we shared together and I thought she looked radiant in.

Once I had my picture, I picked a card stock background color that complimented it nicely and cut it to fit the frame.

Then I sat down at my computer and started typing. I started my first line in a larger font with 80 Years. For the rest of the project I used a smaller font. I had to play around a little with the size until I found one that fit my frame well.

For the next 3 lines, I broke down 80 years into 29,219 Days, 701,265 Weeks, and 42,076,800 Minutes, each number getting bigger.

From there I brought it back to her family. The next 3 lines were 4 Fantastic Children, 6 Incredible Grandchildren & 8 Wonderful Great Grandchildren.

Finally, I wanted to bring it back to her at the end and in keeping with my number theme, the last few lines read, "and all because of 1 Exceptionally Amazing Lady, You!

From there I used a paper cutter and cut out each of the strips. I arranged them on my backing with her picture at the bottom. When I had a spacing that I liked I glued them down and placed it in the frame.

She absolutely loved it. The last time we visited it was hanging on the wall next to her favorite chair.