Jars for Homemade Jar Gifts

Thrifty Tips for Using and Re-using Glass for a Variety of Homemade Gifts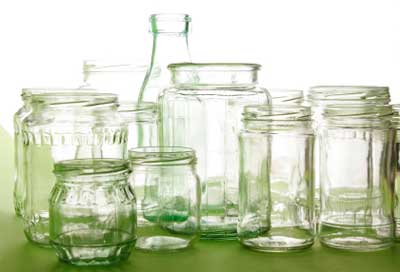 Are you in need of Jars for Your Homemade Jar Gifts?
Here are a few tips that will help you find, use and re-use beautiful jars and glass bottles for a variety of homemade gift ideas.
You can always buy jars at the last minute, but if you collect high quality, chip free glass jars and bottles throughout the year, you'll find yourself saving money and time...
...not to mention the extra inspiration for new homemade gift ideas that comes from finding fun and unique jars and bottles for your gift projects!
Here's a couple examples on how you can re-use glass jars you would normally just recycle...
Whole Spice Chai Tea Mix in a Spice Jar: It's never wise to throw away a glass spice jar... too many awesome uses!
Homemade Kahlua in a flip top beer bottle: A favorite, these sturdy bottles deserve a 2nd life... and a 3rd, 4th...
Also fun to make:
Various dry rubs and seasoning mixes can be given in glass bouillon jars or other small jars that would be otherwise doomed for trash or recycling.

Below you'll find:
Tips for finding great glass at a great price
Tips for cleaning stubborn labels and odors from recycled glass jars
Tips for choosing the best glass for your homemade jar gifts and
Ideas for making creative bottle tops and seals

Mason Jars...

For traditional cookie mix in a jar gifts and other layered homemade jar gifts, you'll need some 1 Quart (or 1 Liter) screw top canning jars such as Mason or Ball.
These jars are great because they're thick and super sturdy, uniform in size and widely available, plus they can be bought with wide mouths for easier use when creating mixes and other recipes in a jar.

To Get the Best Deal on Ball or Mason Jars...
Shop Used? If you're a thrift seeker, keep your eye out at yard sales - some people get rid of canning jars for next to nothing! Sometimes you can get these jars at thrift stores but the price varies. Always check jars thoroughly for chips, cracks and rough edges since any blemishes make these jars useless.

Best Sales. Wait until the late summer sales at super stores in your area (we have Bi Mart, Winco, Walmart and Food-4-less for example). This way, you'll get a whole dozen shiny new wide mouth jars with fresh lids and rings for just a few bucks.

Keep in mind that although the 1 quart/1 liter size jar is most used in homemade jar gifts, you shouldn't pass up on a few pint size and half gallon size canning jars for more unusual recipes in a jar and other mixes.

The Free Options... Diamonds in the Rough!

This is my favorite part! The way I see it, we live in a world full of glass. We buy stuff every week that comes in stylish glass containers. We have houses full of glass jars, glass storage containers, glass bottles and glass vases.

Have you ever saved a fancy marinade bottle for a hot cocoa mix? Or a large beer bottle for a dry beer batter mix? Or a liquor bottle for a drink mix, fruit infusion or homemade bath salt mixture?

Fancy glass jars and bottles are being thrown out or recycled every day but they can be very useful if paired with the right homemade gift idea and used for homemade jar gifts.
Keep your eyes out for such hidden treasures as:

Used Food Jars. Recycle and reuse glass jars that once contained food items from the store. Keep your eye out for nice sizes, thickness and shapes. You'll probably want to decorate the lid so keep it with the jar for future embellishing.

Used Glass Bottles. Recycle and reuse glass bottles as well. Some of the best designs include, gourmet sauce (teriyaki and steak for example), fancy dressings and marinades, flavored syrups (such as for coffee and pop), wine, cider, and maple syrups to name a few.

Antique Jars and Containers. When at thrift stores, yard sales or antique stores, keep your eyes out for safe containers of any kind. You can usually find a nice and cheap selection of containers such as candy jars (a classy favorite for many and they usually comes with a rubber seal), a variety of old and fancy glass or crystal containers and sometimes great pottery or other creative containers.

Other Containers. Many gifts that can be given in a jar can also be given in other containers. Consider giving gifts in bags made of cellophane, thermoses, tea pots, plastic wrapped coffee cup, cookie jar, cookie tin or other tin container, or even a paper box container. I've even used slim rimmed vases with an added cork - hey, it worked and it was cute!

So many possibilities, the only downside is storing your collection until you're ready to use it (he he, I've got containers of every kind pouring out of my itty bitty pantry - but it's so worth it when I'm ready to use them).

Since I trained myself to look for glass treasures everywhere I go, my cost of gift making has gone down! But best of all, it's fun to re-use and up-cycle glass of all kinds.

Tips for Cleaning and Deodorizing Used Glass Containers...
It can be a bit of a pain getting stubborn labels off and taking away heavy odors. There's certainly the soak and scrub method that sometimes works... but stubborn labels and odors sometimes require more.

Here's a few handy tricks that make it easier to clean and reuse glass containers.

Best Tips For Getting Sparkly Clean Jars and Bottles...
Start by cleaning jars thoroughly with hot soapy water and taking off whatever label you can. Sometimes that's enough.
Give glass a thorough soaking in very hot, soapy water.
Even better, place your jars and bottles in a pan of water, bring to a simmer and simmer for about 10 minutes. Once jars have cooled, scrape off any remaining label or glue.
For really tough odors or persistently sticky labels you can also add a splash of bleach to a hot soapy soak. Make sure jars and bottles are filled with the bleach water as well.

After soaking in hot, soapy bleach water for a couple hours (or more) they will be easy to clean inside and out. Labels usually slip right off and odors disappear.

The bleach sanitizes, eats label glues and removes odors all in one step. Plus it doesn't take very much bleach.

Tip... You can soak several jars and bottles in the sink or use a large Tupperware container like the one above to soak just a couple. Always clean and rinse glass thoroughly after using bleach.
Sterilizing Glass. If a gift jar recipe requires that you sterilize the jar, you can boil jars for 10 minutes in upright position with 1 inch of water covering rims. Most dishwashers also have a very convenient sterilize setting that you can use to sterilize your jars.

Tips For Choosing Jars for Homemade Jar Gifts...

Just about any jar or glass bottle can be used to make a variety of homemade jar gifts, although some recipes in a jar will require a wide mouth and most will require an air-tight seal. You never know what type of gorgeous or unique glass jar you might find on clearance, at a thrift store or in a yard sale.

Choose glass containers that are in great condition, without nicks or damage of any kind. This is necessary for the safety and wholesomeness of any homemade jar gifts. Nicks and cracks can house bacteria much easier than smooth surfaces. It also ensures a good seal for goods that need to be in airtight containers.

The surface qualities of the glass you choose will also make a big impact. For example, blue glass or other colored glass will obviously hide the contents of the jar. This is fine for plain looking contents but for contents that are elegantly layered by color and texture or otherwise pretty to look at, clear glass is a must.

You'll also find glass with different textures, patterns or etchings. Textured glass is beautiful but it will impact the view of what?s inside so you'll want to choose glass with color or texture carefully (the allure of most homemade jar gifts is looking at the beautiful contents).

Ideas for Making Creative Bottle Tops and Seals...
Lids and Closures. Many jars have lids that seal air-tight. This is particularly important when using jars to can (preserve food) or when storing spices, bread, dessert mixes or beverages. Air-tight-sealed jars will keep in flavor and keep out contaminants.

Some lids, including the lids for Mason jars have a thin rubber seal. Always use a fresh lid and seal.
With the right container, you can use a cork to seal the jar, which adds a wholesome, even elegant look to your homemade jar gifts.

Or use lids that screw on, clamp shut (see right) or snap closed. A piece of colored plastic wrap can also be placed under the lid to ensure a tighter seal for certain homemade jar gifts.

Make Decorative Tops for Bottles...
Try using a cork (get cork variety packs at craft supplies stores) for bottles that had screw on lids or bottle caps.
Glue a round wooden ball (from crafts shop) to the top of a screw on cap or a cork, then paint or decorate the ball and lid.
Glue on funky embellishments such as buttons, stones, silk flowers, whatever you can think of.
Paint screw top lids or glue a round of decorative paper to the top and once dry, coat in watered down white craft glue or varnish.

As you plan to create fabulous homemade jar gifts it may be fun to check out these articles:
Related Pages...