Owl Themed Night Light Decoupage Project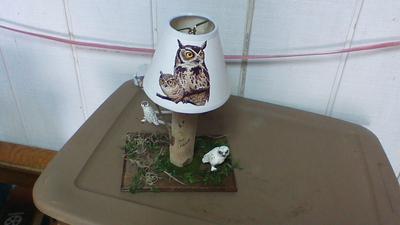 My Homemade Owl Themed Night Light Decoupage Project. Homemade Gift Idea Special for My Niece.
This is a decoupage owl night light that I made for my niece. She loves owls, so I thought I'd come up with a unique homemade gift idea just for her.

It is made from an electric candle lamp, an owl decoupage on shade, driftwood, two small owls, moss, wood base that I stained and small branches.

I started making unique candle lamp night lights about a year or so ago. I have made a jungle theme, pirate ship, and camp site just to name a few.

I have done a few decoupage projects before but, after reading this site, I have learned a lot. I am glad I came across this site.