Coffee & Almond Caramel Popcorn Recipe
A Homemade Popcorn Gift Perfect for Coffee Lovers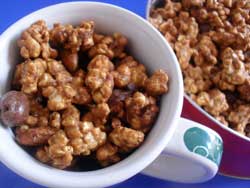 Coffee, almond and caramel, yum!
I'm a big fan of a good caramel popcorn recipe... in fact, I share my recipe for original caramel popcorn here, plus several tips for making caramel popcorn with ease.

This caramel popcorn recipe is for coffee lovers!
It makes a unique caramel popcorn enhanced with coffee, lots of almonds and almond flavor plus a gourmet chocolate surprise.
I've seen coffee lovers go ga ga over it. In addition to simply giving this popcorn gift in a cute tin or perhaps a cute homemade canister, it's a perfect fit for any coffee-themed gift basket.
Note... Since it has real coffee in it, you will of course want to avoid giving it to children.
Coffee and Almond Caramel Popcorn Recipe...

Crunchy caramel popcorn flavored with coffee and almonds, yum!
Plus this caramel latte popcorn recipe has a lovely chocolaty surprise... chocolate covered coffee beans.

If you've never made caramel popcorn before, feel free to check out these handy caramel popcorn tips.
Ingredients...
10 - 12 cups of popped pop corn (about 1/2 cup kernels)
1 cup whole almonds
1/2 cup butter cut into cubes
1/4 cup corn syrup
1 cup packed brown sugar
1/4 cup instant coffee (plain, no added sugar)
1/2 teaspoon salt
1/2 teaspoon baking soda
1/2 teaspoon almond extract
1/2 teaspoon vanilla extract
Optional: 1/2 cup chocolate covered coffee beans
You'll Also Need...

Nonstick cooking spray or butter/oil for greasing
Large bowl (the bigger the better)
2 quart sauce pan
2 wooden spoons (or other large spoons)
Spatula
Large baking sheet
Measuring spoons and cups
Caramel Popcorn Recipe Instructions...
Pop popcorn kernels (I air pop mine but any way will work)
Remove any un-popped kernels that may have snuck into the popcorn
Apply a heavy coat of cooking spray or rub oil on inside of large bowl
Pour popcorn into greased bowl and sprinkle almonds over top, lightly agitate so the almonds aren't bunched right on the surface
Now apply a heavy coat of cooking spray (or oil) to inside of saucepan, baking sheet, spoons, spatula
Tip - spraying the measuring cup before measuring the corn syrup will help it come out easier too
Preheat oven to 200° F
Measure out the rest of the ingredients at this time and set aside
In saucepan dissolve butter, corn syrup, brown sugar, coffee and salt over medium heat stirring frequently; bring mixture to a boil
Boil mixture for 4-5 minutes without stirring (or until candy thermometer reaches 250° F)
Tip - The trick when timing is to start the timer at the very first sign of boiling; if you wait until it is at a full boil to start the clock, your caramel will get way to hard; I highly recommend using a candy thermometer for best results for any candy or caramel popcorn recipe, they are inexpensive
Remove saucepan from heat and immediately add baking soda, almond and vanilla extracts, stirring quickly as it foams up, sizzles and settles back down
Immediately pour coffee-caramel mixture over popcorn and mix using both spoons until well coated
Spoon mixture onto the well greased large baking sheet (I prefer it well greased but some people use parchment paper instead)
Bake for 1 hour, stirring and flipping popcorn with spatula every 15 minutes
If desired you can sprinkle chocolate covered coffee beans over mixture, they will melt just a little so don't mix again until completely cool (if you need to firm them up quickly, put the whole tray in the fridge for a few minutes)
Once cool break apart and store in an airtight container
Cleanup Tip: Soak sticky caramel covered dishes in hot, soapy water as soon as possible, after a few minutes the caramel will rinse off easily
Important Safety Warning: Caramel popcorn can be great for kids to eat, not to make. The extremely high temperature of the caramel and the caramel popcorn makes it very dangerous for children. Adults should be very careful to avoid touching hot caramel and hot caramel popcorn when making, mixing and baking caramel popcorn.
Presentation...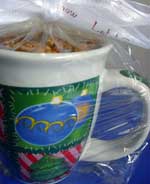 Coffee gift baskets and coffee flavored food gifts make particularly great homemade gifts for co-workers, homemade gifts for teachers and homemade gifts for friends... or anybody who loves coffee!
After making this caramel popcorn recipe and allowing it to cool, you can package your caramel popcorn in something air tight, such as a sealed cellophane bag, a gift tin or an air-tight homemade canister.

One of my fun go-to caramel popcorn gift ideas, is to fill a coffee mug with coffee-flavored caramel popcorn and wrap it in cellophane as seen to the right or...
You can wrap some of your caramel popcorn up air-tight, and place it in a gift basket with some other coffee-themed homemade food gifts... such as a small bag of gourmet coffee, a coffee mug and perhaps some of this homemade Kahlua coffee liqueur for a cute homemade gift basket.
Related Pages...