Father's Day Gift Certificates

Thankful for Dad? These Gift Certificates Can Be Used to Give Any Dad a Thoughtful Homemade Gift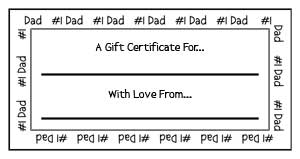 If you're wanting free printable Father's Day gift certificates to compliment your special one-of-a-kind gift ideas for Dad, you've come to the right place.
Whether it's Father's Day or even Dad's birthday, this page has gift certificate ideas and free printables just for Dads.
I like to use these for my Dad, my husband and my Father-in-laws and I find myself printing them for the kiddos to use throughout the year (like for Father's Day and Dad's birthday).
These Father's Day gift certificates can be included inside homemade Father's Day cards for a very sweet Father's Day gift!

Father's Day Gift Certificate Ideas...

Here's a few gift certificate ideas to use with the printable gift certificate coupons below...

Special From The Family:
A coupon for a batch of dad's favorite cookies, pie or other dessert
Favorite dinner coupon... Dad's choice
Special From The Kids:
Wash Dad's car
Wax Dad's car (or help dad wax his car)
Garden labor for an hour
Mow the lawn
Rake up grass after Dad mows
Help Dad pull weeds in the garden for 1/2 an hour
Help Dad with any project he might have going on
Shine Dad's shoes

Special From Wife or Partner:
Watch a sports game of his choice
Watch a movie of his choice (at home or at the Theatre)
Back massage
Back scratch
Foot rub
Help me grow this list, what will you give dad with your new gift certificates? ...or see what other visitors have shared!

Father's Day Gift Certificates - Printable Gift Certificates for Dads...

You may choose to give Dad one gift certificate or give him several by stapling, sewing or punching and tying a few together into a homemade coupon book just for Dad.

Please note that these are my exclusive gift certificate creations. All gift certificates copyright © www.homemadegiftguru.com and provided for personal and gift giving use only. All Rights Reserved.

To Print:
Click image for printable .pdf
Print page on card stock for best results or typing paper can be used.

Cut out gift certificates.


Tip

... these can be matted on slightly larger paper for a nice look.
Fill in the blanks.
Give!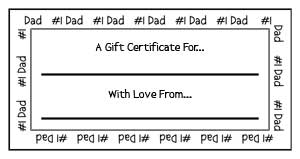 Get more free printable gift certificates on my make gift certificates main page. And if you need a special gift tag template for your Father's Day gift giving, check out these free printable gift tag templates.

Don't forget MOM! When Mother's Day approaches or when  you need a homemade gift idea for a Mom... be sure and check out these printable gift certificates for Mom.
...Like the gift certificates for Dad, most of them can be used anytime of year but specifically for Mom.

Related Pages...