DIY Halloween Party Bag
Make Your Own Halloween Party Bags with a Window... plus a Creepy Crawly Option!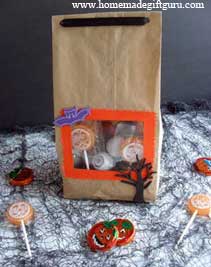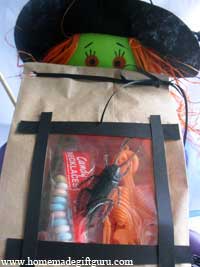 No need to go to the store... these Halloween party bags can be made from brown paper lunch bags!

For these gift bags, you'll make a fun window in the front, where kids can see their goodies from the outside.
You can also make your gift bags more interesting by hiding something surprising in the window!
...I suggest a realistic looking rubber cockroach (dollar stores often sell bags of these around Halloween) or some other realistic looking toy bug.
The last time I made these, I filled the bags up with popcorn and it made the bugs in the windows look extra yucky!

Use your homemade gift bags for...

How to Make this Halloween Party Bag...

You'll Need: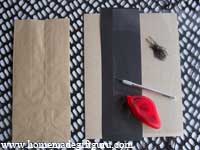 Brown paper lunch bag
Transparency film, acetate or other clear film (you can get clever if you need to)

Card stock Paper or stick-on foam (for frame)
Paperboard or card board (a small strip about as wide as the paper bag, you can use paperboard from a cereal box)
Ribbon about 12 inches at most


Optional: flat plastic or rubber critter (as seen top left)
Optional: stickers - I used

foam

stickers (as seen top right)
Tools:
Paper scissors or paper trimmer
Whole puncher
Glue Runner
Craft Knife

Halloween Party Bag Instructions: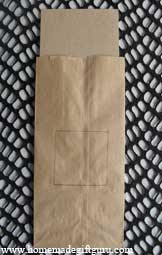 1. Cut Window. Cut whatever size window you'd like by placing a strip of paper board inside the bag and using a craft knife to cut a square or rectangle in just the front of the bag.
2. Cut and Apply Clear Film. Cut two pieces of clear film a little larger than your opening, about a 1/4 inch will do. Using a glue runner, apply glue around the outside edges of hole. Apply first piece of film.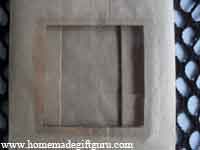 Note: If you aren't including a creepy crawly, you only need one piece of clear film and you can skip to step 4.

Tip: I like using a glue runner here because it dries instantly but a glue stick can be used if needed.
3. Place Bug and Enclose. If desired, place a flat plastic or rubber critter on top of clear film. Apply glue again over edges and place the other piece of clear film over the bug, suspending the fake bug between.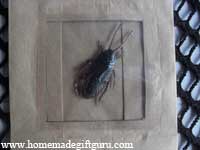 Tip: Other ways to be creative with this idea... enclose a die cut message, paper confetti, glitter etc...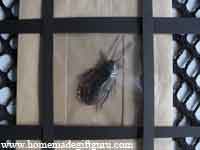 4. Glue Down Frame. Run glue yet again around the outside of hole (over the edges of the clear film). Take four skinny strips of card stock and position them like a frame. Trim as needed and press firmly.

Surprise! You now have a creepy crawly bug enclosed in clear film...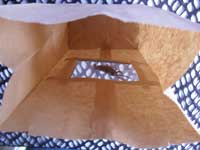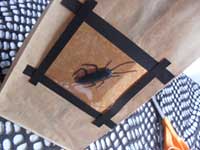 If you want... you can decorate your Halloween party bags with stickers, stamps, rub-on's, whatever you'd like!

5. Fill and Close with Decorative Ribbon. Fill bag(s) with candy, toys, snacks, a homemade gift or a little of each.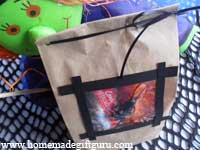 Although you can just staple them shut, I prefer to use ribbon. To do this, fold the top of the bag down about an inch. Punch a whole in the top right and left corners. Thread ribbon through from the front and tie in a bow or knot in the back. For a fancier gift bag, tie a bow in front.

If you'd like, feel free to include a couple of Halloween Coloring Sheets along with whatever candy, toys and/or gifts you choose.

Related Pages...