Lovely Lavender Bottles

Weaving Lavender Bottles: A Traditional Lavender Craft Gift Dating Back Centuries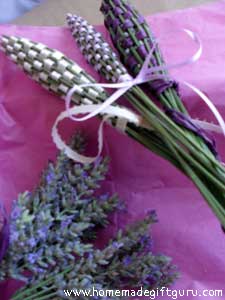 I don't know about you, but the thought of getting my hands into this craft that dates back centuries makes me giddy. And once you make lavender bottles, you'll understand why this tradition has continued...
Picture yourself weaving your favorite ribbon through the stems of fresh lavender. As you weave, the sweet, relaxing scent of lavender absolutely permeates your skin and nose. Your entire house smells like a field of lavender.
Before you know it, you have a beautiful bunch of lavender, the flowers enclosed and kept safe by a cage of stems and ribbon. Will you give it away or keep it close? My advice - you may want to make enough for both!
Learn To Make These Fragrant Bundles of Caged Lavender (known as "Lavender Bottles" by the Victorians)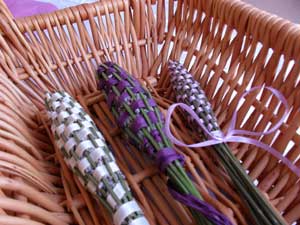 The first thing I do when my lavender plants start to blossom is make lavender bottles. You need fresh lavender to avoid broken stems. I then make fresh lavender bouquets and herb wreathes with lavender flowers. What's left, can be harvested for dried lavender crafts, such as lavender eye pillows and neck wraps.
Supplies:
Fresh blossoming lavender - approximately 13 stalks per bottle
(you can select between 11 and 15 as long as you choose an odd number)
1/4" ribbon - at least 2 yards
(you may need more for thinner ribbons, raffia works great too)
Tools:
Instructions: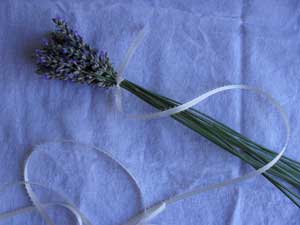 Fill a jar or vase with water and pick your lavender stalks, if possible, choosing long, sturdy stalks and placing them in water immediately
Starting below the flower heads, run you hand down each stalk, removing any random buds or flowers below the flower heads
Line up the tops of the flowers, snuggling them as close as possible
Tie ribbon snugly around stems right below flower heads leaving all the extra length on one end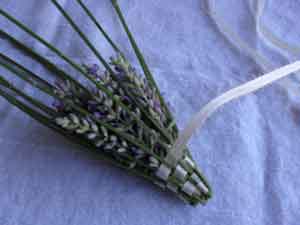 Trim short end to 1/4" so it can be hidden in the "bottle"
Tip: Always make sure ribbon is pulled snug because as the lavender dries it will shrink just a little
Turn the wand upside down (flower heads pointed to floor)
Fold each lavender stem down over the ribbon and flower heads, creating a cage
Tip: If a stem breaks, it can still be handled carefully and woven in with the rest
Pull the long length of ribbon to the outside of the cage and start weaving it over one stalk and under the next - if you miss a stalk (and it does happen) it's best to go back to the mistake and fix it or you're bottle will end up messy
As you weave your way down around the flower heads, continue to keep the ribbon pulled snug
Once you reach the end of the flowers, you're done with the bottle
Now, tie the ribbon around the stalks by pulling it around and slipping it back through in a knot
If you want, make a bow with one tail or leave the tail long
Trim the bottom of the stalks to desired length
Done!
FYI - My first lavender bottle was a little messy, but since completing that first one, I've found the weaving to be easy and something I look forward to. The wonderful scent, the feel of the fresh lavender all over my hands and the idea of doing something so traditional and lovely... enjoy!
What to Do Once You've Completed These Lavender Flower Crafts?
Traditionally, they are used to scent linen and clothing drawers and closets or simply for air fresheners in any room.
Your guest will never forget your hospitality if you place lavender wands in with the towels and/or other linens.
Also, if you're having company, you can make these fragrant wands to sit in a vase by the guest bed or to welcome guests as they come through your door.
You can give one or more to a friend for the fun of it or add it for relaxation purposes to a homemade bath and body basket.
You can even use them as a functional embellishment by slipping them underneath the ribbon of a wrapped gift.
I've used them to make keepsake name cards for an afternoon garden salad get-together. See below for an example - this was a lot of fun...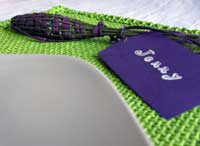 Lavender Flower Crafts Name Cards
Make lavender bottle name cards by weaving a bottle for each person, attaching a tag to each one with a name on it and placing them one by one next to a plate setting to show people where to sit. Then they get to take it home afterwards.
More ideas for lavender flower crafts:
Lavender Wands: Simple Flower Gift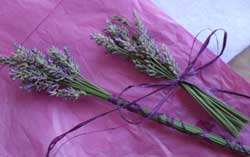 If you don't grow lavender you can buy some fresh or dried to make lavender wands.
Lavender wands are small bundles of lavender, tied together with raffia or ribbon. They will scent a room and look lovely laid across the night stand or sitting on a table in a vase.
The buds tend to shed, however, so put them in a bowl, on a napkin or anywhere that you won't mind a few bits of lavender falling off.
Related Pages...