Old Fashioned Oatmeal Cookie Recipe
This Beautifully Layered Mason Jar Cookie Recipe Makes Perfectly Chewy Oatmeal Cookies

Oh... the pleasure of a good Old Fashioned Oatmeal Cookie Recipe!
This wholesome mix is especially great for the winter holidays or for oatmeal cookie fiends anytime. One cookie mix jar makes about 24 chewy oatmeal cookies with nuts and raisins.

Notice the lovely layers to the right... and I might add; the cookies it makes remind me of my own G-Grandmothers! Oats, nuts and raisins make it a tad healthier than some mixes but it's still a rich dessert.

If you're new to making jar gifts, feel free to check out my gifts in a jar tips and tricks here.

Old Fashioned Oatmeal Cookie Recipe
This mason jar cookie recipe makes an especially great homemade gift for Thanksgiving or Christmas... You can also put one together for a sweet housewarming gift or hostess gift for any occasion.
Stuff You'll Need For This Jar Gift:
Mason Jar: 1 quart (or 1 liter) size - thoroughly clean and completely dry
Lid: Tight fitting with rubber seal - no dents or rust
Funnel: Plastic canning funnel or 1 piece of printer paper folded into a funnel
Measuring cup
Measuring spoons
Paper Towels
Long Item with Flat Bottom - for compacting layers (tart tamper, tall spice container, wine glass)
Decorative Items - fabric, ribbon, gift tag materials etc.
Recipe Card - create your own custom tag or print the one below
Ingredients (For One Old Fashioned Oatmeal Cookie Recipe in a Jar):

Ingredients (to make mix):
1 cup all-purpose flour
1/2 teaspoon baking soda
1/2 teaspoon baking powder
1/2 teaspoon salt
1 cup rolled oats
3/4 cup packed brown sugar
1 teaspoon cinnamon
1/4 cup white granulated sugar
1 cup raisins
1 cup chopped walnuts
To Make this Mason Jar Cookie Mix:

Stir together flour, baking soda, baking powder and salt
Using funnel pour flour mix into 1 quart mason jar
Press down flour mixture until it won't pack any more
If needed, clean insides of jar with folded paper towel
Press down oats tightly
Mix cinnamon into brown sugar
Spoon in brown sugar and cinnamon pressing layer firmly
Pour in white sugar and press firmly
Add raisins and press firmly
Add walnuts and press firmly
Seal with lid and decorate as desired
Add Instructions as seen below:

Old Fashioned Oatmeal Cookie Recipe Gift Tag Instructions:

Preheat oven to 350° F. Beat together 1/2 cup softened butter, 1 egg, 1 teaspoon vanilla and 1 tablespoon milk. Add Cookie Mix and blend well. Break up any clumps of mix. Drop tablespoon sized rounds of dough onto ungreased baking sheet. Bake 9 - 11 minutes or until edges turn golden brown.
...You can write this in your own hand writing or simply print the recipe card below!
You can write out the instructions above on a homemade gift tag or simply print the recipe card below...

To Print Old Fashioned Cookie Recipe Tag:

To print one: right click on the recipe card below and choose [print picture] or [save picture]...

To print more than one card: right click and choose [copy image], then open a word processing program such as MS Word or Open Office (for a free alternative)... then choose [paste] and paste as many of the tags as you can fit on a sheet of paper.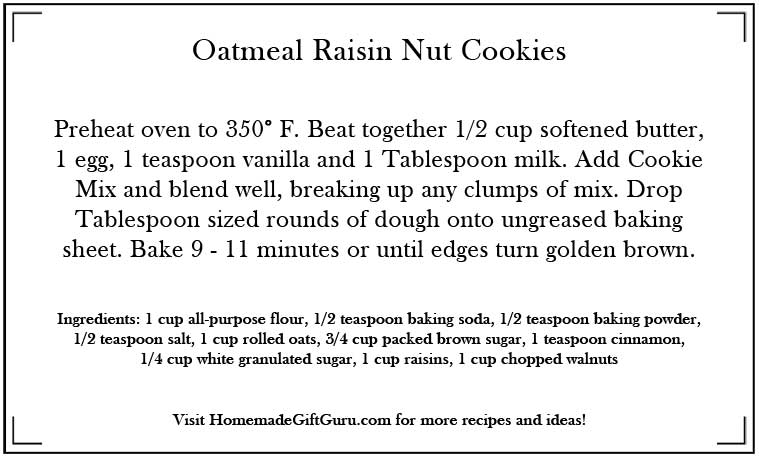 You can print this recipe card!
Presentation...

Old fashioned Oatmeal-Nut-Raisin Cookies are a classic cookie option when it comes to homemade jar gifts.

To emphasize the old fashioned feel of this mason jar gift, you can cut a 7 inch round (or you can cut a 7 inch square instead) of gingham patterned fabric and wrap raffia around the top.

Use a rubber band to secure the fabric, then cover up the rubber band with the raffia. Before securing raffia, slip in a wooden spoon under the rubber band for even more old fashioned charm.

Gift Basket Option: To make this into an old fashioned oatmeal cookie recipe gift basket, try pairing it up with a cookie sheet, a roll of parchment paper, a spatula and oven mitts - all in a large basket.

More Ideas: Use cinnamon sticks to decorate this gift. That way, the recipient will get a whiff of cinnamon as soon as they receive this gift.

For More Cookie Mix Recipes go to Recipes in a Jar: A Collection of Mason Jar Recipes From Homemade Gift Guru and Around the Web

Related Pages...