Play Dough Recipe and Gift in a Bag Ideas

...because homemade play dough is a fun adventure!

Feeling playful? Forget the cookie mix in a jar... how about making a fun play dough recipe mix in a bag!
As a kid, making play dough with my mom is something I'll never forget. I loved the smell of it and the warm squishiness of fresh play dough straight from the pot.
This memory is why I make it with my kids now. And it's also why I think a play dough mix kit is a fun homemade gift idea!
Making play dough is an awesome project worthy of sharing with friends and family.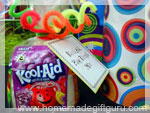 You can make a kit using a traditional play dough recipe, such as the one on this page...
...or you can use Kool-Aid packets to make one of the colorful play dough Kool-Aid kits like you see to the right.
Although I love gifts in jars, I find that it's easiest and makes the most sense to package play dough mix gifts in cellophane bags and then decorate them with ribbon and gift tags.
Or, instead of a play dough mix, you could make play dough for...
Kid's gifts
Kid's party favors
For kid's to bring to school for their classmates on special occasions, such as Christmas, Valentine's Day, Halloween or their Birthday.
Below you will find several specific play dough gift ideas and a few bonus party ideas, plus a great recipe for play dough and detailed instructions for how to make play dough.
Homemade Play Dough Gift and Party Ideas...
Kool-Aid Play Dough Mix. Make a very kid-friendly play dough recipe mix using this Kool-Aid play dough mix gift idea or by packaging the dry ingredients of your own favorite play dough recipe and including instructions. Your gift recipients can have some family fun by making their very own homemade play dough that is wonderful scented and vibrantly colored. Making play dough is fun for kids and their families but not everyone gets around to this fantastic experience and not everyone has experienced the superior quality of homemade play dough that your gift will provide.
Homemade Play Dough Gifts. You can choose to make play dough and give it in baggies or plastic containers. We store our play dough in plastic freezer jars by ball. The containers open and close easily enough for the littlest of hands. Either way, homemade play dough makes cute and cheap kid's party favors, fun homemade stocking stuffers and small gift ideas for kids.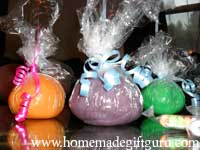 Play Dough Party Favors. Watch the kids faces light up when they realize they get to take home a baggy of play dough with a balloon attached. No candy necessary. Aside from being a fun and unique kid's party idea, this is also a great choice if the birthday boy or girl is diabetic and you need diabetic-friendly favors, or if you are simply trying to get away from candy for other reasons.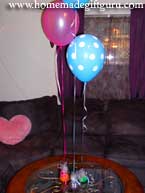 Play dough party favors also make an inexpensive party decoration idea, since the play dough "weighted" balloons can be used for party decorations during the party and then taken home as favors after the party.

You can make your favors more elaborate by attaching other fun stuff like cookie cutters for the play dough, candy or other party trinkets...

Tip: If you attach candy or favors, make sure they are detachable without removing the play dough from the balloon, that way you won't have eager children losing their balloons before they get home.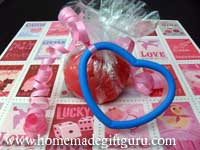 School Gifts for Kids to Give. Sometimes you want to make something small but fun for your child to bring to school for special occasions. Instead of cupcakes or cookies (some schools have rules now about not bringing in homemade treats), have your kids bring in baggies of play dough. You can make them festive with curly ribbon, cookie cutters for the occasion at hand, festive plastic toys, plastic rings and other party type favors.
Here's a few ideas for enjoying play dough during parties...

Party Games and Activities Using Play Dough Recipe...
Play dough is also a fun Party Activity...
For a Baby Shower, have everyone use play dough to make a sculpture of the little one... it gets pretty funny and forces your guests to embrace their inner child. Make mom go into other room while the play dough babies are made and then have mom guess who made which one!
For Easter, have egg shaped cookie cutters ready and let the kids cut out play dough eggs and decorate them with contrasting colors of play dough. Make pastel colors if you want. Homemade play dough is budget friendly so you can even let loose and allow them to mix colors for neat marble effects.
For Birthday Parties, have a play dough monster making contest or some other play dough contest... this party idea isn't just for young kids. Play dough brings out silliness in teens and adults too.
Now... if you've never tried a play dough recipe before, I'll show you how to make play dough with step by step instructions, tips and photos below...
Play Dough Recipe and How to Make Play Dough...
Whether you're making play dough to give as a gift, for homemade stocking stuffers, for kid's party favors, gifts for classmates or simply for party activities, here's how to do it...
Play Dough Recipe Ingredients:
2 cups All Purpose Flour
2/3 cups Salt
3 teaspoons Cream of Tartar
2 cups cold water
2 tablespoons oil
Food coloring or unsweetened drink mix such as Kool-Aid
You'll also need a large saucepan, a large wooden spoon, wax paper and plastic wrap or air tight containers for storage.
1. Combine all ingredients in a large sauce pan.
Tip: For a single color batch... mix food coloring or Kool Aid in now. In these photos we will be separating our dough and in step 7 kneading a different color into each piece.
2. Stir over medium heat. Mixture will be lumpy and very thin. Continue stirring for 5 to 10 minutes.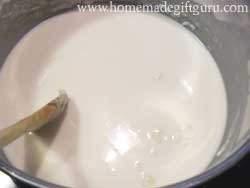 Tip: This is a great stage to enlist a helper. Soon you'll need all your arm strength to stir the dough as it stiffens. Take over when mixture gets closer to the stiffening point.
3. Continue stirring. You'll probably find yourself stirring and wondering if this play dough recipe is going to work... that's normal. As the mixture heats, it appears to stay the same for quite some time... until...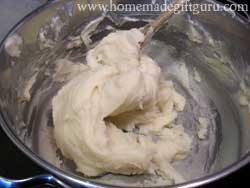 4. Push and Stir Dough. Suddenly the mixture will stiffen. Continue stirring through this relatively quick process.
Even after it pulls away from the sides, stir just a bit more. Your arm might get tired but this is where the elasticity develops.
Once the dough seams elastic enough (it won't continue to thicken as it cools), remove pot from heat.
5. Cool Until Touchable. Allow dough to cool until you can touch it. It will still be warm.
At this point, turn dough out onto wax paper and knead into a loaf.
6. Separate Dough. Separate dough into pieces to be colored.

Again, if you only want one color, you would have added food coloring or Kool Aid to desired shade in step 1 and now you'd be done...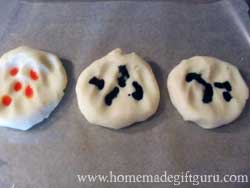 7. Color Dough. Using liquid food coloring, put several drops in the center of the dough and begin to knead. It takes quite a bit of food coloring to make vibrant colors so keep adding food coloring until desired color is reached. Latex gloves can be used to protect hands from color.

Alternatively, you can use unsweetened powdered drink mix (such as Kool Aid), simply add a couple teaspoons to start and knead well. The powder blends well even at this stage.

Tip: Once again, if you need to make several batches or just one color, it's is easiest to add food coloring or Kool Aid mix in step 1 until desired shade is reached (keep in mind your wooden spoon may become stained)...
8. Knead Dough. Knead dough until it's colored evenly.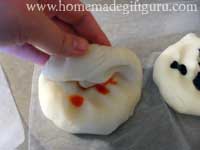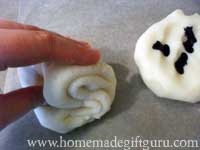 9. Give to happy child... or use for party activities, kid's party favors, homemade stocking stuffers, classmate gifts...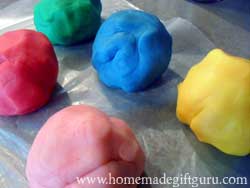 Tips: After you make the play dough, wrap tightly in clear or colored plastic wrap or use an air tight Tupperware or Ball plastic freezer jars. It is also a nice touch to attach the play dough recipe and instructions you used, so the family can make more if they want.
Make it a Gift Basket...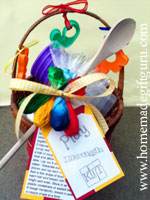 You could also put together a homemade gift basket play dough recipe mix kit as shown to the right. This play dough kit has play dough mix with coloring, ball plastic storage jars for storing prepared play dough, a wooden spoon for stirring, instructions and play dough shape cutters throughout.
Or fill a gift basket with several colors of prepared play dough and some play dough tools and toys. Homemade play dough actually works better with play dough toys because it tends to be more moist and pliable.
For more gift basket suggestions click here...
Related Pages...