Build Your Own Gift Baskets with These Gift Basket Suggestions

Homemade Gift Basket Themes and Ideas...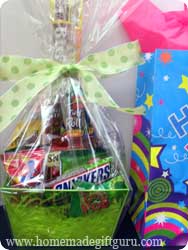 Looking for gift basket suggestions? Perhaps you need a unique gift basket idea or simply a perfect idea for a special person? Gift baskets are a super fun and versatile gift idea and they can be as unique as you can imagine...
Homemade gift baskets can either be highly personalized or basic enough in theme to give to someone you don't know, meaning... there is always a gift basket idea for any one and any occasion.
Instruction for Making Gift Baskets
Below you'll find a variety of homemade gift basket suggestions... Ideas will vary depending on the person and occasion.
Hardly ever do two different gift baskets for two different people turn out the same but these ideas will give you a great place to start!
Note: The following gift basket suggestions contain lists of coordinating items. Simply pick and choose - add and delete basket contents as you see fit - based on your recipient and your budget. Even a small selection of inexpensive or homemade items can make a great gift idea...
Gift Basket Themes and Gift Basket Suggestions
Arts and Crafts Kits - Crafty Homemade Gift Basket Themes: These gift basket suggestions include ideas for gift baskets that contain all or several of the tools and materials to complete a creative task such as painting, knitting or making jewelry. Creative basket kits make great homemade gifts for kids, teens and young adults. Anyone you know who might want to learn a new hobby or advance in one will be delighted to receive a selection of tools and materials for their chosen art, craft or hobby. Many of the following can be given in a craft supply storage bin or bag instead of a basket for a more unusual gift basket...
A Few Creative Gift Basket Ideas...
Scrap Booking Kit: Book of scrapbooking techniques or scrapbook magazine, 12 x 12 inch decorative paper and card stock, scrap book embellishments, photo safe adhesive (acid free), paper scissors and decorative scissors, decorative ribbons, blank tags, rub on words or stickers, scrap book album with page protectors...
Card Making Kit: Card Making book or magazines, decorative patterned papers and cardstock, card blanks and envelopes, fancy embellishments, stamps and ink, rub-on's and/or stickers...
Knitting Kit: How to knit book or Instructional DVD's, Knitters magazine, knitting needles, a variety of yarns, knitting patterns, knifty knitter knitting loom(s)...
Sewing Kit: Sewing technique book or sewing magazine, assortment of threads, fabric shears, thimble, sewing patterns...
Decoupage Kit: How to decoupage book, decoupage glue, paper, varnish, a variety of paint, glue and varnish brushes, sponge, sealer, high quality scissors...
Jewelry Making Kit: A book on making jewelry, jewelry pliers, an assortment of beads, beading thread, threading needles, charms, craft wire, supply container/organizer, bead mat...
Painting Kit: How to paint book or magazine, brushes, paints, painting paper, gesso (supplies will vary depending on whether the kit is watercolor, acrylic, oil etc.)...
Drawing Kit: How to draw book, graphite pencils, pencil case, charcoal pencils, metal pencil sharpener, kneaded rubber eraser, drawing pad, art journal...
Photography Kit: Digital camera (these can be very cheap or very expensive, depending on quality), photo album, gift certificate for professional developing, memory card for digital camera, printable photo paper, printable greeting cards for photos, printable photo postcards, printable fabric, camera case...
Cooking and Baking Themed Gift Basket Suggestions: These gift basket suggestions make great homemade gift baskets for college students (with a kitchen), homemade house-warming gifts and gifts for teens learning to cook and/or bake or even adults who are getting into a new type of cooking.
These baskets can also be used to pamper a Home Chef! For example, some people have a hard time spoiling themselves with really nice bake ware…, so if you know someone like that, get them a high quality piece of bake ware and then surround it with inexpensive but sweet and relevant baking supplies.
A Few Food Related Gift Basket Ideas...
Brownie Baker Kit: Brownie pan, store-bought or homemade brownie mix, mixing bowl, wooden spoon, dish towel...
Cookie Baker Kit: Cookie recipes, chocolate chips, vanilla, baking powder, baking soda, cookie sheet, cinnamon, store-bough mix or homemade cookie mix in a jar, cookie sheet, spatula, cooling rack, oven mitts, dish towel, cookie cutters...
Cupcake Baker Kit: cupcake recipes, cupcake tin, paper baking cups, store bought or homemade cup cake mix, cup cake icing, icing bag and tips, various toppings...
Pasta Lover's Kit: pasta drainer, spoon, pastas, jarred sauces, pasta recipes, Italian-themed keepsakes, basil plant, oregano plant, Italian seasoning mix, pasta seasoning mixes, matching plates, wine...
Cooking with Herbs Kit: include a selection of live or packaged herbs for cooking, an herb and spice mortar and pestle as shown to the right...
*see also herb basket below under Live Baskets
Raw Foods Kit: Raw foods book or magazine, homemade or store-bought raw foods recipe book, sprouting jar with lid, organic sprouting seeds and sprouting instructions...
Tea Basket: An assortment of teas, homemade tea mixes, tea strainer, tea cup & saucer, tea cookies, homemade chai tea mix...
Coffee Basket: Gourmet coffee, brewing equipment, sugar and cream set, sugar/cinnamon/cocoa/cayenne shakers, spoon, cups, coasters, mug, homemade Kahlua or Kahlua flavored coffee syrup, to go coffee mug...
Hot Cocoa Basket: Store-bought or homemade cocoa mix, hot cocoa mug(s), mini marshmallows, cinnamon, cayenne, cookies, winter scarf and/or mittens...
Pie Making Kit: Rolling pin, flour, dough board, pie pan or dish, canned filling, Crisco, apple peeler/corer, sugar and cinnamon...
Salsa Kit: Salsa bowl, garlic, onion, tomato, cilantro, hot peppers, cutting board, knife, marble pestle...
Home Canning Kit: Home canning recipe book, water bath canner or large lidded stock pot, canning funnel, magnetic lid lifter, jar lifter, bubble remover, timer, canning rack, stainless steel ladle...
Activity and Outing Gift Basket Suggestions: These gift basket suggestions are full of fun! They are designed to be a perfect compliment to special plans.
A Few Fun-Times Gift Basket Ideas...
Movie Night Kit : Movie(s) or gift certificate for movie rental, popcorn tub, popcorn kernels or microwave popcorn, movie theater type candy, soda, popcorn seasonings, butter flavored popcorn salt...
Family Game Night Kit: Board game(s), disposable camera, funny hats, dress up glasses, wigs, chips, pretzels, snacks, candy, sodas...
Spa Night Luxury Kit: Pillar candle or votive with tea candle, bubble bath, bath salts, bath powder, bath fizzies, lotion, face mask, lavender mist, relaxing music, bath robe, plush slippers (sandal type), extra soft bath towel, relaxing tea assortment...
Sports Game Night Kit: Soda or beer, chips, nuts or trail mix, jerky, favorite snacks, drink mugs, sports themed hat and other sports themed clothing...
Romantic Picnic Kit: Picnic basket, picnic blanket, wine, cork screw, wine glasses, frisbee, bread, cheese, flavored cream cheese spread or other spreads, crackers, salami, washed strawberries or cherry tomatoes, napkins, plates and utensils as needed...
Girls Night Out Kit: Funny or fancy hats, crazy sunglasses, wigs or colored hair extensions, other costume items, temporary hair dye, bright or unusual makeup, body glitter, gift certificate (for example: movie, dinner, nails), tickets (for concert or show of some kind), homemade IOU coupons (ex. volunteer chauffeur or designated driver), music (store-bought or homemade mix of party songs)...
Romantic Evening Kit : Scented massage oil, romantic candles, chocolates, chocolate covered strawberries, champagne or wine, lingerie, edible body paint, sexy lottery tickets or naughty playing cards, whipped cream (if on ice or refrigerated)...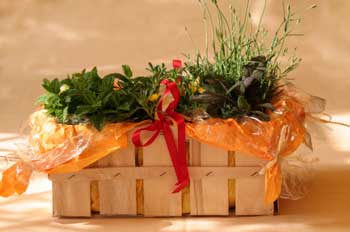 Gift Basket Suggestions for Gardeners: For gardeners or garden dabblers these themes are perfect. You may want to focus on a special type of gardening such as roses. Give them everything they need for beautiful flowers plus a little something extra!
Tip: For a wonderful and cheap homemade gift idea, try adding some starts from your own garden. You can plant them in very inexpensive terra cotta pots and place them around other items.
A Few Gardening Gift Basket Ideas...
Vegetable Gardener: How to garden book or gardening magazine, vegetable seeds for recipient's area, garden shears/clippers, choose a basket that will be great for harvesting, fertilizer, knee pad, trowel, gloves, gardening apron...
Herb Gardener: Book on herb gardening, herb seeds and/or plants, clippers, herb grinder or marble pestle, herb fertilizer, herb cook-book, gardening gloves, gardening shears/clippers, trowel...
Rose Gardener: How to grow roses book or magazine, rose plant, rose cutting shears, rose stem de-thorner, rose fertilizer, rose vase, watering can, gardening apron...
Flower Gardener: Flower gardening book or magazine, flower vase, garden shears, flower fertilizer, watering can, flower seeds or plants, garden trowel...
Bulb Gardener - Garden Bulbs Book (outdoor bulb planting or indoor bulb forcing), bulbs (Freesia is a good indoor/outdoor choice), bulb planter/transplanter, garden trowel, bulb fertilizer, outdoor pot or a bowl type container for indoor bulb forcing...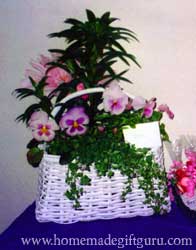 Flower Baskets: These are decorative baskets of flowers. You can pot plants directly in the basket by lining the basket with plastic and filling with dirt and selected flowers (as shown to the right). A basket like this can double as a party decoration and a homemade gift for either a mom-to-be (baby shower), a birthday girl or boy or a wedding or anniversary gift...
You can also use the basket to create an fresh arrangement of flowers like a bouquet, using fresh flower florist foam (the kind that soaks in water) and again lining the basket with plastic to keep in moisture.
Beautiful dried and silk flower arrangements can be made by using dry florist foam in a basket, pick out a few flowers that stand out (sets of 3 work well) and plenty of filler flowers.
A Few Flower Gift Basket Ideas...
Fresh Flower Basket Arrangements: sunflowers, summer flowers, fall flowers, centerpiece arrangement in coordinating colors, kids can even pick a variety of weeds and wild flowers for a small basket for grand parents etc.
Planted Baskets: herbs, bulbs, flower combinations.
Dried Flower or Silk Flower Arrangement Baskets: seasonal dried or silk flowers
Now that you've got some gift basket suggestions and ideas, here's some handy tips and instruction for making gift baskets.
Related Pages...