A DIY Christmas Countdown... Using Origami Box Ornaments
Give the Fun of a Daily Treasure Hunt with this Unique Advent Project!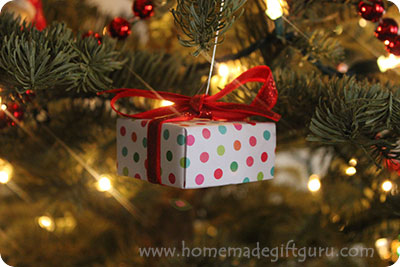 If you love the idea of making your own Christmas countdown calendars then you've come to the right place.
In addition to the unique Christmas countdown project on this page, you'll find several more countdown calendar ideas here, including this birthday countdown for kids (another really fun one) and a few others too!

This particular countdown idea combines your Christmas tree and your Advent calendar, then adds a dash of treasure hunt!
My kids just loved this one... it's become a fun tradition for us. If this becomes a fun tradition for your family as well, tell me about it or better yet, share some pictures with us!

Use store-bought boxes or make your own origami boxes...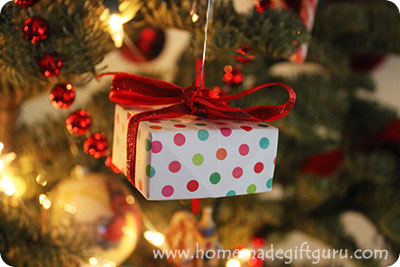 You can use any boxes you want for this Christmas countdown as long as they are very small. Suitable boxes are sometimes offered at the craft or dollar store but not always. You can also re-purpose old boxes, like those from store-bought earrings or even use tiny match boxes.

However, my FAVORITE boxes for this project are homemade origami boxes. I made 24 origami boxes for this project, because I enjoy origami and I love working with beautiful paper!

Another cool thing about this idea... you can reuse it every year! If a box gets ruined, just make or re-purpose a new one. If the ribbon gets old looking, simply replace it. We've been using our boxes for three Christmas' now.

Here's How To Make this Christmas Countdown with Homemade Christmas Ornaments...
The idea is rather simple!
Box. Make or purchase a small gift box for each day of December, leading to Christmas. Feel free to use these origami box instructions to make your own boxes, like I did, using the paper of your choice.

Number. Put a small number somewhere on the box to indicate which day of December it should be opened on (I do a count-up really... from 1 to 24 but either way is fine). The smaller and more inconspicuous the number, the more treasure hunting the kids will have to do.

Gift. Enclose a small gift, treat and/or message, like you would for any homemade advent calendar.
Ribbon. Tie a ribbon once or twice around the box, ending with a bow.
Hook. Lastly, you'll want to slip an ornament hook under the ribbon and hang it on the tree.
Do this for every box until you have one for each day of the countdown. Depending on the age of your child(ren), you can put big numbers on the sides of the boxes, or put small numbers (like I do) on the bottom of each box... that way they have to hunt for the right box each day!
What to put inside your Christmas countdown calendar gift boxes?

Ideas for things to enclose inside your advent gift boxes... obviously candy is something you can put in each box! You can choose fun size candy (which goes on sale after Halloween) or other small individually wrapped pieces of candy.
...Some non-candy ideas include: stickers, fun erasers, temporary tattoos (I get cute temp tattoos on Amazon), sticky toys (find them here), homemade notes, poems, craft supplies, hobby supplies (like bead packets for beading).
I recommend keeping gifts small and inexpensive, especially for a 24 day calendar. When I made my Countdown 'till You're 8 Calendar for my daughter, it was easier to include something a little nice since there were only 8 boxes (I chose beading supplies) but for a Christmas calendar, I recommend choosing small and free or inexpensive gifts.
Tips...

Choose Light. Don't choose heavy items to put inside the boxes or they will weigh down the Christmas tree.
End Big. Also, it's fun to end the countdown with a little bang... maybe put something just a little bigger in the last box. One year I included a dollar with a homemade gift certificate for a trip for ice cream! That was a fun choice.
Work Up to the Good Stuff. Another tip... either make all the gifts equal or work up to the good ones. It could be disappointing for even the sweetest child to get something amazing on day 1 (ramping up their anticipation for future days) and then something not so amazing on day 2.
Make this advent idea more meaningful...

Have you ever taken the time to write down something you are thankful for each day of November?
This is a great thing to do with your family, to increase appreciation and awareness of all we have, and to prepare for a December full of giving and greater appreciation...
If you take the time to do this with your family, you can then incorporate these notes of thankfulness into your Christmas countdown calendar, by including each one inside an advent box, along with a small treat or gift for that day.

Related Pages...