Homemade Gifts: Photo Puzzle Ideas
How to Make Personalized Photo Gifts Online Plus Some Fun DIY Photo Gift Ideas You Can Make at Home...

Have you ever designed a photo puzzle? It's super easy and the results are priceless!

One year I made my husband a surprise custom jigsaw puzzle for Christmas.
He had no idea what I was up to... it was so much fun planning a meaningful gift he had no idea about.

When he opened his gift, it was just 25 puzzle pieces in a velvet bag. He had no idea what the image would be. I happily sat back, and watched with a smile, as he put together the puzzle, revealing the heart-shaped image of us that I had created just for him.

It felt sweet. It felt romantic. It felt fun!

Photo puzzles are a great way to honor a special photo... to make a photo into something that will be cherished forever... and to give a gift that has a value much higher than the monetary cost of the gift.
Some people choose to glue their finished photo puzzle into a frame, for a fun display. This is a great option for meaningful photo puzzles.

Others will choose to keep their puzzle around... to break apart and re-create whenever they feel like working on it again.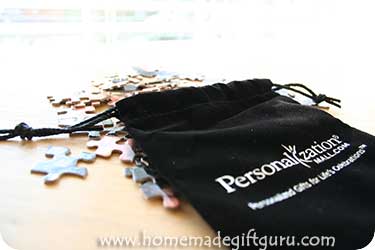 You don't have to order photo puzzles online, although it's easy!

There are also several fun photo puzzle ideas you can create yourself. Below, I'll share a few ideas for what photos to use, as well as how to create your own custom jigsaw puzzles at home.

Photo Ideas for Photo Puzzle Gifts...

Photo puzzles can be romantic like the heart puzzle I made for my husband... or they can be centered on the kids like the one below. Some of them come with gift tins and other fun options.

You can create meaningful personalized puzzles using things like:
Baby Photos
Photos of Your Children
Photos of Your Grandchildren
Photos of Favorite Pet

Professional

Family photos
School Pictures
Scenic Photos from Your Vacations
Artwork by Your Kids or Grandkids
Your Own Artwork
Your Digital Scrapbook Pages
Wedding Photos and Other Romantic Photos
Graduation Photos
Any Photos You Like...

There's lots of occasions when a photo puzzle might be the very best gift idea! Some examples include...

Birthday Gifts: Family photos. Photos of favorite pet. Scenic photos of a favorite place (from a hike, camping, sight seeing, traveling, vacations etc.). Photos of artwork by someone special (child/grandchild etc).
Mother's Day Gifts: Photos of mom and child, of the kids when they were babies or a cute picture of them when they were little, a memorable photo of the special Mom with her kids. Photo of child's artwork for mom. Photo of hand written message and/or hand prints from children.
Father's Day Gifts: Photo of Dad and his child or children. Photo of Dad playing with his kid(s). Any memorable photo of Dad when he first became a Dad. Photo of child's artwork for dad. Photo of hand written message and/or hand prints from children.
Grandparents Day Gifts: Photos of the grandchildren. Photos of the grandparents with the grandchildren. Photos of drawings, hand written messages, hand prints, and/or any type of artwork made by the grandchildren.
Anniversary Gifts: Wedding photo, romantic photo, photos of the couple when they first met or some other significant time in their relationship. A special scenic photo from the anniversary couple's wedding or honeymoon.
Wedding Gifts: Photo of the couple in love. Heart shaped puzzle of the couple together.
Valentine's Day Gifts: You could use a romantic photo and/or choose a heart shaped puzzle. It is possible to add text to some puzzles or create your own photo with text on top.

Photo Puzzle Ideas You Can Make at Home...
There are also some really neat ways to make your own creative puzzle gifts at home. Below are a few ideas to get you started.

Wooden Block Puzzles
Shop for wooden block deals...
You can find smooth wooden blocks at most craft stores. Wood is a great surface to decoupage onto (learn more about decoupage here).
To make puzzles from photos and wooden blocks (shop for wooden blocks here)...
Start with a large high quality photograph.
Cut it into equal squares (each square you cut of the photo should be cut to the same size as one block).

I recommend sealing unfinished blocks with paint or Modge Podge, before applying photos.

Next, glue one square of the photo onto one side of each block, using white craft glue or Modge Podge, and allow to dry.
Brush acrylic medium over each photo. Brush the medium over the photo quickly, so it doesn't make your photo bleed. Acrylic medium (like this one) is made to go over delicate pieces of art so I find it works the best for decoupage and photo gift projects.

Once dry, put the blocks together to see your photograph, it's a puzzle.

You can then do this with a different photograph or image using another side of each block. You can decoupage a different photo onto each side of the blocks or decorate some sides more simply by painting them solid, covering them in glitter, adding letters using stickers or paint or any other design idea you have. Cover each side with acrylic medium to seal and finish the blocks.

You can also do this with large, high quality pictures from old calendars, magazines and posters. 
Wooden block puzzles are fun for adults and they make great homemade gifts for kids, especially when you choose images tailored just for them!

Pop-sickle Stick and Jumbo Craft Stick Puzzles...

Get craft sticks now!
Craft sticks are a fun and inexpensive way to make a photo puzzle. I recommend the large craft sticks over popsickle sticks, but either will work. The larger craft sticks are much easier to work with.

Lay several of these flat sticks side by side to form a rectangle or square shaped base for your homemade puzzle.

Take note of the exact measurement dimensions of your craft stick photo puzzle base. I recommend choosing a photo that is either the same size or slightly larger than the puzzle will be.

Trim photo to be the exact size of the puzzle. If your craft sticks have curved edges, you may want to paint your base and leave a small border above and below the photo.

Next, cut your photo into perfectly sized strips, so that each strip will fit onto the flat side of one craft stick.

Glue each strip to the flat side of a stick using white craft glue or Modge Podge.

Once dry, brush Acrylic medium quickly over the surface of each stick, creating a sealed coating over each piece.

Put the now decoupaged sticks back together to see your unique personalized puzzle.

If desired, you can do an entirely different photo (made the same way) on the back of the sticks. You could also paint the other side of the puzzle or write a message that corresponds with the photo such as, F-A-M-I-L-Y or L-O-V-E.
Easy Magnetic Puzzle Squares...
You can make a very inexpensive personalized magnetic puzzle, starting with a cereal box (or other similar paper board, chip board... even card board).
Choose a photograph you like or an image from a used calendar, postcard, greeting card or magazine page.

Trim picture if needed.

Cut a piece of paper board to match the exact size of your chosen photo or image.

Cut both the paper board and the photo or picture into matching squares, rectangles, strips (or whatever shapes you want, it's best to stick with simple shapes).

Glue the pieces of your pictures/photo to the matching pieces of paper board.

White craft glue or Acrylic medium work great for this. Once dry, brush Acrylic medium quickly over your image. Do this quickly and allow to dry to avoid making your picture smear or bleed. Acrylic medium is made for protecting delicate art, so it's great for decoupaging photos and images.

Finish by attaching self sticking magnetic strips to the back of each piece or gluing magnetic strips with heavy duty glue.
Tip: Make this idea even thriftier by collecting and using flat magnetic advertisements for the magnetic backing (like the ones that come attached to phone books).

Related Pages...