DIY Sock Rabbit Bunny Babies
Turn Those Cute Little Mismatched Baby Socks into Bunny Babies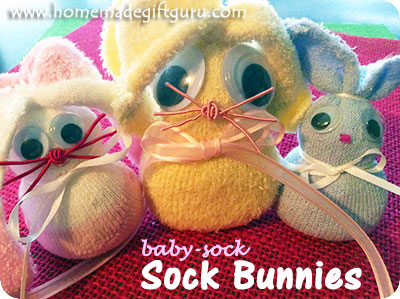 Sock rabbit baby bunnies are super stinkin' cute!... that much is clear.
As if that's not enough reason to make them, they also happen to use up all those cute little mismatched baby socks some of us have lying around...
...The ones that get separated from their match by the sock monster, who apparently loves to eat baby socks above all other socks.
If you don't have baby socks lying around that's ok! You can find them at thrift stores and dollar stores, making this a fun and cheap homemade gift idea.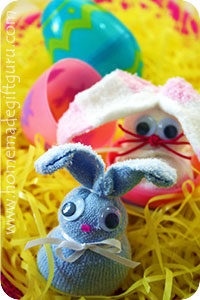 Sock bunny babies are also especially F-U-N sock animals because they are the perfect size for hiding in large plastic Easter eggs.

They make a fantastic surprise for Easter egg hunts! ...Or, they can be nestled inside Easter baskets for a unique treat.

Young or old, who wouldn't like to discover an itty bitty cute little sock bunny baby hiding in their Easter eggs? Anyway...

Another unique sock craft Easter gift idea?
If you know somebunny that might like to make their own baby-sock sock rabbit, check out these fun little sock bunny craft kits. I used baby food jars for mine and they were a perfect fit!

Below you'll find instructions for making your own Easter rabbit baby sock animals and more photos to warm your bunny lovin' heart.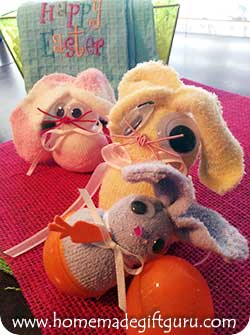 How to Make a Baby Sock Rabbit...
Most baby socks will work for this idea. I've used newborn baby socks through 6 month baby socks and they all worked great.
As long as you fill them with about 1/4 cup rice (no more), they seem to fit inside the large Easter eggs perfectly.
If you use newborn baby socks you will have to work the rice in with your fingers, but socks are stretchy so it's really no problem.

To make a single baby-sock sock rabbit you'll need: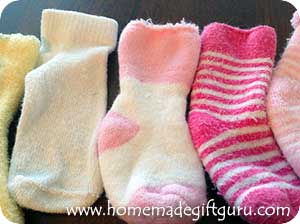 1 baby sock
1/4 cup rice
2 rubber bands (clear or same color as sock)
1 matching pom pom for tail or matching yarn to make your own pom pom tail
Ribbon for a neck bow or fabric for a scarf
Crafts supplies for the bunny face, such as: googly eyes, buttons, beads, marker, memory wire for the whiskers (or embroidery thread pulled apart will work) etc
Optional: 1 large plastic Easter egg to hide the bunny
Tools: Scissors, measuring cup, wide mouth funnel, hot glue gun or fabric glue

Tip... I recommend a hot glue gun for both quicker and more permanent assembly.

Step-by-Step How to Make a Sock Rabbit from a Baby Sock: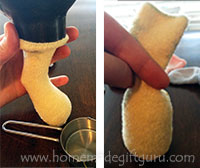 Use a wide mouth funnel to fill the sock with rice.
Stretch the sock over a wide mouth funnel.
Fill baby sock with 1/4 cup rice. You may need to work it in with your fingers if the sock is on the smaller side.
Squish the rice filled part of the sock into a ball and secure snugly with a rubber band.
Use your fingers to mold the ball of rice into a body and head. Secure the neck with a rubber band... not too tight unless you want a bobble headed baby bunny. You can cover up this rubber band with a bow or scarf.
Cut the top portion in half vertically. Trim off the top corners of each strip and shape like bunny ears (in other words... a leaf shape).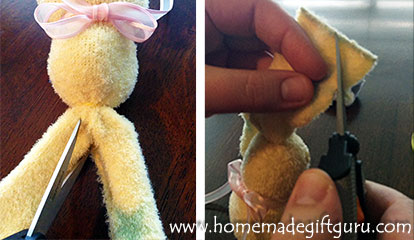 Make a cute little baby bunny face. My FAVORITE part!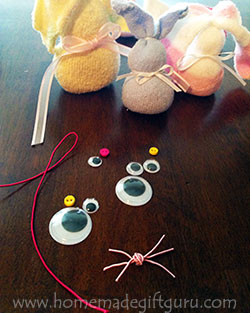 ...Using a hot glue gun (hot glue gun works best) or fast drying fabric glue, create your bunny's face using things like:

*buttons

*beads

*sewing pins

*googly eyes

*markers

*memory wire or thread

Tips for making a cute bunny face...
...I like to use giant googly eyes for my baby sock bunnies!

String or memory wire works great for the whiskers. Simply cut four strands of memory wire. Take one strand and wrap it around the three strands right in the center. This will hold the whiskers together and make a cute little bunny nose.

...Another fun thing to do is to make two big bunny teeth with white felt. This will give your sock rabbit a silly look.

Your bunny still needs a tail!

...Use a matching craft pom pom or a cotton ball to make a little bunny tail. Or, I like to make my own pom pom tails using yarn.

Here's a few cute little bunny bums using homemade pom poms...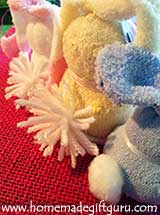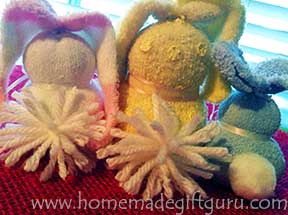 DIY Pom Poms for Cute Bunny Bums...

It's easy to make a custom pom pom bunny bum out of yarn. Wrap yarn around two or three fingers several times. The thicker you wrap, the thicker the pom pom will be. I made a rather loose pom pom here, you can wrap as thick as you want. Locate the center and wrap a piece of yard around, securing with a knot. Cut through both sides of loops right at the end of each loop. Fluff pom pom. Glue to bunny bum for a cute little bunny tail.

You are all done! Give your homemade baby sock rabbit inside a large Easter egg, in an Easter basket... you could even slip one in a Christmas stocking, if you know someone who just loves bunnies.

Related Homemade Gift Ideas...

Sock Bunny Kit: Give somebunny the gift of Easter crafts by making them a sock crafts bunny kit. Click here to make a sock bunny craft kit...

Sock Bunny (from an adult sock) Holding a Treat: You may also like to create a slightly larger sock bunny that holds an Easter treat, a festive little balloon, or some some fresh or silk flowers in it's cute little arms. Check out the full size sock bunny tutorial, it also has a few unique tips...

You may also like...

No-Sew Sock Snowman for Christmas

No-Sew Sock Spider for Halloween

Related Pages...