How to Make a Sock Snowman
Holiday Craft Gift Idea - No-Sew Sock Snowman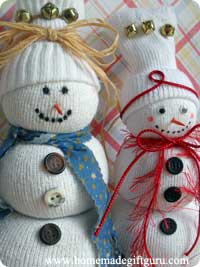 There's something magical about making your own silly sock snowman...
They're cute, funny and always unique.
They can be made by both adults and children, as long as an adult is available to help with the hot glue gun.
The best part... is definitely dressing them up...
I have to say, I have particularly fond memories of these little guys... making a whole batch with my husband and giving them to family and friends our very first Christmas together...
They were a lot of fun and a huge hit! I wonder if anyone knew how easy they are to make?
To help you get started making your very own sock snowmen, I've included the following step-by-step instructions... be sure to decorate as inspired and of course have a great time!
How to Make a Sock Snowman...

Basic Tools and Supplies You'll Need: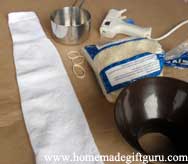 Tube sock - white men's (used here is size 6-11)
Rubber bands - 3
Rice - about 4 1/2 cups
Hot glue gun with glue
Funnel (canning funnel works great or use a sheet of paper rolled into a funnel)
Cup for pouring rice (measuring cup works great)
Supplies to Decorate the Little Guy or Gal: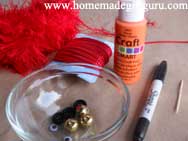 raffia, ribbon and/or strips of flannel
buttons
bells
black sharpie for eyes and mouth, pink can be used for cheeks
toothpick and orange pen or orange paint for carrot nose
googly eyes and other embellishments can be used to spice things up
Sock Snowman Instructions:
Using the canning funnel (or a sheet of paper rolled into a funnel), fill tube sock with 2 -3 cups of rice.
Stretch and mold the rice into a tight ball at the bottom of sock and secure top with rubber band...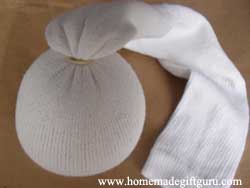 Fill tube sock with about another 1 cup rice and stretch, mold and secure and second tight ball with the second rubber band...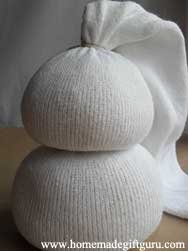 Repeat this process again with about 1/2 cup rice, making a third and final ball...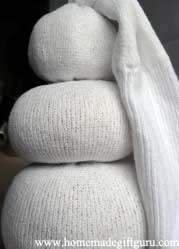 Fold the very top of the tube sock down over the top ball and flip the rim up to look like the rim of a hat...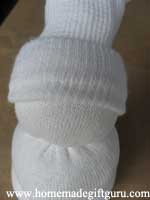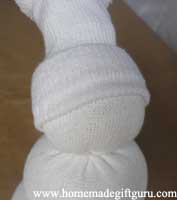 Once everything is positioned well (adults will need to do this part for children), apply hot glue in a circle between each section of the body to keep it in place.
Apply a couple dots of hot glue under hat to keep it in place.
Use hot glue as needed when applying eyes, buttons, nose and if needed to secure scarf and any embellishments, see below for dress up ideas...
Ideas for Decorating & Dressing...
Color or paint a toothpick orange for a carrot nose.
Use a black marker such as a sharpie to color on black charcoal for the eyes and/or mouth.
Use googly eyes for increased silliness.
Cut strips for a scarf out of flannel (a shirt doomed for the thrift store works just fine) or any appropriately patterned fabric... knitters could always knit a quick little scarf.
Bells give holiday cheer.
Find and use small twigs for arms.
Tie a bow or glue some yarn to the hat... get creative!
Tip: When choosing tube socks for this project, keep in mind that a thickly ribbed tube sock will provide a more interesting winter hat than a subtly ribbed tube sock...
More Sock Snowman Holiday Craft Gift Ideas...
Make a Grandma and a Grandpa Snowman for Grandparents... or mommy/daddy, aunt/uncle, Mr. and Mrs...

Use fabric paint to write the name of the recipient on the scarf and do something that resembles that person...

Make a baby sock snowman or a child version with a child size white tube sock...

Make something else with tube socks... for example, making sock snowmen inspired me to something a little different, Creepy Crawly No-Sew Halloween

sock spiders

(and then later, sock bunnies!). I think you could also make sock caterpillars with green tube socks and monsters with any color tube socks.

Tip: Many dollar stores sell 3 packs of black, neon green or neon pink child sized tube socks. Think of all the possibilities!
Send in a photo of your sock snowman (or snowmen) and I'll add it to the gallery! Just name your post and submit photo here...
What other readers have shared:
---
More Ideas for Socks...
How To Make Easy Sock Puppets:

You can also make simple sock puppets... for a fun project and you can get as creative as you like.

To first determine positioning for facial features, simply slip your hand inside your clean sock, using your fingers and thumb to form a talking mouth. Mark lightly with a pen the spots for eyes, nose, mouth and ears. Then glue as desired.

Glue buttons or googly eyes for eyes, yarn for hair and cut and glue felt lips, nose and ears...

For another interesting sock puppet you can use the whole end of the sock to make one big mouth. Take two ping pong balls (or other similar white balls) and make a small black circle (like an iris) on each one. Glue them above the sock mouth and finish with yarn, lips etc. Totally goofy!

Get creative and make sock girls, sock boys, sock animals... apply bows, ties, buttons, fur, patches, bells, pipe cleaners, hand stitching or whatever works!

Now you can plan a puppet show using a covered table to hide behind or even better by making a card board box theater with three sides and a single window for your show.
Or, if you like sewing, I recently stumbled upon Funky Sock Monkey's modern sock monkey pattern. I just love sock monkeys!
Related Pages...