Bunny Rabbit Coloring Pages
Theme: Silly Rabbit on a Sunny Day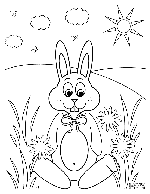 Bunny rabbit coloring pages make fun Spring or Easter activities. You could also use this coloring book page to entertain little kids at a baby shower... since bunnies make super cute baby related images!

This children's coloring page features a silly little bunny rabbit with big feet, sitting in a field on a beautiful Spring day. While it does make a great Easter Bunny, it is not specific to Easter so use it anytime you want to color a bunny.
I hope you enjoy sharing this page with your kids and feel free to print several out for sharing at...

Spring and summer birthday parties
For an Easter party activity

As a baby shower coloring activity

Picnic activities or...
Anywhere... just because bunnies are cute!
You may also like some of my other animal coloring pages such as this little pig coloring page or my puppy love coloring page!

To Print: Simply right-click on the image and choose Print Picture... This is an 8 1/2 x 11 inch image with margins, so you can print it on standard typing paper with excellent results (as are all my exclusive coloring pages).
Note: Please feel free to link to this page and to share with friends and family. Never re-post my printables as they are copyrighted material.
Silly Bunny Rabbit Coloring Page

If you like bunny rabbits, you may also enjoy my sock bunny and my baby sock bunny tutorials!

More bunny coloring sheets:

If you prefer a more realistic bunny coloring page, you make like this one I found at BestColoringPagesForKids.com.

Related Pages...