Free Gift Tags: Celebration Collection

Print these Decorative Tags For Birthday Gifts and Celebrations...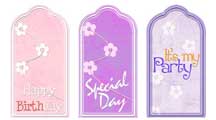 I think it's important to have a good selection of free gift tags, that can be printed any time, for last minute homemade gifts and creative projects.

...and (speaking from the perspective of a thrifty DIY-er) I'm so very thankful for the world wide web and all the free printables and free creative tutorials available to us all.
I love that there are awesome blogs and websites out there, offering their creative information and digital creations to all!
And speaking of free gift tags, the printable tags on this page are ready to print and cut for immediate use. They go well with both store-bought and homemade gifts, homemade cards and creative projects.
These party tags can add a festive touch to a bouquet of birthday flowers, a pretty plant, a homemade candy bouquet or even a bottle of birthday wine.
Whatever creative way you use them, I hope you enjoy!
And if you want to design your own gift tags, here's my collection of free printable gift tag templates. You can use these outlines to make gift tags from your favorite paper. You can even turn them into re-usable stencils!
All Tags Copyright © www.homemadegiftguru.com
Provided for personal use only. All Rights Reserved.
In other words...
You may print these digital images for personal and gift giving use only.
I'd love for you to link to my pages, but please do not copy my images onto your website or social media.
About These Free Gift Tags...

The following printable gift tags can be copied into a word processing program so that you can print as many per page as you can fit. They can also be re-sized. Here's a few tips and tricks for getting the most out of these free printable gift tags.

Printing Tips and Tricks:

To Print One Tag. To print just one of these images, simply right click on the image you want to print and choose [print picture] or you may need save the image and then print.
To Print a Page of Tags. You can also print several tags on just one page. Whether you choose all the same template or a variety of different templates is your choice. To print a full page:
Open a word processing program such as Microsoft Word or Open Office (Open Office is Free but any word processing program should work).
Right click on the image you want and choose [copy].
Move to word processing program, right click and choose [paste].
Paste multiple times using the same copied image or go back and copy/paste whichever images you want on your page.
Print your page!
To Change the Size of a Tag. If you need a different sized tag, feel free to resize by first clicking on the image while it's in your word processing program. You'll see little squares on the corners. Drag one in or out to make the tag smaller or larger.
What to Print On. For best results, be sure to print on heavy paper such as card stock. Also, the higher the brightness factor on your paper, the sharper and brighter the image will look. I love this presentation paper!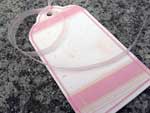 After Printing. Cut around the tag and use it as is, or embellish it using eyelets, glitter or beads.
You can also mat these gift tags onto a slightly larger piece of card stock.
Punch a hole in the top and attach gift tags with ribbon or raffia onto homemade birthday gifts, flower bouquets, gift bags, homemade gift baskets or party bags... or use in craft projects as embellishments (ex. scrap booking or card making).
Happy Birthday Gift Tag

Pink and princess-like, this tag is definitely for the ladies.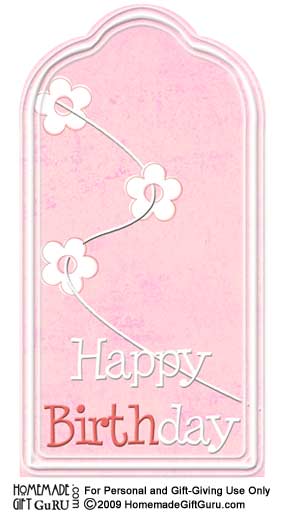 It's My Party Gift Tag

Blue and gold, this pretty little gift tag is great for kids and teens having a party... and can also be used in a birthday party scrap book layout after the party.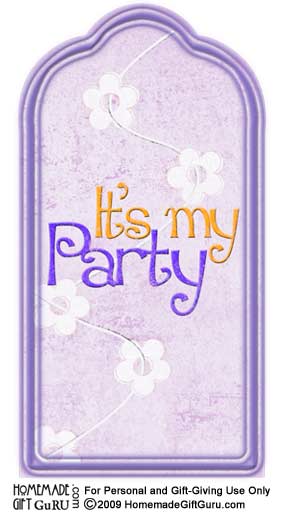 Special Day Gift Tag

This purplish-pink tag can be used for a number of special days such as Mother's Day, Graduation, Baby Shower, Wedding, Birthday, Retirement and more.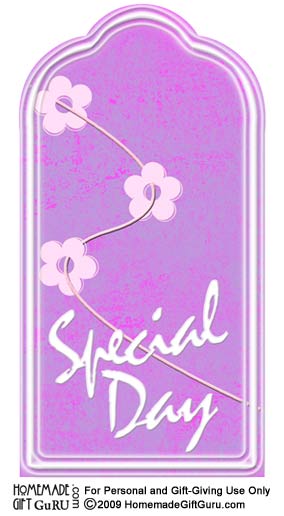 That's it for these free gift tags but you can find lots more printable gift tags here! Enjoy.

Related Pages...