Easy Homemade Valentines
Easy Valentine's Day Cards in 10 Minutes or Less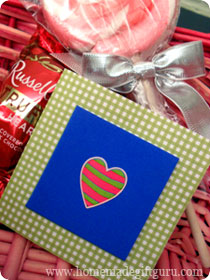 Homemade Valentines can be super quick and easy. Last year, I found myself making them at the last minute...
I had every intention of making Valentine's Day cards well in advance... but none-the-less there I was with 15 minutes to spare before taking my daughter to school for her Valentine card exchange.
With the help of self sticking craft foam and a few stickers, I had these sturdy little Valentines made, signed and attached to Twizzlers in 10 minutes.
It felt good to send my girl off to school with homemade Valentines and to know that no one would have the same cards as her. Plus it was kind of empowering being able to make last minute Valentines on the fly...
So for those on a time crunch or anyone who never thought they'd have the patience to make Valentines for all the kids at school, here's a simple formula that you can use with your own favorite paper and stickers or the embellishments of your choice.
Easy Homemade Valentines How-To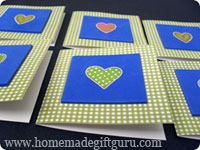 These homemade Valentines are an easy alternative to store-bought Valentines for group Valentine exchanges. The key to these cards is self-stick foam. It adds dimension and frames your embellishment in seconds, giving you a quick card that looks great and feels sturdy... no messy glue either!
To make these easy Valentine exchange cards, you'll need: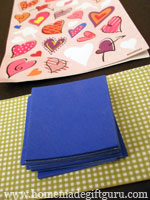 Stickers... hearts, or Valentine stickers of any kind*
Coordinating 12 x 12 paper, each piece of paper makes 6 cards
Self stick craft foam sheet in desired color
*Note: Instead of stickers you can use other embellishments like flat charms, craft flowers, punched paper shapes or you can use Valentine themed stamps (see slide show above right).
For each 6 cards: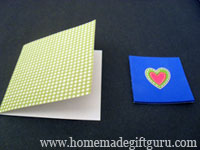 Step 1. Cut. Cut one 12 x 12 inch paper into six 3 x 6 inch strips.
Step 2. Cut. Cut a piece of self-stick craft foam into 6 2 x 2 inch squares.
Step 3. Fold. Fold each strip of paper in half.
Step 4. Stick. Place a sticker on each square of foam... or let your kiddo do the sticking!

Step 5. Stick. Peal off the backing on each square of foam and stick to the front center of each card... another step your kiddo can do.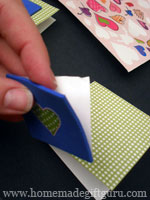 Note: The sticky back foam helps this Valentine's Day project go quickly, but you can glue your own foam down with the glue of your choice (glue runner or double sided tape would also be quick and easy).

Step 6. Write.
Write "Happy Valentine's Day!" inside or the greeting of your choice. Or... you can use a stamp or another sticker inside.
Done! Now you have several cute little Valentine cards for your child to give to friends at school or for any group Valentine exchange!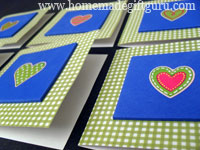 Valentine Candy Exchange? To include candy for a school Valentine exchange, tape a wrapped piece of candy to the back such as...
Sucker
Swirl Lollipop
Valentine chocolate
Individually wrapped Twizzler
Individually wrapped candy necklace
Box of Conversation Hearts
To Make This a Valentine Tag...
Punch a hole in the top corner and attach to candy with ribbon or craft cord...
Or attach to baked goods, cut flowers or Valentine Gift baskets...
Alternatives to Candy? To stay away from sugar for any reason (diabetic child, tired of candy, looking for a unique idea, no food policy at school etc.)
Try individually wrapped homemade play dough (or small store-bought cans work too, Amazon has some below).
Go to a party supply store (or Dollar store, craft store etc.) and find a package of party favors such as kazoo, bubbles, sticky hands, spiral straws (more ideas below).
Tape a fresh or silk flower to the back.
Buy a package of foam Valentine's Day stickers and make little baggies of foam stickers.
Enclose a temporary tattoo with tape or with a Zot (clear adhesive dots)... (ideas below including: super cute monkey tattoos good for boys and girls, heart tattoos and conversation tattoos (like the candies)...
Related Pages...