DIY Valentine's Day Candy Bouquet Ideas

Valentine's Day Candy Arrangements... SWEET, Creative and Fun!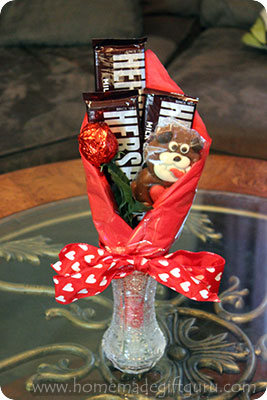 A Valentine's Day candy bouquet is a creative way to share sweets with your SWEET heart.

DIY candy bouquets make a great homemade food gift idea that requires no time in the kitchen... If that sounds appealing to you, read on!

If you want to give some tasty sweets for Valentine's Day, but you're more of a crafter than a baker... then a candy bouquet is the perfect answer.
Candy bouquets can be made by young or old. When my kids want to make their own candy bouquet gifts, I prepare all the candy in advance and allow them to put together their own arrangement and decorations.

Whether your Valentine is family, friend or significant other, this candy gift idea can be made perfect for your someone special.
Use their favorite chocolate bars or any other fun candy that your sweetheart will enjoy.
If you'll be making candy bouquets for kids, be sure to add some fun seasonal candy like chocolate teddy bears and other Valentine's Day themed candy.
Ideas for Making Valentine's Day Candy Bouquets...

Color Themes... Coordinate your candy colors for a festive Valentine's Day design. Some Valentine's Day color theme ideas include pastels, pinks, red, red and brown, pink and brown, white and pink, white brown and pink. You get the idea!

Ideas for Pink... Some fun candy ideas for a pink themed candy bouquet are pink bubble tape, pink bubble gum packages, pink swirl lollipops and any seasonal pink wrapped candy you can find. If you can't find enough pink for your little sweethearts, try wrapping their favorite candy bars in strips of pink scrapbook paper.
Homemade Wrappers... If you can't find the candy you want in a color you like, you can always make your own candy bar wrappers. Give plain candy bars their own homemade wrappers by wrapping them in strips of beautiful scrapbook paper with the color theme of your choice. Keep your homemade wrappers simple or you can decorate as much as you want.
To get the kids more involved, let them make some candy bar wrappers! My kids love to draw pictures on white card stock, that I've cut to the size needed for candy wrappers. I then wrap the candy up and tape the back. Parents and Grandparents will always appreciate this type of kiddo love added to their homemade gifts.

Glass Vase... A chocolate candy bouquet in a glass vase is (in my opinion) the most elegant of candy bouquets. The candy bouquet featured below was designed starting with a slender-neck vase.

You can also use a bigger vase, like this one.

Other Containers... If you're making lots of candy bouquets for friends or family, you may instead, like to start with a smaller container such as...
Here's how I made the simple Valentine's Day Bouquet featured on this page...
Candy Bouquet Instructions
The slender neck of this vase makes it difficult to use floral foam so I simply used the tissue paper for support. If you choose to make a larger candy bouquet, I suggest using some sort of floral foam like the chocolate candy bouquet here.
To make this Valentine's Day Gift Candy Bouquet, I simply started with...
A small vase
5 pieces of chocolate
5 wooden skewers
2 pieces of square red tissue paper
Clear cellophane cut to same size as tissue paper
Ribbon
Glass beads (optional but I like the added sturdiness)
How to Make Candy Bouquets Step-by-Step...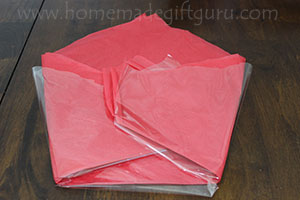 Step 1. Fold Tissue and Cellophane.
Lay your two square pieces of tissue paper on top of your clear cellophane (which should be cut to the same size as tissue paper).
Fold one corner up and each of the side corners in (as shown to the right. You can fine tune how far you fold the corners after you get your candy ready.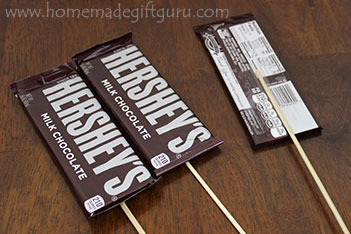 Step 2. Attach Candy to Sticks.
Hold each candy bar up to the vase and decide how much (if any) of the stick needs to be cut off to leave the candy at a good height.
Make any necessary cuts from the blunt end since you may need the pointy end to puncture tissue paper.
Using clear packing tape, tape a stick to the back of each candy bar as shown below.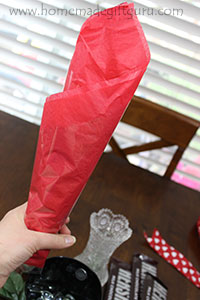 Step 3. Roll and Insert the Tissue Paper and Cellophane.
Roll up the tissue paper and cellophane as shown. Snuggle it inside your vase as far as you can get it. Make adjustments as needed. The tissue should be scrunched up a bit inside the vase, which will provide support to the candy on sticks when you insert them.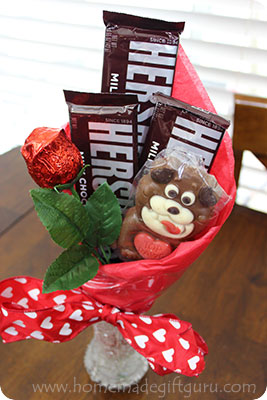 Step 4. Insert Candy.
Insert the candy on sticks, puncturing the tissue in the vase as needed.
Step 5. Ribbon and Tags.
Wrap ribbon around your vase and make a bow as desired.
You can add a gift tag for added sweetness!
For Valentine's Day, these heart shaped gift tag templates can be used to make your own Valentine's Day gift tags.

That's it!
Of course, you can do this for any occasion you want! For example, to make a happy little birthday candy bouquet you could choose brightly colored candy that is bursting with fruity flavor!
You may also like the following candy bouquet instructions:
If you need to make gift tags, check out these free printable gift tag templates for lots of options!
Looking for more homemade Valentine gift ideas? Click here!

Related Pages...