Free Printable Wedding Gift Tags
Stretch Your Budget with these DIY Wedding Gift Tags!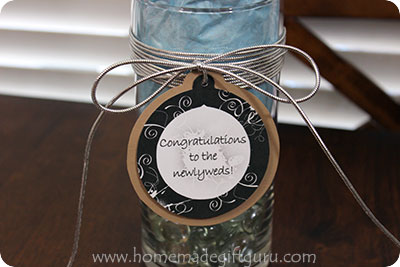 Weddings can be EXPENSIVE!
But adding a homemade touch, with things like homemade wedding gift tags and even homemade wedding gifts, can help you stretch your budget while still sharing all you love, support and excitement with the newlyweds.
You may choose to combine a purchased gift with something homemade, like I did when I made this chocolate candy bouquet... or you may choose to make a wedding gift that is perfect for the bride and groom, such as a homemade wedding gift basket (here's a few gift basket tips) and leave it at that.
Either way, the following wedding printables can help you stick to your budget while keeping things fresh and creative.
In addition to the featured ready-to-use printable gift tag below, you'll find several gift tag templates! Use them like stencils with the beautiful card stock of your choice or simply print them directly onto the paper you want to use.

Wedding Printables...

The following wedding printable is pretty much ready-to-go in the sense that it requires no designing on your part. Simply print the wedding gift tag page, cut it out and put the tag together with the backing.
I prefer to print all my digital gift tags onto card stock for best quality. I especially love this extra bright paper. It's really high quality, just the right thickness and ink shows up brighter and bolder when you print with it.

Please note that these are my exclusive gift tag creations. All tags and printables copyright © 2009-2018 www.homemadegiftguru.com and provided for personal and gift giving use only. All Rights Reserved.

Get these printable wedding tags! Or click below for the printable .pdf shown...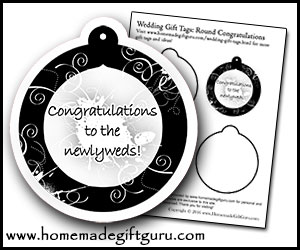 Click here to download the .pdf!
Gift Tag Templates...

If you prefer to make your own gift tags, you may like some of the following gift tag templates.
Gift tag templates can be used like stencils with the paper of your choice. I suggest using either plane card stock, patterned card stock or even old greeting cards to cut the following gift tags from.
Gift Tags JUST for Homemade Gifts...

Last but not least, the following small round tags are perfect for adding that finishing touch to any homemade wedding gift. You can get any of these special printable gift tags and more like them here or click on any of the previews below.

Enjoy and happy gift making!
Btw, this website has a homemade gift photo gallery! If you found this page useful, you can pay it forward and inspire others, by posting photos of your homemade gifts here.

Related Pages...