Free Printable Word Search for Kids

Theme: "Picnic Foods"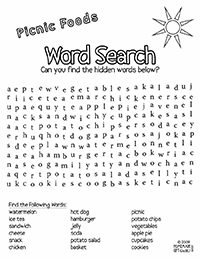 This free printable word search for kids is centered around a variety of picnic foods including: watermelon, ice tea, sandwich, cheese, snack, chicken, hot dog, hamburger, jelly, soda, potato salad, basket, picnic, potato chips, vegetables, apple pie, cupcakes, cookies.
What goes great with picnic foods? Bugs of course!
Related free coloring pages:
To Print: Simply right-click on the image and choose Print Picture... This is an 8 1/2 x 11 inch image with margins, so you can print it on standard typing paper with excellent results (as are all my exclusive coloring pages).

Note: Please feel free to link to this page and to share with friends and family. Never re-post my printables as they are copyrighted material.
"Picnic Foods" Free Printable Word Search

I hope you enjoy sharing this word search with your kiddos! Feel free to put these in your summer birthday party gift bags or use them as summer entertainment sheets. Happy picnicking! 
Related Pages...