What's New?
Welcome to the Homemade Gift Guru Mini-Blog!
Every time I put up a new idea or post a new freebie, it will appear on this page.
Plus when visitors (like you) share a homemade gift idea, those pages will show here too.
If you would like to share a photo of your homemade gift or share a homemade gift idea please do!
You never know who you might inspire!
Jan 26, 2017
DIY Printable Wedding Gift Tags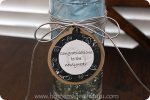 Get these free wedding gift tags and tons of free printable gift tag templates for all your homemade wedding gift needs!