Free Printable Crafts
and Gift Tags
Free to Print Gift Tags, Craft Tags & Card Making Templates
Following is a list of free printable crafts and tags, all exclusive to this site.
You can use the gift tags and gift tag templates in a variety of ways, such as labels for homemade gifts, to and from gift tags, recipe cards and recipe tags, made with love tags or made by me tags.
You can also use them as decorative embellishments for your party bags, homemade gift baskets, other homemade gifts and craft projects.
You can even use them in card making projects. For example, enclose them in a pocket or use them as an embellishment on the front of your card.
Other free printable crafts and tags available on this page include, made with love sticker tags and free printable gift certificates.
Scroll down for a complete list of freebies. Enjoy!
To Print Several Tags at Once: simply open a word processing program and copy/paste the images as you like. Click here for further instruction.
Free Printable Crafts List:
---
Made With Love Printable Tags. A great addition to homemade gifts and card making projects. Small and sweet.

Made With Love Tags
You can punch a whole through the top and attach one of these made with love tags right along with your other gift tags. Simply click on the image to the left for an 8 1/2 x 11 sheet of full size made with love tags. Then [right click] and choose [print picture].

Made With Love Sticker Tags
Sometimes when you make something from scratch, you need a sticker like this one. These are designed to print onto sticker paper for self stickiness or regular paper where you apply your own glue. There are 63 stickers on each .pdf page.
---
Printable Gift Tag Templates. The following gift tag templates can be printed directly to pretty printing paper or used like stencils to cut these shapes from the paper of your choice. Customize them any way you like. They are designed for use as: "To: and From:" tags, "Recipe" tags or as the decorative tags of your choice.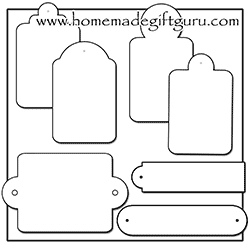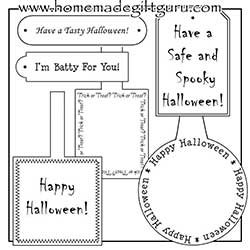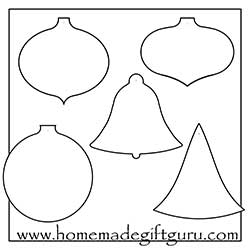 ---
The following free printable craft and party tags make a really sweet addition to homemade gifts and craft projects. Just cut, punch and attach, mat or embellish as desired...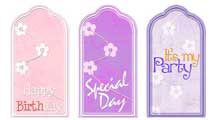 Special Occasion Gift Tags and Craft Tags. Including "Happy Birthday" Gift Tag, "Special Day Gift Tag" and "It's my Party" Gift Tag.
---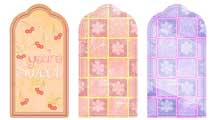 All Occasion Gift Tags and Craft Tags. Including "You're Sweet" Gift Tag, Blue Floral Checkers Gift Tag and Pink Floral Checkers Gift Tag.
---
Free to Print Gift Tags: Party Collection. Including a set of three trendy blue party bag tags and three trendy pink party bag tags.

---
Printable Holiday Gift Tags. Free Printable Christmas Gift Tags for homemade Christmas gifts. Just print and cut for last minute tags...

---
Printable gift certificates. Give a gift of time with your own special homemade gift certificate coupons...
Free Printable Gift Certificates. Information on how to make gift certificates, homemade gift certificate ideas and free printable certificates.
---
Zodiac Birthday Symbols. Using the astrological sign of the birthday boy or birthday girl is a great way to personalize a gift for them...
Birthday Symbol Templates. Here's a template for each sun sign. You can use these by printing and tracing them or use them as guides for paper punching and other techniques...
---
Cute Coloring Pages & More. Following is a list of free kids printables, including free coloring book pages for your kids to enjoy. Also a couple free printable word games for kids. Each page prints to standard 8 1/2 x 11 inch paper...
Midnight Kitty - Halloween Coloring Picture
Spooky Spider - Halloween Coloring Picture
Spring Day - Bunny Rabbit Coloring Page
Three of a Kind - Flower Coloring Page
Spring Swirl - Butterfly and Flower Coloring Page
Daydreaming Caterpillar - Caterpillar Coloring Page
Tasty Morning - Ant Coloring Page
It's a Party - Birthday Coloring Page
Ladybug in Grass - Ladybug Coloring Page
Little Piggy - Pig Coloring Page
Puppy Love - Puppy Coloring Page
Silly Butterfly - Butterfly Coloring Page
Smiling Sunflower - Sunflower Coloring page
Big Brother Ribbon - Big Brother Coloring page
Big Sister Ribbon - Big Sister Coloring page
"Great Day" Printable Word Search for Kids
"Picnic Foods" Free Printable Word Search for Kids
---
Free Printable Crafts & Tags Printing Tips
---
Printing One Tag or Template: To print one single template, you can simply right click on the full size image with your mouse and click on [print picture].
Printing a Page of Tags or Templates: You can usually print more than one templates per page. Choose all the same template or mix and match. To print a full page:
Changing the size of these free printable crafts is easy... If you need a different sized tag, feel free to resize by first clicking on the image while it's in your word processing program. You'll see little squares on the corners. Drag one in or out to make the tag smaller or larger. There will also be small squares on the top/bottom centers and side centers which can be used to change just the tag's height or width.
---
Important information about these exclusive free printable crafts and tags:
---
Terms of Use: The printable images on this web site are my own exclusive designs. The terms of use for using my free printable crafts and activities are as follows:
---
Keep the Free Printables and Homemade Gift Ideas Coming:
Subscribe to our Newsletter or to updates by RSS , where all the new content and updates for this site are posted.
Didn't Find What You Were Looking For?
---
This site is built and maintained using Site Build It!
---