Make "Priceless" Gifts With Cheap Homemade Gift Ideas!
Our Collection of Fun and Frugal Homemade Gift Ideas
Plus Tips For Making Gifts on a Budget
Best cheap homemade gift ideas??? That's one of the number one questions asked here at HomemadeGiftGuru.com...
Whether you're a struggling student, a grandparent with loads of grandchildren, anyone blessed with too many friends to buy gifts for, or even a mommy or daddy in need of a little something extra for the kids, you're very much not alone.
Beyond all that... sometimes it's just fun to make inexpensive homemade gifts, like these lavender bottles that can be whipped up in the summer for scenting rooms and linen drawers. The lack of a price tag (some gifts cost literally pennies to make) gives way to freedom to create and give just for the fun of it!
---
Cheap Homemade Gift Articles
---
---
Cheap Homemade Gift Ideas For Fun and Frugal Gifts
---
Make Gift Certificates.
A personal favorite and a wonderfully cheap homemade gift idea... Anyone can do this! If you want to give something really special from your heart and something free at that, homemade gift certificate coupons are great! They also make great last minute gift ideas.
Get Ideas and Free Printable Gift Certificate Templates here...
---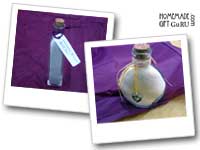 Got Salt? Make up a batch of luxurious homemade bath salts or other homemade bath and body goodies for a cute and cheap homemade gift idea for your mother, daughter, friend or lover. Take advantage of ingredients from your kitchen such as salt and baking soda (they make great bath powders) and use your garden for more savings (for example, lavender and other flowers and herbs can be used to scent or simply to decorate your homemade bath and body gifts...
---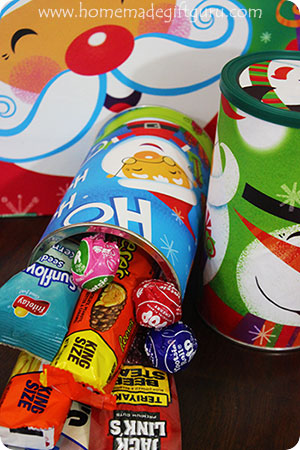 Homemade Canisters. Make your own canisters easily and for free! Then fill them up with whatever goodies you want, whether baked, store-bought or handmade.
Homemade canisters made this way are extremely easy to make and they fit so well here on my cheap homemade gift ideas page with a financial cost of $0.00.
You'll have a blast deciding what to put inside no matter how thrifty your holiday budget is! Some ideas include: homemade caramel popcorn, dollar store goodies, assorted candy bars and homemade cookies.
---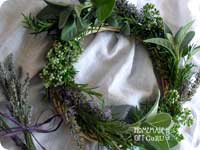 Search Your Garden. Rose petals, lavender, rosemary! Make a herb wreath as seen to the right! Put together wild flower bouquets... they are surprisingly beautiful! Craft with dried pansies and other dried pressed flowers!
Use fresh lavender to make simple lavender bottles, a flower craft that cost mere pennies.
Another nearly free cheap homemade gift idea... Find or buy some little clay pots and take advantage of plants that can be separated and shared! Whether your garden is small or large, there's probably something you can use to create an inexpensive homemade gift...
Speaking of utilizing your garden goods... You can also use your garden herbs and edible flowers to make gourmet party foods such as birthday cakes and a wide variety of pastries... a favorite of mine are my Aunt's lemon birthday cakes with purple pansies. She uses the pansies to decorate her cakes inside and out!
Above you see them chopped, but she also leaves them whole at times for a more dramatic effect (see our herb and edible flower guide for more ideas). Flower filled baked goods, salads, punch and other dishes make for very happy homemade gift and party ideas...
---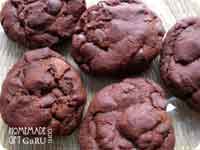 From the Kitchen. Make a mix, bake something from scratch, put together a few spreads, dips or a even a special drink.
There are many delicious and cheap homemade gift ideas to make in the kitchen... for example, if you get a candy thermometer (a very small investment), you can even make easy homemade candy, such as truffles, fudge or perfect caramel popcorn.
Tips: Pair up two or more food gifts for a fancier present. Put them in a cute container (you can even make origami boxes) for even more visual appeal.
Cheap homemade gift ideas from the kitchen don't have to be edible, they can simply be for play. Kids and families often like homemade craft kits with homemade supplies such as finger paint or play dough... here's a play dough recipe with instructions and lots of inexpensive gift and party ideas (and some fun party activities for kids... and adults) as well as a special Kool-Aid play dough recipe mix in a bag that's very cute and frugal to give...
---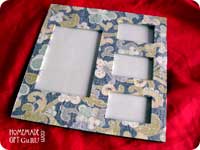 Recycle and Rummage. Some very cheap homemade gift ideas are born from fixing up old, worn or boring items using a variety of techniques such as painting, spray painting, decoupage, sanding and embellishing with beads, paper, ribbon...
You can make a very simple decoupage frame gift with no experience what-so-ever. For example, the frame to the right was purchased at a local dollar store and given a fancier life with a single piece of scrapbook paper, a very easy gift idea...
A frugal tip? Hold on to attractive images you might otherwise throw away (for example decorative party napkins leftover from special occasions can be used in a decoupage project... here's a napkin decoupage box for an idea).
Rather than buying decoupage paper, use wrapping paper, left over party napkins, old calendars, post cards etc. for frugal collage gifts and decoupage projects.
---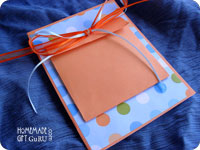 Paper Craft Gifts. What can paper make? All sorts of great gifts. Think photo albums, mini scrapbooks and framed pieces. Try making paper beads, address books or homemade journals (as seen below).
You can also use paper to make your own cards, like this pouch card made to hold a small but meaningful gift that can be made and mailed for cheap.
A cheap and last minute idea is to make your own gift box with a favorite patterned paper using these easy origami box instructions. Then enclose your store bought or homemade gift or treats.
---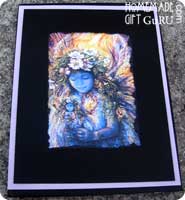 Make a Book or Journal. Learn super easy ways to make a journal or a book.
Plus, choose a theme that will customize the book for the perfect inexpensive homemade gift.
For example, an Big Idea Book is perfect for someone starting a new business or anyone obsessed with a particular craft or hobby...
For More Cheap Homemade Gift Ideas - See Also:
---
Tips to Save Money When Making Gifts
---
Preparation. This may not always be possible but it can save you money to prepare well ahead of Holidays and Special Occasions. Waiting until the last minute usually means needing short cuts and having to buy supplies from more expensive stores (since time restraints don't allow for "shopping around.")
Many craft stores have amazing sales and coupons available but never at the last minute when you need them - I know this from lot's of experience! So whenever possible - stock up, get 'em while they're hot and feel free to use this holiday calendar list or read about free reminders for help you get ahead of birthdays and holidays.
Quick Tip: If you find yourself putting something together at the last minute, don't hesitate to use my printable tags to address your homemade gifts and more.
Shop After-Holiday Sales. Many items are available seasonally. Right after a holiday is the best time to get discounted stuff for next year.
Re-use and Re-purpose. Use stuff you have. Save pretty bottles, shop dollar store deals (if you have one) and pick up tins and wooden objects (stuff you can paint or decoupage) from thrift stores for re-purposing.
More Tips & Cheap Homemade Gift Ideas:
Sew, Knit or Crochet. Fabric, yarn and thread can be used to make an endless array of creative and inexpensive homemade gifts.
Homemade blankets and quilts, for example, are timeless and still widely popular homemade gifts, but there are also many other things you can do with fabric, yarn and/or thread. For example, you can make totes, rugs and more with old but shapely sweaters and clothing - definitely a budget winner.
If you're knew to knitting you can get a knitting loom and make a super cute hat or scarf in a single evening!
Don't forget to search your house for hidden treasure!
Believe it or not, stuff you don't want can make a great addition to your supply list for future gift making. Check your closet, garage, laundry room, pantry, cupboards and recycle bin. Some of my favorite hidden treasures include:
Old spice containers
Baby food jars
Old vases from the 70s or beyond
Sauce, dressing and marinade jars
Pickle jars and other nice glass jars
Mason jars in all sizes
Used baskets
Old planters
Unwanted pitchers or canisters
Old frames of any kind
Old fabric, including stained or torn lace curtains, tablecloths or clothing that is still in good condition
Keep your eyes out for these types of "treasures" and save them all year long. Saving stuff like this will make or break your day when creating homemade gifts and they will most definitely reduce the cost of any project.
More On...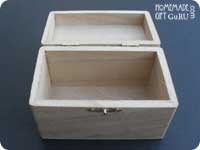 Decoupage. Decoupage is fabulously cheap to do with endless possibilities. You can decoupage almost anything, using images from almost anywhere.
Decoupage is a skill that anyone can acquire, it takes very little practice (you should be able to create something great even with your first try) and has a very low "start-up" cost as well.
Craft Embellishing. There are many other ways to embellish an item you find for cheap. Use a hot glue gun, cover it with fabric, use beads, ribbon, buttons, sewing and more. The key is to find a great "base" for your homemade gift, such as a cheap, unfinished wooden box. Then turn it into a something special, beautiful or meaningful. Many great cheap homemade gift ideas come from such embellishing.
---
More Articles About Cheap Homemade Gift Ideas:
Inexpensive Homemade Gift Ideas for Personalization Get the Most Bang for Your Buck
We've Enjoyed These Related Books:
Didn't Find What You Were Looking For?
---
This site is built and maintained using Site Build It!
You could do it too!!! Click here to learn more.
---
Affiliate Disclosure: To help me provide the information and tutorials contained in this website, I may receive monetary compensation or other types of remuneration for my endorsement, recommendation, testimonial and/or links to any products or services from this website. Please note that I only endorse products that I believe would be of value to my readers. Also note that Homemade Gift Guru is a participant of Amazon's affiliate program. I may make a small commission on orders made through my Amazon links. This helps me maintain my site. Thank you for your support!