Homemade Canister
Learn How to Whip up a Super Cute Canister for Your Holiday Food Gifts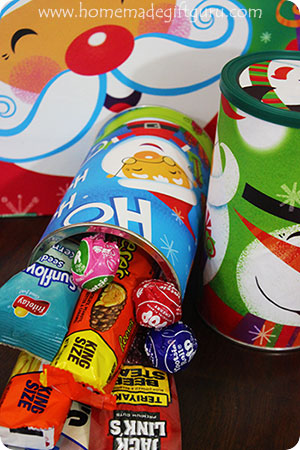 Sometimes a homemade canister is exactly what you need for your holiday food gifts!
I find them incredibly useful. I suggest you re-purpose the handy food canisters with the tin linings used to package things like coffee, hot cocoa and creamer.
The inner tin lining is there to keep your food fresh, and that's exactly what it will do for you when you re-use it for homemade goodies, such as caramel popcorn.
You can also turn your homemade canister into a super quick homemade gift by filling it with sweet candy bars and/or salty snacks like sunflower seeds and beef jerky.
---
How to Make a Paper Covered Canister
---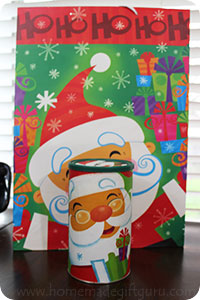 After creating my fair share of homemade canisters, I've come up with one flawless way that I love and prefer over all others... and it starts with a gift bag!
We all have used gift bags in our lives. They are often beautiful and almost always shiny, smooth and thick. Because of all these qualities, they make excellent, high quality, wrinkle-free canister covers.
Plus, the paper used to make gift bags is a great size for canisters (unlike scrapbook paper, which usually isn't wide enough to circle the can).
And they last a long time. We've been reusing some of our canisters every Christmas, and they still look great!
Here's how to make a really cute canister using the gift bag paper of your choice...
Choosing a Gift Bag ...keep in mind, that you can choose a gift bag for any holiday or occasion! You can also choose a fun theme like My Little Pony, Curious George or Mickey Mouse. You just have to track down the right bag!
Tools and Supplies List:
A clean canister. Preferably with a silver lining.
A gift bag. Make sure it is big enough to cover your canister.
Glue. A glue stick works well but other glues that work with paper should be ok.
Scissors.
Optional: Paper Cutter. I like using a paper cutter because it is so precise but it is optional.
Step 1: Measure Canister. Measure the height and diameter of the canister you want to re-purpose. Use a flexible ruler to measure around the canister or simply wrap a piece of string around the canister and then measure the string with a standard ruler.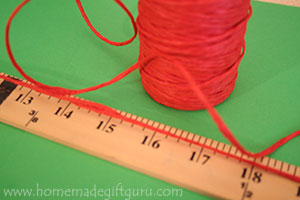 Step 2: Cut Gift Bag Open. Find a beautiful gift bag and cut it down one side. Cut off the bottom so you have a flat piece of paper.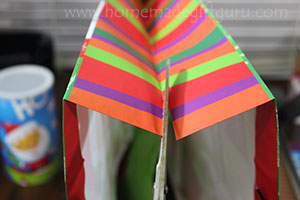 Step 3: Trim Gift Bag Paper to Size. Using a paper cutter or scissors, trim the gift bag to the height of the canister. If you need to trim some off the width as well, just remember to leave an inch or so extra... this way you can overlap the paper when you wrap it around the canister.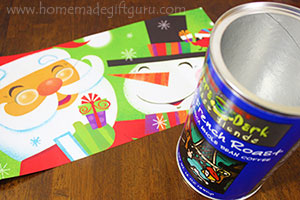 Tip: Pay attention to what part of the image on the gift bag will be on the front of your homemade canister.
Step 4: Apply Glue. Apply glue to the canister and also the back of the paper. Make sure to apply plenty of glue to the top and bottom area of the canister so it stays secure.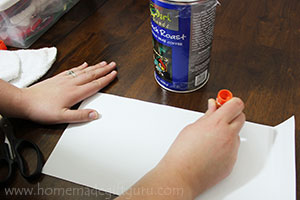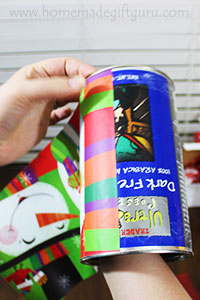 Step 5: Adhere Paper to Can.
Starting with one side of the paper, press it down firmly across the length of the canister. Make sure the top and bottom of the paper is even against the can and smooth it out as you roll the canister around and press the paper evenly.
Wipe any glue that is squished out the sides with a washcloth, paper towel or piece of fabric. I also use the washcloth to smooth out the paper, it works great!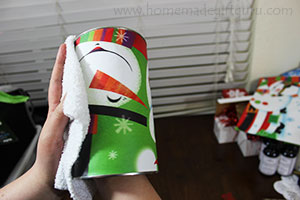 Step 6: Lid. If needed, cut a circle for the lid and glue it down.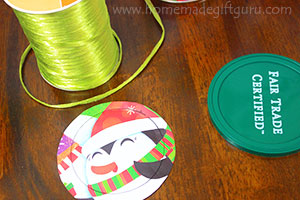 Done!
A foil lined canister should be air-tight, which is a huge plus for any food gift ideas... and by using a gift bag to cover your canister, you have created an awesome, smooth wrinkle-free finish all with things you already have!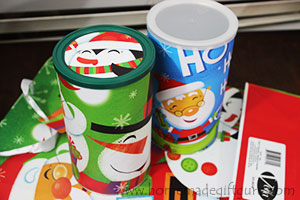 I hope you found this tutorial useful and remember you can make these for any holiday or occasion!
Didn't Find What You Were Looking For?
---
This site is built and maintained using Site Build It!
You could do it too!!! Click here to learn more.
---
Affiliate Disclosure: To help me provide the information and tutorials contained in this website, I may receive monetary compensation or other types of remuneration for my endorsement, recommendation, testimonial and/or links to any products or services from this website. Please note that I only endorse products that I believe would be of value to my readers. Also note that Homemade Gift Guru is a participant of Amazon's affiliate program. I may make a small commission on orders made through my Amazon links. This helps me maintain my site. Thank you for your support!