Halloween Gift Ideas
Homemade Halloween Treats &
Creepy Crawly Halloween Gift Ideas...
Does Halloween sometimes feels like a holiday just for kids? Well it doesn't have to be that way. Halloween can be fun and exciting for kids, tweens, teens and adults. Our secret is simple... it's all about getting into the Halloween spirit and the silliness it can inspire.
Halloween should be about more than just trick or treating... some of us don't even do that anymore! To get in the Halloween spirit and start having fun, try out some of the following Halloween gift ideas, make Halloween decorations, create festive homemade Halloween treats or make a Halloween gift basket for your kids, grandchildren, friends, teachers or co-workers!
The best Halloween gift ideas tend to be small and fun - creative and spooky! There's no pressure to give gifts, it's all for fun... and once you start creating creepy crawly cuties and other spooky treats - you'll be hooked...
Halloween is a great time for silly Halloween gifts, spooking, tricking and treating friends, family and children so let's get started!
Last Minute Gift Ideas...
We've made several Halloween printable gift tags for your Halloween gift and Halloween craft needs... a super easy idea is to put together a small jar or bag of festive candy and attach a Halloween tag with Halloween ribbon...
---
Homemade Halloween Gift Ideas
---
No-Sew Halloween Sock Spider
These no-sew creepy crawly cuties are so much fun to make and for under a dollar a piece... No-sew sock spiders make a great homemade teacher gift, a homemade gift for a co-worker (they can sit on a desk, looking silly but spooky) or just a silly gift for a child or friend.
Unique Halloween Party Bag
Here's a Halloween party bag idea. You can make one to hold a special homemade Halloween gift or a few for Halloween party bags.
The window can be left clear like the one shown here or it can hold a spooky surprise like the fake cockroaches I had this year (shown on the Unique Halloween Party Bag page.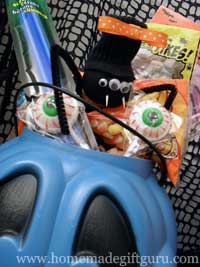 Halloween Gift Baskets
Halloween Gift Baskets are a fun way to get creative and they don't have to cost much. The first thing I do is run to the dollar store to pick up a few festive Halloween treats, some glow sticks and toy creepy crawlies.
We've include several suggestions for your Halloween gift baskets and categorized them into Halloween themes... Trick-or-Treating Kit, Dress-up Fun, Halloween Baking, Halloween Party fun, etc.
You may also like to share our Halloween coloring sheets with your kids or the kids in the neighborhood...
---
Homemade Halloween Treats...
---
Homemade Halloween treats make great Halloween gift ideas as well as Halloween party ideas...
Caramel Halloween Popcorn
Caramel popcorn is always a hit when it comes to homemade Halloween treats and homemade gift bags, but this Halloween caramel popcorn recipe is extra special! Check out the festive colors and be prepared to enjoy a bit of sweet and salty goodness.
You may like to make Original Caramel Popcorn... dress up a few individual servings of caramel popcorn with plastic spiders and creepy bugs. Give them to friends or add them to your party buffet.
Spooktastic Books...

Hungry Halloween: featuring Movie Monster Munchies, Bewitched Buffet, and Dead Man's Diner
...100 pages, 46 recipes for unique Halloween party foods. This book is fun and very easy to follow.

Ghoulish Goodies: Creature Feature Cupcakes, Monster Eyeballs, Bat Wings, Funny Bones, Witches' Knuckles, and Much More! (Frightful Cookbook)
...Creative and delicious Halloween party foods! You'll find top notch tasty recipes with great photos.
Didn't Find What You Were Looking For?
---
This site is built and maintained using Site Build It!
You could do it too!!! Click here to learn more.
---
Affiliate Disclosure: To help me provide the information and tutorials contained in this website, I may receive monetary compensation or other types of remuneration for my endorsement, recommendation, testimonial and/or links to any products or services from this website. Please note that I only endorse products that I believe would be of value to my readers. Also note that Homemade Gift Guru is a participant of Amazon's affiliate program. I may make a small commission on orders made through my Amazon links. This helps me maintain my site. Thank you for your support!