Personalization Using Zodiac Birthday Symbols
Make Your Own Cards and Crafty Gifts
with Any of the 12 Zodiac Birthday Symbols and Templates
You might be wondering what Zodiac Sun Signs have to do with homemade gifts? Mainly... personalization. Sun sign birthday symbols are a great way to personalize birthday cards and homemade gifts with something... well, personal to your gift recipient.
Zodiac sun signs tend to go well with various Birthday ideas but could be used for other occasions as well...
Using sun signs provides a trendy New Age type look that will help you make very fun and unique cards and crafts for very fun and unique friends and family. My Gemini brother for example, is such a true Gemini that I love to make him gifts with his Sun Sign (here's a recent Gemini birthday card I made him that could be adapted to other signs)...
Your gift recipient might be highly interested in Astrology or they might simply be the kind of person who would enjoy the New Age look of their sun sign on a birthday card or on a crafty birthday gift. Either way, the templates are provided below along with lots of ideas to use them!
---
Zodiac Astrology Signs and Printable Templates
---
Use the following astrology birthday symbols to personalize greeting cards and homemade birthday gift ideas...
Not sure what symbol you need? Scroll down to read more about dates and astrology facts...
Click on a symbol to go to the full size template. A new window will pop up. [Right-click] on image and choose [print picture] or [save picture].
| | | | |
| --- | --- | --- | --- |
| Aries | Taurus | Gemini | Cancer |
| Leo | Virgo | Libra | Scorpio |
| Sagittarius | Capricorn | Aquarius | Pisces |
---
More About Zodiac Astrology Signs...
---
The following Astrology information can be used to further customize your homemade gift projects or to determine the correct zodiac birthday sign for a particular birth date...
Just Discovering Astrology? I learned lots of great stuff about Astrology and what it means to me and to those I love, in this book The Only Astrology Book You'll Ever Need
or if you're looking for a great book to accompany your Astrology-themed card or gift for someone new to Astrology, this book Astrology for Yourself: How to Understand And Interpret Your Own Birth Chart
is a top notch source to share...
Note About the Dates Below: People born within a day or two of any sign are "on the cusp." This means they could be either sign. For those on the cusp, you can plug in the birth date and year here to determine the correct sun sign (or just ask them, a lot of people know their sign).
---
Birthday Symbol Ideas...
---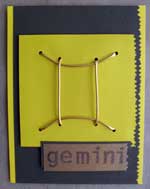 Use these astrology symbols to make birthday cards or to personalize a variety of homemade gifts. A few things to personalize...
Put one on the front of a homemade journal or store bought journal using pens or glitter.
Use fabric paint to apply the image to a fabric gift.
Make homemade stationary with a birthday symbol on the top or several around the edges.
Make greeting cards with zodiac birthday symbols drawn or sewn on the front (such as the Gemini Zodiac Symbol Card above).
Use polymer clay to make a zodiac symbol art charm or even a homemade magnet (see below for polymer clay art charm tutorials).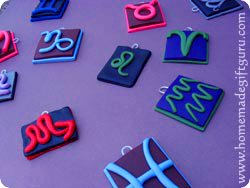 Birthday Symbols Related Tutorials:
Make your own Sun Sign oven bake clay charms for homemade key chains, homemade magnets, rear view mirror charms and more...
You may also like:
Create a birthday card... Another personalized idea for a hand made birthday card features the age of the birthday boy or girl, using our handy card making template and simple craft supplies you probably already have on hand.
Didn't Find What You Were Looking For?
---
This site is built and maintained using Site Build It!
You could do it too!!! Click here to learn more.
---
Affiliate Disclosure: To help me provide the information and tutorials contained in this website, I may receive monetary compensation or other types of remuneration for my endorsement, recommendation, testimonial and/or links to any products or services from this website. Please note that I only endorse products that I believe would be of value to my readers. Also note that Homemade Gift Guru is a participant of Amazon's affiliate program. I may make a small commission on orders made through my Amazon links. This helps me maintain my site. Thank you for your support!