Ideas for Homemade Gifts...
It's All About Celebrating Friends & Family Here At The Homemade Gift Guru Website
Welcome to this website devoted entirely to homemade gifts and party ideas!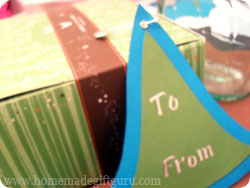 The purpose of this site is inspiration... Inspiration to create, to give and to enjoy the little moments of life that come with food, friends, family, fun and creativity.
Whether you're the do it yourself (DIY) type, you're on a tight budget, or you're just looking for unique gift and party ideas... this site will be a fun and helpful resource and we hope an inspiring place to browse!
---
Personalized Gifts for the Holidays
---
Photo Mugs make super fun, super creative Holiday gifts!
It's hard to go wrong but that doesn't mean you won't benefit from these...
10 tips for making the best photo collage mugs!
---
Share Your Ideas...
---
Share Your Homemade Gift Idea!
---
A Few Upcoming Dates and Occasions
---
Need an Excuse to Get Creative?
A Few Popular (and some less known) Upcoming Excuses to Make Gifts:
December 1 is Advent (Advent begins)
December 7 is National Pearl Harbor Remembrance Day
December 10 is Human Rights Day
December 13 is Friday the 13th
December 21 is Winter Solstice (a.k.a. The 1st Day of Winter and the shortest Day of the Year)

December 24 is Christmas Eve
December 25 is Christmas Day
December 26 is Boxing Day
December 26 through January 1 is Kwanzaa
December 27 is National Fruitcake Day
December 31 is New Year's Eve
...And by the way... December is also Write a Friend Month... who knew?
Find More Holidays For Every Month With Our Calendar Holiday List...
---
Need a really Last Minute Gift Idea? Go to our make gift certificates and homemade coupons page to get printable gift certificate templates as well as homemade gift certificate ideas...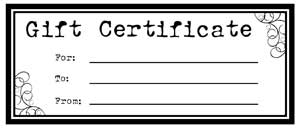 ---
FYI...
A note to our Newsletter subscribers: Newsletter on hold... Below is a general table of contents and feel free to sign up for our Homemade Gift Blog to get new pages, updates and freebies automatically by RSS feed...
---
Here you can view and subscribe to the What's New homemade gifts blog where you'll get new ideas for homemade gifts and party ideas as well as featured and new freebies...
A guide to getting started with gift making, possible crafts and techniques to use and the top reasons to create and give a homemade gift...
Ask your questions about homemade gifts, request ideas for particular situations and look for discussions you can add to on the homemade gift discussion board...
Share your homemade gift ideas here! No creation is too big or too small to share with our community of joyful gift makers. Earn a link to your blog or site by including photos, instructions and recipe if one is used...
Here you can learn all about homemade gifts in a jar including gift jar ideas, recipes in a jar, decorative jar gifts, decorating gifts in a jar...
Delicious recipes in a jar. Here you'll find tried and true gift jar recipes including mason jar cookie recipes and several popular gift jar recipes that are rated and reviewed...
Here's how to make delicious and beautiful layered gifts in a jar plus tips for best results...
When you make a caramel popcorn gift, you want it to turn out perfect the first time and every time! Skip the learning curve with this original caramel popcorn recipe and 8 very helpful tips for making the very best gourmet caramel popcorn quickly and easily...
Learn how to make easy homemade truffles with chocolate truffle recipes and tips plus presentation tips for adorable homemade gift ideas...
Make your own gift baskets this year with fun homemade gift basket ideas, handy instructions and lots of gift basket suggestions...
Homemade bath salts make a great gift. Here's a simple bath salt recipe to try and a few other easy bath recipes for cute and comfy bath and body gifts...
Use decoupage to make homemade gifts that shine with elegance and thoughtfulness. Basic instructions for decoupage projects and helpful tips to prevent disappointment. Cheap homemade gift ideas using decoupage...
You may have heard what a great homemade gift idea tie dye is but we've taken it one step further and provided some great tutorials on how to tie dye and how to create a variety of tie dye patterns....
Inexpensive homemade gift ideas. Fun, thoughtful and cheap homemade gift ideas for any budget. It's the thought that counts but why not make the gift awesome too...
Fun, thoughtful and inexpensive homemade gift ideas for personalizing any homemade gift into a one-of-a-kind treasure...
Best homemade teen gifts that are fun, original and colorful. Unique homemade gift ideas for teens and the young at heart...
Here's our creative card making ideas and resources, including how to make greeting cards with basic supplies, a few free card making templates and how to make homemade envelopes...
Card making ideas range from totally-from-scratch techniques to pre-made kits that coordinate. The nice thing about the card making techniques on this page is that you can complete them with just basic supplies...
Make gift certificates with homemade gift certificate ideas. Make your own gift certificates from scratch or by using free gift certificates printable from your pc...
Get started making Valentine Day cards and gifts with a few ideas for cute homemade Valentine gifts followed by some free Valentine ideas to show you care...
Have some creepy crawly fun with a few Halloween gift ideas, including homemade Halloween treats, Halloween crafts and a unique and creepy Halloween party bag idea...
Here's a calendar holiday list to help you with gift themes all year long. If you need an excuse to give, you'll find it here...
Get great gift ideas for unique personalized gifts online. These gifts are ALWAYS a huge hit since they are designed by you and they focus on meaningful moments, memories and ideas...
By subscribing to Modern Gift Maker, you'll enjoy more free homemade gift ideas, tutorials and inspiration just when you need it most...
Free printable crafts for everyone in the house. You'll find printable craft projects, cute coloring pages, card making templates, free printable word games, free printable cards and unique printable gift tags...
Design your own unique free gift tags with these free printable gift tag templates. Perfect for a variety of easy homemade gift ideas, including recipes in a jar, homemade food gifts and other easy homemade gifts...
Here you can find original, exclusive and cute coloring pages for the little artists you know. Print these out and give them away for a little something free and fun for kids and kids parties...
This is my page, where I share a bit about myself and this Homemade Gift Guru web site...
Don't be shy! Contact us with questions, comments or ideas. You'll find a list of FAQ's about this website followed by a contact form. We always appreciate feedback!
HomemadeGiftGuru.com does not rent or share personal information with anyone. View our privacy policy for details...
Here you will find HomemadeGiftGuru.com web site terms and conditions of use.
No need to search hundreds of pages for specific homemade gift ideas or particular gift making information. Here you can use my custom site search to search HomemadeGiftGuru.com for exactly the info you want...
Homemade Gift Guru Site Map...
---
This site is built and maintained using Site Build It!
---