Ideas for Homemade Gifts...
It's All About Celebrating Friends & Family Here At The Homemade Gift Guru Website
Welcome to this website devoted entirely to homemade gifts and party ideas!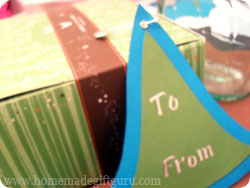 The purpose of this site is inspiration... Inspiration to create, to give and to enjoy the little moments of life that come with food, friends, family, fun and creativity.
Whether you're the do it yourself (DIY) type, you're on a tight budget, or you're just looking for unique gift and party ideas... this site will be a fun and helpful resource and we hope an inspiring place to browse!
---
Valentine's Day Ideas
---
Valentine's Day is coming! Imagine making your own Valentine countdown calendar for your favorite little Valentine! You could choose your own tiny gifts for each day and enclose your own special messages.
While there are many ways to make a really cool Valentine countdown, I have included a very special free printable template to help you make your own from scratch. Find out how to make your own Valentine countdown calendar and get your free printable template here.
---
Share Your Ideas and Advice...
---
If you would like to help this website grow you can!
Share a Photo of Your Gift in the Gallery!
Share Your Homemade Gift Idea!
Every gift idea you share can help others young and old make special gifts for their friends and family. What a lovely thing to share!!!
---
A Few Upcoming Dates and Occasions
---
Find More Holidays For Every Month With Our Calendar Holiday List...
January 1st is New Years
January 19th is Martin Luther King, Jr. Day
March 17th is Saint Patrick's Day
...January is also National Hobby Month, National Bath Safety Month and National Braille Literacy Month... who knew???
Find more holidays for every month with our calendar holiday list...
Need a really Last Minute Gift Idea? Go to our make gift certificates and homemade coupons page to get printable gift certificate templates as well as DIY gift certificate ideas...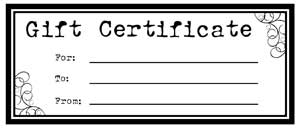 ---
This site is built and maintained using Site Build It!
---