Interested in Creating Homemade Gifts?

On a budget? Hoping for less stress during the holidays? Wanting more meaningful traditions for yourself and your family?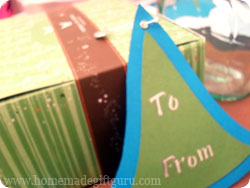 Whatever your motivation is to create homemade gifts... welcome. This website is devoted entirely to homemade gift ideas!
The purpose of this site is inspiration... Inspiration to create, to give and to enjoy the little moments of life that come with food, friends, family, fun and creativity.
Whether you're the do it yourself (DIY) type, you're on a tight budget, or you're just looking for unique gift ideas... this site will be a fun and helpful resource and I hope an inspiring place to browse!
The Key to Joyful Christmas Gift Giving...

What makes Christmas gift giving a low stress, happy endeavor? Preparation! Starting early makes all the difference.
Make a game plan... Make a list of the people you want to make gifts for and start jotting down homemade gift ideas as you come across them.

Make a budget... It's important to have an idea of how much you can spend.
Start creating some things early... It may seem too early to start your holiday gifts but there is so much you can and should get started on way before December...

First, there are some things that need time... such as time to steep, dry or cure. A few examples... homemade Kahlua needs to age, homemade vanilla needs to steep and decoupage needs to dry and cure.
If you have any photo gifts planned, get your photos printed early. If you will be ordering any personalized gifts, get them ready and order ahead so you can avoid any possible disappointment of gifts not being ready before the holidays.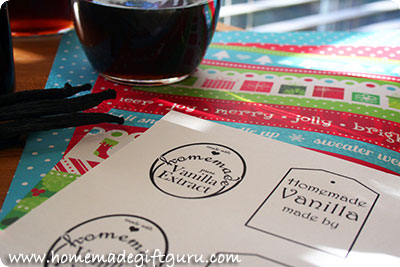 Prepare your creative packaging. One of the best tips I have for stress-free holiday gift giving is to print lots of gift tags way ahead of the special occasion!
I recommend printing a few sheets of my printable gift tag messages, they come in handy for adding the finishing touches to your homemade gifts.

A few gift tag templates will most certainly be useful... these can be traced onto card stock or paper board for your own stash of fun gift tag stencils.

You can also create boxes and cute canisters ahead of the holidays... these ready to stuff containers will be perfect for your handmade gifts, food gifts and even last minute store-bought treats.
If you take the time to plan, budget, start some gifts early and prepare lots of fun a creative gift tags and gift packaging, your holiday gift giving will be fun rather than stressful!
Good luck and happy gift making to all!
Need a fun last minute gift idea?

Go to my make gift certificates and homemade coupons page to get printable gift certificate templates as well as DIY gift certificate ideas...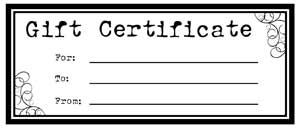 A Few Upcoming Dates and Occasions...

Creating gifts is an excellent creative outlet and a perfect way to share some of your light with the world. If you need an excuse to create gifts, look below!
These are just a few upcoming holidays... You'll find even more fun, meaningful and often bizarre holidays for each month on my calendar holiday list...

November 24 is Thanksgiving Day in the US
November 25 is

Black Friday

December 4 is Santa's List Day

December 11 is International Children's Day

December 21 is Winter Solstice

December 24 Hanukkah Begins at sunset (8 days)

December 24 is Christmas Eve

December 25 is Christmas Day

December 26 is Boxing Day

December 26 is Kwanzaa

December 27 is National Fruitcake Day

December 31 is New Year's Eve

November is also Aviation History Month, American Indian Heritage Month, National Adoption Awareness Month and Peanut Butter Lovers Month... who knew???

Popular Homemade Gift Ideas...