Ideas for Homemade Gifts...
It's All About Celebrating Friends & Family Here At The Homemade Gift Guru Website
Welcome to this website devoted entirely to homemade gifts and party ideas!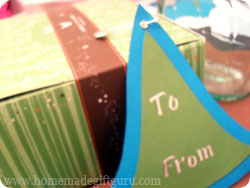 The purpose of this site is inspiration... Inspiration to create, to give and to enjoy the little moments of life that come with food, friends, family, fun and creativity.
Whether you're the do it yourself (DIY) type, you're on a tight budget, or you're just looking for unique gift and party ideas... this site will be a fun and helpful resource and we hope an inspiring place to browse!
---
Summer is a Great Time to Create!
---
Summer is the perfect time to do tie dye projects for unique homemade gifts any time of year!
We love tie dying with marbles as well as this easy circle technique, which can be used to make a sunshine like pattern. Some of the giftiest tie dye projects are pillow cases, socks, onesies, bags and for the right person... even boxer shorts...
---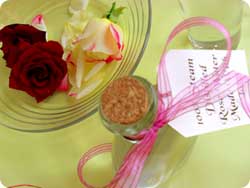 Along with summertime heat, comes garden goodies... if you don't have a garden, maybe you have a farmers market, local farm or even a friend or family member with extras... either way, it's fun and frugal to make gifts from the garden such as 100% pure distilled rose water and edible herb wreaths to name a couple...
---
Christmas... Already?
---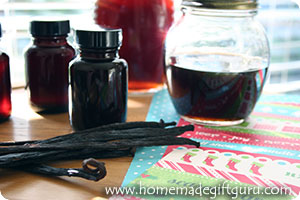 It's never too early to start planning your Homemade Christmas Gifts. One gift I especially love to start in the summer months is homemade vanilla extract. If you start your vanilla extract in the summer, it will be incredibly rich and flavorful by winter. Homemade vanilla extract makes wonderful hostess gifts and amazing last minute Christmas gifts so it's super handy to have some tucked away in your pantry throughout the year.
---
Share Your Ideas...
---
Share Your Homemade Gift Idea!
---
A Few Upcoming Dates and Occasions
---
July 24 is Amelia Earhart Day (Happy Birthday Amelia!)
July 27 is Parents Day
July 30 is Father-in-Law Day
August 3 is Friendship Day
August 3 is Sister's Day
August 3 is International Forgiveness Day
August 15 is Assumption Day (a.k.a. Assumption of Mary)
August 19 is National Aviation Day
August 26 is Women's Equality Day
August 26 is National Dog Day 
...And by the way... July is also National Blueberry Month and National Picnic Month
...August is Family Fun Month, National Peach Month and National Golf Month... who knew???
Find More Holidays For Every Month With Our Calendar Holiday List...
Need a really Last Minute Gift Idea? Go to our make gift certificates and homemade coupons page to get printable gift certificate templates as well as homemade gift certificate ideas...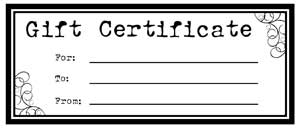 ---
This site is built and maintained using Site Build It!
---