Ideas for Homemade Gifts...
It's All About Celebrating Friends & Family Here At The Homemade Gift Guru Website
Welcome to this website devoted entirely to homemade gifts and party ideas!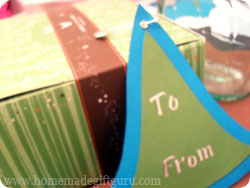 The purpose of this site is inspiration... Inspiration to create, to give and to enjoy the little moments of life that come with food, friends, family, fun and creativity.
Whether you're the do it yourself (DIY) type, you're on a tight budget, or you're just looking for unique gift and party ideas... this site will be a fun and helpful resource and we hope an inspiring place to browse!
---
Mother's Day
---
Mother's Day is May 11th and I know you all want to treat your Moms to something special!
Mother's Day is a PeRfEcT time for making an origami gift tower. You can use any GORGEOUS paper from your scrapbook supplies (or your local craft store) to make 3 or 4 varying sized boxes. Then put some small gifts or treats inside. You may like to try making your Mom, your Grandma (or your Mom friend) some homemade truffles, YUM! They fit inside these origami boxes perfectly.
Mother's Day is also a great time to make gift baskets... You may even like to make a creative photo frame for including a photo or a special quote for Mom.
Homemade gift certificates for Mother's Day are priceless so I've made some special gift certificate templates just for Moms.
My favorite gift tags for Mother's Day gifts include these heart gift tag templates and these fancy gift tag templates.
Here's a couple cute homemade cards that make sweet Mother's Day cards...
Another great gift for Mother's Day is just about any personalized photo gift...
---
Personalized Gifts
---
Photo Mugs make super fun, super creative personalized gifts!
It's hard to go wrong but that doesn't mean you won't benefit from these 10 tips for making the best photo collage mugs...
10 tips for making the best photo collage mugs!
Also
---
Share Your Ideas...
---
Share Your Homemade Gift Idea!
---
A Few Upcoming Dates and Occasions
---
April 20 is Easter Sunday
April 23 is Administrative Professionals Day (formerly Secretaries Day)
April 25 is National Arbor Day
May 1 is Mother Goose Day
May 3 is World Press Freedom Day
May 4 is Bird Day
May 5 is Cinco de Mayo in Mexico
May 6 is National Teacher Day (a.k.a. National Teacher Appreciation Day)
May 6 is National Nurses Day
May 7 is National School Nurse Day
May 12 is International Nurses Day
May 11 is Mother's Day
May 15 is National Chocolate Chip Day
May 17 is Armed Forces Day
May 24 is Victoria Day in Canada
May 24 is International Jazz Day
May 26 is Memorial Day observed in United States
May 31 is World No Tobacco Day
...And by the way... April is also Cancer Control Month, Stress Awareness Month, National Pecan Month and National Poetry Month...
...May is also National Physical Fitness and Sports Month and Asian/Pacific American Heritage Month... who knew???
Find More Holidays For Every Month With Our Calendar Holiday List...
Need a really Last Minute Gift Idea? Go to our make gift certificates and homemade coupons page to get printable gift certificate templates as well as homemade gift certificate ideas...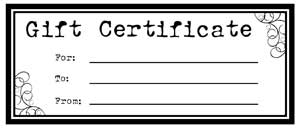 ---
This site is built and maintained using Site Build It!
---