Ideas for Homemade Gifts...
It's All About Celebrating Friends & Family Here At The Homemade Gift Guru Website
Welcome to this website devoted entirely to homemade gifts and party ideas!
The purpose of this site is inspiration... Inspiration to create, to give and to enjoy the little moments of life that come with food, friends, family, fun and creativity.
Whether you're the do it yourself (DIY) type, you're on a tight budget, or you're just looking for unique gift and party ideas... this site will be a fun and helpful resource and we hope an inspiring place to browse!
---
What to Make for Holiday Gifts?
---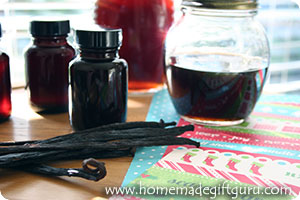 If you are like us, you are quickly realizing that the winter holidays are right around the corner! If you haven't already started creating gifts with Thanksgiving, Christmas and New Years in mind, now is definitely the time! The sooner you get started, the smoother your experience will be creating homemade gifts this year for friends and family...
For example, the longer your homemade Kahlua ages, the smoother and more delicious it will taste, come gift giving time... so start it ASAP!
Also, there is still time for creating one of my favorite gift giving staples, homemade vanilla! It only takes a couple minutes to create easy homemade vanilla by combining ingredients in a mason jar and separating your vanilla into beautiful gift giving bottles later... or you can instantly make vanilla in individual small bottles that are ready for immediate gift giving and will deepen with flavor each and every day!
Please, feel free to start planning gifts for the Holidays using this helpful list here...
---
Share Your Ideas...
---
If you would like to help this website grow you can!
Share a Photo of Your Gift in the Gallery!
Share Your Homemade Gift Idea!
Every gift idea you share can help others young and old make special gifts for their friends and family. What a lovely thing to share!!!
---
A Few Upcoming Dates and Occasions
---
Find More Holidays For Every Month With Our Calendar Holiday List...
November 1 is Dia de los Muertos in Mexico-a.k.a. Day of the Dead
November 1 is All Saint's Day
November 1 is End of Daylight Savings Time in the United States
November 2 is All Soul's Day
November 11 is Veterans Day in the United States
November 13 is Friday the 13th
November 13 is Sadie Hawkins Day
November 13 is World Kindness Day
November 20 is Universal Children's Day
November 26 is Thanksgiving Day in the United States
November 27 is Black Friday
November 29 is Advent (Advent begins)
...November is also Aviation History Month, American Indian Heritage Month, National Adoption Awareness Month and Peanut Butter Lovers Month... who knew???
Find more holidays for every month with our calendar holiday list...
Need a really Last Minute Gift Idea? Go to our make gift certificates and homemade coupons page to get printable gift certificate templates as well as DIY gift certificate ideas...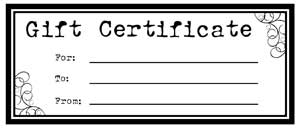 ---
This site is built and maintained using Site Build It!
---