Ideas for Homemade Gifts...
It's All About Celebrating Friends & Family Here At The Homemade Gift Guru Website
Welcome to this website devoted entirely to homemade gifts and party ideas!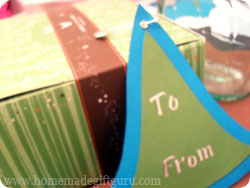 The purpose of this site is inspiration... Inspiration to create, to give and to enjoy the little moments of life that come with food, friends, family, fun and creativity.
Whether you're the do it yourself (DIY) type, you're on a tight budget, or you're just looking for unique gift and party ideas... this site will be a fun and helpful resource and we hope an inspiring place to browse!
---
Getting Ready for a Joyful Christmas
---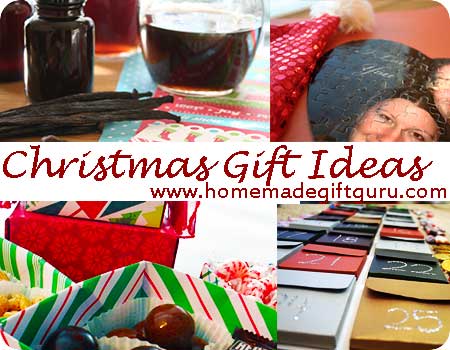 Wouldn't it be nice if this year's Holidays could be full of nothing but ease and joy... and delicious smells! I agree. One thing I've learned is that some homemade Christmas gifts are best made ahead of the Holidays. Here's a few ideas to get you on the right track for an easy breezy gift making season...
Getting Prepared for Creative Photo Gifts:
Organize the years favorite photos by saving them into a special file. This will make uploading them super easy when it's time to create your personalized gifts online such as photo mugs, and photo puzzles.
Print out some awesome photos from the year. Ordering prints is easy and having them in your hands can make your photo gift projects feel much more do-able when it's time to get to work. You may even be inspired by your printed photos to make some creative photo frames to match your favorite photos.
These homemade gift ideas should be started as soon as possible for Holiday giving...
Homemade Vanilla Extract. The sooner you start brewing those vanilla beans, the tastier your homemade extract will be.
Homemade Kahlua Liqueur. Making your homemade coffee liqueur now gives it time to age before the Holidays, which makes it much smoother and tastier.
You can also make your homemade bath salts ahead and start printing out some of our gift tag templates for creative holiday gift making.
...You will find yourself far less stressed if you start your planning and creating way before the busy months of November and December. If you haven't already, feel free to check out our homemade Christmas gift ideas page to help you start planning your favorite homemade Christmas gifts now!
---
Share Your Ideas...
---
Share Your Homemade Gift Idea!
---
A Few Upcoming Dates and Occasions
---
Find More Holidays For Every Month With Our Calendar Holiday List...
November 1 is Dia de los Muertos in Mexico-a.k.a. Day of the Dead
November 1 is All Saint's Day
November 2 is End of Daylight Savings Time in the United States
November 3 is All Soul's Day
November 4 is Election Day
November 11 is Veterans Day in the United States
November 13 is Sadie Hawkins Day
November 13 is World Kindness Day
November 20 is Universal Children's Day
November 27 is Thanksgiving Day in the United States
November 28 is Black Friday
November 30 is Advent (Advent begins)
...November is Aviation History Month, American Indian Heritage Month, National Adoption Awareness Month and Peanut Butter Lovers Month... who knew???
Find more holidays for every month with our calendar holiday list...
Need a really Last Minute Gift Idea? Go to our make gift certificates and homemade coupons page to get printable gift certificate templates as well as homemade gift certificate ideas...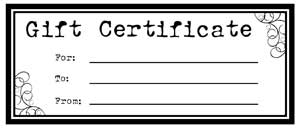 ---
This site is built and maintained using Site Build It!
---