Interested in Creating Homemade Gifts?

On a budget? Hoping for less stress during the holidays? Wanting more meaningful traditions for yourself and your family?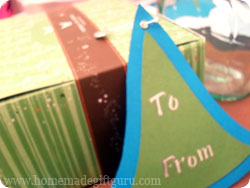 Whatever your motivation is to create homemade gifts... welcome. This website is devoted entirely to homemade gift ideas!
The purpose of this site is inspiration... Inspiration to create, to give and to enjoy the little moments of life that come with food, friends, family, fun and creativity.
Whether you're the do it yourself (DIY) type, you're on a tight budget, or you're just looking for unique gift ideas... this site will be a fun and helpful resource and I hope an inspiring place to browse!
Need a fun last minute gift idea?

Check out this collection of free ideas for DIY gift certificates PLUS free printable gift certificates and homemade coupons!

You may also like...

A Few Upcoming Dates and Occasions...

Creating gifts is an excellent creative outlet and a perfect way to share some of your light with the world. If you need an excuse to create gifts, look below!
These are just a few upcoming holidays... You'll find even more fun, meaningful and often bizarre holidays for each month on my calendar holiday list...

January 1 is New Year's Day in the United States
January 4 is Trivia Day
January 5 is National Bird Day
January 6 is Feast of the Epiphany a.k.a. Three Kings Day
January 10 is Houseplant Appreciation Day
January 13 is Friday the 13th

January 16 is Martin Luther King Jr. Day
January 19 is National Popcorn Day
January 21 is National Hugging Day
January 23 is National Pie Day
January 23 is National Handwriting Day
January 24 is Compliment Day
January 25 is Opposite Day
January 26 is Australia Day
January 27 is Chocolate Cake Day
January 28 is Chinese New Year (Year 4715)

January 29 is National Puzzle Day
January 31 is Backward Day
February 14 is Valentine's Day!
April 16 is Easter!

January is also National Hobby Month, National Bath Safety Month and National Braille Literacy Month... who knew???

Popular Homemade Gift Ideas...