Ideas for Homemade Gifts...
It's All About Celebrating Friends & Family Here At The Homemade Gift Guru Website
Welcome to this website devoted entirely to homemade gifts and party ideas!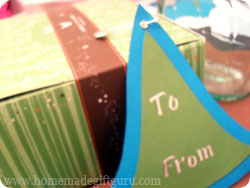 The purpose of this site is inspiration... Inspiration to create, to give and to enjoy the little moments of life that come with food, friends, family, fun and creativity.
Whether you're the do it yourself (DIY) type, you're on a tight budget, or you're just looking for unique gift and party ideas... this site will be a fun and helpful resource and we hope an inspiring place to browse!
---
Somebunny Loves You Gift Ideas...
---
Easter is coming right up. Why not make it Hoppy with sock bunnies. Sock bunnies make really cute additions to homemade Easter baskets...
Or, you could make these smaller sized sock rabbit babies from baby socks... they are adorable and as a bonus, they fit INSIDE Easter eggs for a fun surprise!
And, if you're not the crafty type but know someone who is... or you just like sharing craftiness with others... there are these sock craft bunny kit gifts in a jar. I've included tutorials for all 3 plus lots of bonus ideas and free Easter printables!
Hoppy Easter!
---
Personalized Gifts
---
Photo Mugs make super fun, super creative personalized gifts!
It's hard to go wrong but that doesn't mean you won't benefit from these 10 tips for making the best photo collage mugs...
10 tips for making the best photo collage mugs!
Also
---
Share Your Ideas...
---
Share Your Homemade Gift Idea!
---
A Few Upcoming Dates and Occasions
---
Need an Excuse to Get Creative?
A Few Popular (and some less known) Upcoming Excuses to Make Gifts:
April 1 is April Fool's Day
April 4 is National Walk to Work Day
April 11 is National Day of Silence
April 13 is Palm Sunday
April 14 is Passover (lasts 8 days)
April 15 is Income Tax Day in the United States
April 18 is Good Friday
April 20 is Easter Sunday
April 21 is Patriots Day
April 22 is Earth Day
April 23 is Administrative Professionals Day (formerly Secretaries Day)
April 24 is Take Your Daughter to Work Day
April 25 is National Arbor Day
...And by the way... April is also Cancer Control Month, Stress Awareness Month,National Pecan Month and National Poetry Month...
Find More Holidays For Every Month With Our Calendar Holiday List...
---
Need a really Last Minute Gift Idea? Go to our make gift certificates and homemade coupons page to get printable gift certificate templates as well as homemade gift certificate ideas...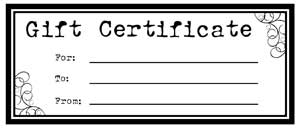 ---
This site is built and maintained using Site Build It!
---