Sock Crafts: Sock Bunny in a Jar Kit
Sock Bunnies Couldn't Be Easier Than with a No-Sew Sock Bunny Craft Kit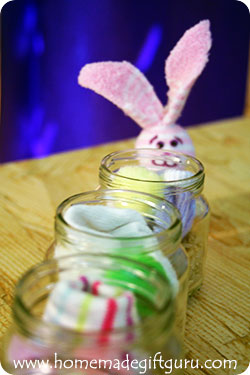 I love sock crafts! Interestingly, I've seen people young and old, crafty and not so crafty enjoy them too. I tend to focus on no-sew sock animals because ANYONE can make them... there's really no learning curve at all!
If you'd like to share the fun of making sock animals, specifically the sock bunny... you'll love this sock craft gift in a jar idea.
Also, if you like frugal homemade gifts, here you go! Chances are, you'll have everything you need on hand to create these unique little homemade Easter gifts.
I've also made printable Sock Bunny Instructions for you to include in your sock craft gift in a jar as well as Sock Bunny Kit Labels that you can color and use to label your no-sew sock activity Easter gift jars.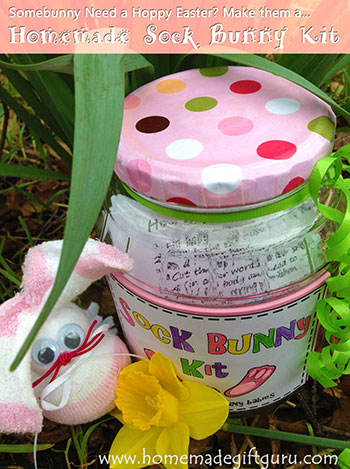 ---
How to Make a Sock Bunny Kit
---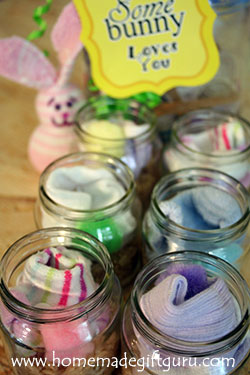 I like to make my sock bunny activity kits using baby socks, rather than adult-size socks. For one thing, they use far less rice than the original sock bunny (this makes them easier to pack in a jar and less expensive).
Plus baby socks are easy to find and often free or inexpensive (you yourself or anyone you know with a baby is likely to have baby socks that are missing their pair or just outgrown). My experience is that baby socks don't get worn long and tend to stay in pretty good shape (babies grow so fast!).
Want to Make Your Own "Baby-Sock" Sock Bunny? Check out my Sock Rabbit Baby Bunnies if you'd like to try making these little cuties yourself before you make the kit.
---
"One Bunny" Sock Bunny Kits
A baby food jar is a perfect fit for enough materials for one "baby sock" sock bunny. Plus I made some cute little gift tags with simplified instructions for you to print.
For each "one bunny" sock bunny kit you'll need:
1 clean baby food jar
1 baby sock
1/4 cup rice
2 clear rubber bands (or same color as sock)
Your choice of decorative items... examples:
-2 eyes (ex. buttons or googly eyes)
-1 nose (beads)
-1 sets of whiskers (ex. embroidery thread or memory wire)
-1 neck bow or scarf (ex. ribbon or fabric)
-1 pom pom for the tail (homemade or craft)
Optional: printer to print DIY Sock Bunny Gift Tags
Instructions:
Fill small jars (great use for baby food jars!) with the above supplies... you can decoupage pretty paper to the lids and use the free printable sock bunny gift tags as both the labels and the kit instructions.
---
"Three Bunny" Sock Bunny Kit
To make this a mason jar gift, use a mason jar to include materials for 3 sock bunnies.
For Each Mason Jar Sock Bunny Kit Gift You'll Need:
3 baby socks
3/4 cup white rice (I like to separate each 1/4 cup rice in to a small baggie for each bunny)
6 small white or clear rubber bands
Enough decorative items to create:
-6 eyes (buttons or Googly eyes)
-3 noses (beads)
-3 sets of whiskers (embroidery thread or memory wire)
-3 neck bows or scarfs (ribbon or fabric)
-3 pom poms for the tails (homemade or craft)
1 Glass or plastic jar/cannister (mason jars work great!) ...I used a pickle jar above because it was cute and free.
Printer to print:
... Full Page Sock Bunny Kit Instructions and
... Sock Bunny Kit Labels
Optional: markers to color your labels and extra paper if you want to mat your label like I did
Optional: You can include fabric glue if you want (hot glue works the fastest though)
Full Page Printable Kit Instructions: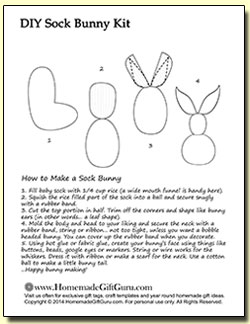 Printable Craft Kit Labels: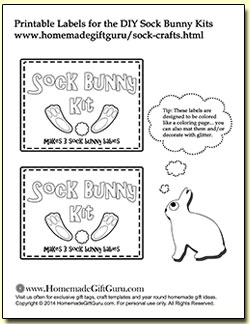 Or Choose DIY Sock Bunny Gift Tags
(Made these special for the single sock bunny kits in a jar).
To Make a "three bunny" Mason Jar Gift Sock Bunny Kit to give for a Homemade Easter Gift...
Print. Print labels and/or instructions.
Load. Put enough supplies for 3 sock bunny babies inside a mason jar or other glass or plastic jar or canister (see supplies for a list to guide you). Also fold or roll up the printable sock bunny instructions and put inside the jar with supplies.

...Or put supplies for 1 sock bunny in a small jar such as a baby food jar.
Design. Color or design your labels. Mat your label on a slightly larger piece of card stock if desired and glue to the front of the jar.

Or you can mat and attach a DIY sock bunny gift tag (includes very simple instructions).
Decorate. Decorate the lid if needed. I decoupaged paper to my pickle jar lid. Apply ribbon to the neck of the jar.
Done! Share bunny love as desired.

---
More Sock Craft Easter Gift Ideas...
---
Original Sock Bunny. You may also like to create one of these original sock bunnies. The tutorial also shows you how to make them so they hold candy, flowers or a balloon. Somebunny Loves You printables included...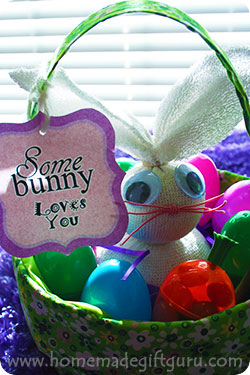 Baby-Sock Sock Bunnies. Rather than using a full size adult sock, these cuties are made using mismatched baby socks (same bunnies I recommend for the sock craft bunny kits).
Bunny loves are inevitable when you make the no-sew sock rabbit bunny babies below - a.k.a. my bunny-in-an-egg Easter gift idea...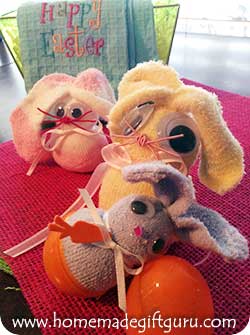 ...The best part of baby sock rabbits? They fit INSIDE Easter eggs, so you can SURPRISE someone special with a truly unique Easter gift idea. ...Hide them in large Easter eggs and use them in Easter egg hunts or put them in your Easter baskets!
You may also like:
No-Sew Sock Snowman for Christmas
No-Sew Sock Spider for Halloween
Thanks for visiting, Hoppy Easter!
Didn't Find What You Were Looking For?
---
This site is built and maintained using Site Build It!
You could do it too!!! Click here to learn more.
---
Affiliate Disclosure: To help me provide the information and tutorials contained in this website, I may receive monetary compensation or other types of remuneration for my endorsement, recommendation, testimonial and/or links to any products or services from this website. Please note that I only endorse products that I believe would be of value to my readers. Also note that Homemade Gift Guru is a participant of Amazon's affiliate program. I may make a small commission on orders made through my Amazon links. This helps me maintain my site. Thank you for your support!