How to Make Vanilla Extract
How to Make Vanilla Extract:
The One-Step Method
Often, when I order vanilla beans, I put them directly into a jar with vodka. The alcohol goes to work for me, drawing all the goodness from those scrumptious beans. I shake the jar here and there and a few weeks later I have homemade vanilla!
This simple "make ahead" method is a great and very fast way to make homemade vanilla extract and I've got a tutorial all about it here. It's amazing to have a jar of vanilla steeping away in the pantry for year round homemade gifts and also for your own baking needs.
Homemade vanilla is an easy homemade gift idea! However, if you don't have several weeks to spare before gift giving time, I recommend the one-step method on this page, which steeps the vanilla beans right in the gift giving jars... and by-the-way, has it's own special perks too.
Below, you can learn how to make vanilla extract using this easy one-step method... so you can make it today, give it tomorrow!
---
Where to Get Great Vanilla Beans
---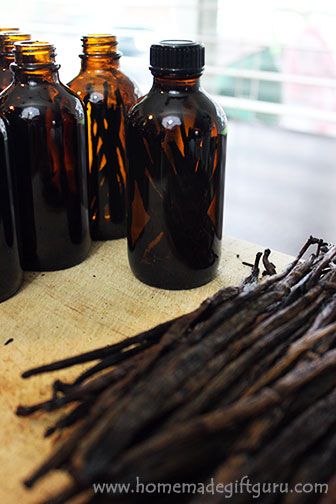 Vanilla beans get dry and stale fast, so most grocery stores only carry them during the Holidays and often charge a pretty penny as well. If you order vanilla beans online, you get fresher beans and they cost way less.
I used to always go for this deal: 10 Premium Bourbon Madagascar Vanilla Beans
which I've truly enjoyed. They've always been top quality beans, as moist, sticky and fragrant as I could ever hope for (and beautiful too).
Recently I realized that I don't need grade A vanilla beans to make scrumptious homemade vanilla extract (or homemade Kahlua for that matter). I am now using grade B for these. The beans aren't as perfect looking and they will be be drier in comparison to Grade A, but the vanilla flavor is actually in the oils, not the water content. The lack of moisture is actually a good thing for making amazing homemade vanilla extract and the cost is much less for more vanilla beans. 1/4 Pound LB Madagascar Bourbon Planifolia Extract Grade B Vanilla Beans 6~7"
Not Sure Which Vanilla Beans to Use? I use the full flavored sweet tasting Bourbon Madagascar vanilla bean for my food gifts, however, you can also use Mexican. I use Tahitian for bath and body (Tahitian is more of an aromatic vanilla bean and can be described as slightly floral in aroma).
Now that you hopefully have some fragrant sticky vanilla beans coming in the mail, let's talk about exactly how to make vanilla extract...
---
How to Make Vanilla Extract
---
Here's how to make vanilla extract using this quick one-step method...
You need:
Vanilla beans (no less than 6 vanilla beans per cup of vodka)
...I like the 4 oz bottle size shown here and use 4 beans per bottle.
Vodka (standard vodka, 35%/70 proof)
...I choose middle quality, not bad but not the best.
Jars (Shown: Boston Round Bottles, 4 Oz Pack of 12
Clean knife and cutting board
Optional: Tags or Labels (get free printable gift labels below)
How to Make Vanilla Extract Step-by-Step:
Let's Get Started...
Wash Jars. Wash each jar and all lids with warm soapy water. Rinse well and allow to dry.
Chop Beans. Chop up desired amount of vanilla beans. I like to make a pile for each jar. Either of the following methods works great...

Method 1: chop beans into 1/2 inch pieces... super easy! (the beans will sink to the bottom of the bottle)
Method 2: use scissors to cut each bean down the center. Then cut each piece in half or thirds to fit inside jars. They look so pretty right now but honestly, once the vanilla steeps for a while, you won't be able to see anything inside the jar.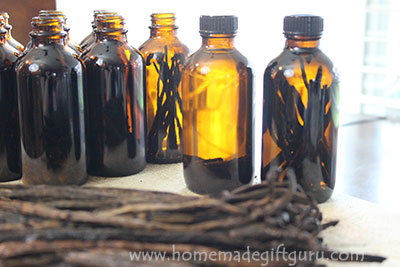 Put Beans in Jars. Insert desired amount of chopped up vanilla beans into each jar.
Add Vodka. Using a funnel, fill each jar right to the neck with vodka. Be sure the vanilla beans are completely covered.
Close Jars. Wipe each rim with a clean paper towel and secure lid.
Shake. Shake each jar well to get the infusion started.
Allow Several Weeks to Infuse. Store jars in cool dark place, shaking as often as you can. The more you shake, the quicker they will infuse.

These make great last minute easy homemade gift ideas... If you will be giving these as gifts before they are done infusing, simply write the appropriate date in the "use after ______ for best flavor" spot on the gift label.
How long to Infuse? It depends on how often you shake the jars. Since these are gifts, I usually put the "best after date" at least 2 months from the date I started the infusions. The vanilla "tip tags" I made explain that the infusion will continue to increase in strength as the beans steep. They also explain that the vanilla can last for many many years if you keep adding vodka as you use the vanilla.
Wondering what I mean by lasts for years and years? The shelf life of vanilla is explained well here. It should last indefinitely with proper storage.
More Tips: Vodka is the alcohol of choice when making extracts because of it's neutral flavor. If you are feeling adventurous, you can trade out the vodka for brandy or rum. You can also add just a splash of something different.
Wondering how to make vanilla extract that is Gluten Free? It's super easy! First of all, most midrange to high quality plain unflavored vodka is already gluten free (since it is made by distilling corn or potatoes)... it is important to note that some of the really cheap vodkas are now made with grain and would not be gluten free.
If you are concerned with making sure your vanilla extract is gluten free you can either find out what was used to distill your vodka or choose a vodka that is actually certified gluten free.
I use plain unflavored Smirnoff, which is not actually certified gluten free, but is known to be gluten free, since it is made by distilling corn and has no added ingredients that gluten could be hiding in.
---
Presentation Matters...
---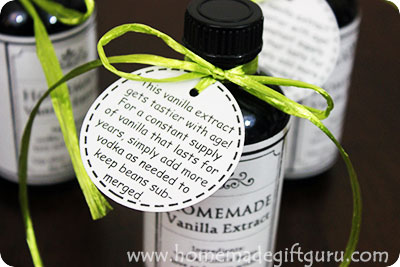 Print Labels. Once you have learned how to make vanilla extract, be sure to print out the free homemade vanilla extract labels that go with this project. They are:
Easy to Apply... just cut them out, cover the back with a glue stick and wrap around your jar.
Convenient... The ingredients are listed.
Functional... There is a "use after date" so your gift recipient won't be wondering when their vanilla extract will be ready.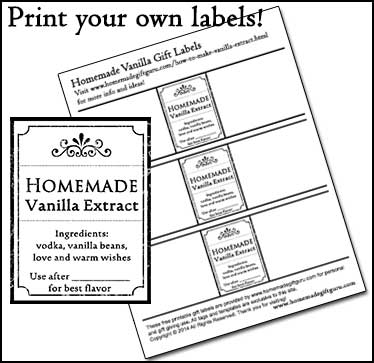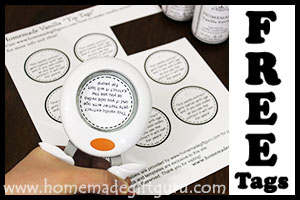 Print Tip Tags. You can also use these vanilla "tip tags" if they are helpful. I've mailed many jars of homemade vanilla extract and these tip tags are a convenient way to communicate how to get the most out of this homemade vanilla extract.
...As shown, the round tags can be punched easily with a 2" round craft punch like this one... Fiskars Round 'n Round Sqeeze Punch Extra Large (174140-1001)
---
How to Make Vanilla Extract Year Round...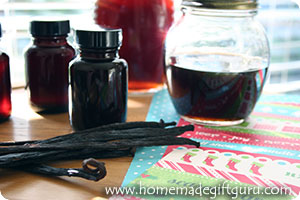 If it's any month besides November or December, you might like to make vanilla extract using the QUICKEST method... which is perfect for year round gift giving: Homemade Vanilla Extract all Year Long plus I share more printable homemade vanilla gift tags.
More Homemade Gift Ideas with Yummy Vanilla...
Homemade Kahlua is another scrumptious thing to do with vanilla and vodka and makes great gifts for adults... Plus, you can sink an extra vanilla bean in the bottle and your homemade Kahlua will keep getting more and more powerful with the delicious flavor of real vanilla right from the bean.
Didn't Find What You Were Looking For?
---
This site is built and maintained using Site Build It!
You could do it too!!! Click here to learn more.
---
Affiliate Disclosure: To help me provide the information and tutorials contained in this website, I may receive monetary compensation or other types of remuneration for my endorsement, recommendation, testimonial and/or links to any products or services from this website. Please note that I only endorse products that I believe would be of value to my readers. Also note that Homemade Gift Guru is a participant of Amazon's affiliate program. I may make a small commission on orders made through my Amazon links. This helps me maintain my site. Thank you for your support!