DIY Advent Calendar Templates
Free Advent Calendar Templates for Your Homemade Countdown Calendars
I love templates! If you've been visiting my corner of the web much, you may know that about me. I like the freedom to choose my own colors, patterns, textures and sizes.
For this reason, I often make my own craft templates that I can use however I choose, within my various card-making projects and especially my homemade gift ideas.
Below, I've linked to five advent calendar templates that I made for you and I to use with various countdown calendar ideas. They are designed to each contain a small gift for each day of your custom countdown, whether it be a fun Birthday countdown, a sweet Valentine countdown or a festive Christmas advent calendar countdown. There are also many more countdown calendar ideas for you to read about here. Enjoy!
---
Advent Calendar Templates
---
If you are looking for advent calendar boxes you have come to the right place. The following templates are used to create a box that attaches to your calendar and is capable of holding a small gift for each day of your special countdown.
There are five advent calendar template sizes to choose from. Either choose one size for your project and stick to that one or mix and match sizes depending on your desired outcome.
Below is a photo of the finished flip-top boxes created using templates 1, 2 and 3...
Getting Started...
First print the desired advent calendar template onto standard typing paper. When you are ready, you will be transferring the template onto each piece of decorative paper that you plan to make into a box. See step-by-step instructions below.
Next is a photo showing the finished flip top boxes made using templates 4 and 5...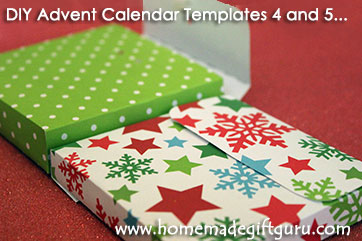 These next two templates are the largest I've made. The only difference between these two is that one comes out 1/2 an inch and the other 3/4 of an inch.
---
How to Use These Templates
---
In addition to tutorials on several specific countdown calendar ideas, I've included the nitty gritty on actually using one of these templates to make a beautiful gift box for your custom countdown craft idea.
Christmas Countdown - coming soon!
Getting Prepared. For each countdown calendar you make, it is a good idea to start by picking out coordinating paper, gathering your supplies and printing out one or two copies of the template you want to use.
To Make Your Boxes You will need:
Printed template... simply print the template on standard typing paper.
Pretty Paper... One 8 1/2 x 11 in. sheet makes one box. One 12 x 12 in. sheet makes at least 2 boxes, sometimes 3. Thinner paper is easier to work with but thicker paper makes a sturdier box.
Pencil and eraser
Scissors
Glue stick or your choice of glue.
Optional hole punch and ribbon... 1/8 in. hole punch and 1/8 to 1/4 in. ribbon or raffia or craft cord. Tips... With 1/4 inch ribbon, you may need a 1/4 in. hole punch as well. Rather than ribbon, you can use Velcro or even a repositionable glue dot to keep the boxes secure.
Important... Please refer to individual countdown calendar tutorials for other supplies you may need to make the rest of your calendar. The following tutorial focuses on how to create boxes using the templates on this page.
Advent Calendar Template Instructions...
Prepare the template... Cut along outside of dotted outline. Punch holes where indicated if desired. Fold along all the solid lines. Crease the folds well.
Tip... If you fold the flaps the wrong way first using the solid lines for a guide, it will then be super quick and easy to fold back the correct way.
Trace template to paper. Lay template down against the back of your decorative paper. Trace with pencil along outside of template. Draw inside each hole punched hole. Fold each flap of the template up and make a dotted line.
Cut and fold template. Take your new traced template and cut along outer solid line. Punch holes if desired. Fold along dotted lines... again, fold away and then back in for easiest method.

Tip... The more carefully you do all this the more perfect your box will turn out.
Make box. Now fold your box together and glue... Glue little flaps on each side. Then apply glue to the largest flap and adhere across the sides and back. Allow to dry.
Tip... A glue stick works well because it can still be slightly manipulated for a few seconds after you stick the box together.
If you've followed these instructions, you now have an awesome new box that is ready to adhere to your homemade countdown calendar!
Important Tip for Gluing the Boxes to a Base... It is very important that the boxes don't fall off when you add the weight of a goody or when someone tugs on the ribbon to open the bow. You must use heavy duty glue to apply the boxes to your calendar base. My favorite has been mounting squares. In my experience, they are easy, mess-free and strong enough for these projects. I get mine from the dollar store and they work just fine.
Use any of these Advent Calendar Templates to Make Your Own:
---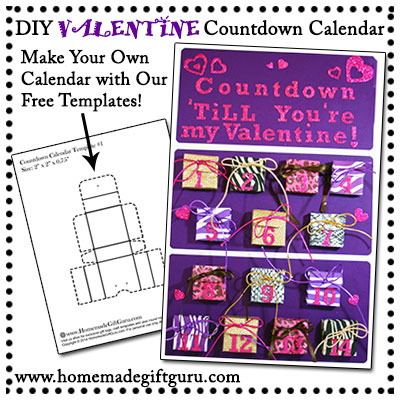 ---
---
And a Christmas Countdown will be coming soon!
You could also make a Hanukkah Countdown, an Easter Countdown, a Halloween Countdown, a countdown to vacation, a countdown to summer break... learn more about various countdown calendar ideas.
Didn't Find What You Were Looking For?
---
This site is built and maintained using Site Build It!
You could do it too!!! Click here to learn more.
---
Affiliate Disclosure: To help me provide the information and tutorials contained in this website, I may receive monetary compensation or other types of remuneration for my endorsement, recommendation, testimonial and/or links to any products or services from this website. Please note that I only endorse products that I believe would be of value to my readers. Also note that Homemade Gift Guru is a participant of Amazon's affiliate program. I may make a small commission on orders made through my Amazon links. This helps me maintain my site. Thank you for your support!